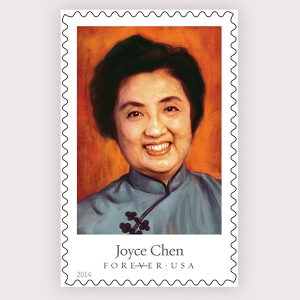 As a well-recognized chef, television personality, and restaurant owner, Joyce Chen introduced Chinese food to the American public. She made such a large impact on American culture, that her photo was included on a US stamp in 2014 and a "Festival of Dumplings" is held in Cambridge, Massachusetts every year to honor her birthday. By developing new ways of cooking authentic and healthy meals, her cookbooks, cooking classes, and microwavable "Soup Dumplings," made it easy for people to learn how to make Chinese cuisine worldwide.
Joyce Chen was born on September 12, 1917 in Beijing, China. Born into a wealthy family, she discovered her passion for cooking at a very early age. Her father, a railroad administrator and city executive, hired a family chef that cooked all of their meals. Chen learned about Chinese cuisine simply by watching their chef and other family members cook in their home kitchen. By the time she was 18 years old, not only was she the lead in the Beijing opera White Snake, but she also organized and cooked her first professional dinner. This was the beginning of her career in the culinary arts.
During the Chinese Communist Revolution, Chen and her family moved to the United States. Along with her husband Thomas Chen and their two children Henry and Helen, the family left Shanghai, China in 1949 and moved to Cambridge, Massachusetts. While living near Harvard University and Massachusetts Institute of Technology, she frequently met Chinese students that missed the food they'd grown up with. Chen's children attended Buckingham School and she would often cook food to be served at school events. Her meals quickly became popular among college students and the families at the Buckingham School. This inspired Chen to open her first restaurant in 1958, called "Joyce Chen Restaurant." At this restaurant, she served both Chinese and American dishes to encourage customers to try new foods. She often served "buffet-style" meals, to allow customers to try samples of everything. She created a menu with both Chinese and English translations of her food and numbered the menu items for easier communication in her restaurants. This made it easier for customers who spoke different languages to order at her restaurant.
Chen flourished as a chef and began teaching cooking classes. Only two years after beginning her cooking classes, she released her first cookbook in 1962. This book was a combination of her recipes, cooking tips, how to use chopsticks, the importance of tea, how to properly prepare rice, and many other important traditions. Dr. Paul Dudley White, President Dwight D. Eisenhower's heart surgeon, wrote the forward to her book, and praised her for promoting healthier dishes for people to enjoy. Chen refused to use harmful additives in her cooking, such as Red Dye #2, and used healthier ingredients in her restaurants. Her cookbook sold more than 70,000 copies and was reprinted for many decades following its release.
In 1967, Chen opened her second restaurant called "The Joyce Chen Small Eating Place." That same year, Chen starred in Joyce Chen Cooks, her own cooking show on PBS that aired worldwide. This twenty-six-episode broadcast was filmed in the same studio as famous chef Julia Child's show, and the two became good friends. As her food grew more popular, she introduced new meals such as "Peking Duck, Moo Shi Pork, Scallion Pancake, Soup Dumplings, and Hot and Sour Soup." She is credited with creating the term "Peking Raviolis" or "Ravs," for what many know as Potstickers.
Chen continued to popularize Chinese food in the Cambridge area by opening two larger "Joyce Chen Restaurants" in 1969 and 1973. However, she began to expand her brand by marketing various cooking items in stores. She famously created and patented the Peking Wok, a flat bottom "stir-fry pan" and its handle in 1970. She also designed and sold her own line of Chinese cooking utensils in 1971 and introduced Sumitomo Bakelite's Japanese polyethylene-cutting boards to the United States. By 1984, Chen was a household name, and she began bottling and selling Chinese sauces and oils to supermarkets. Her three children, Henry, Helen, and Stephen, worked in the family business and eventually took over the day-to-day operations. Chen was diagnosed with Alzheimer's Disease in the early 1980s and passed away on August 23, 1994.
APA: Alexander, K.L. (2018). Joyce Chen. Retrieved from https://www.womenshistory.org/education-resources/biographies/joyce-chen
Chicago: Alexander, Kerri Lee. "Joyce Chen." National Women's History Museum. 2018. https://www.womenshistory.org/education-resources/biographies/joyce-chen.
MLA: Alexander, Kerri Lee. "Joyce Chen." National Women's History Museum. https://www.womenshistory.org/education-resources/biographies/joyce-chen. Accessed [date]. 
Chen, Helen. Helen Chen's Chinese Home Cooking. New York: Hearst Books, 1994.
Clickard, Carrie. Dumpling Dreams: How Joyce Chen Brought the Dumpling from Beijing to Cambridge. Simon & Schuster/Paula Wiseman Books, 2017.