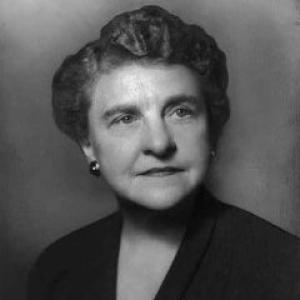 Born into a wealthy family, Frances Payne Bolton pursued a life of philanthropy, politics, and social reform. Bolton was a lifelong advocate of education, healthcare, and civil rights for African Americans. She is most noted for her contributions to the field of nursing and her work in the US House of Representatives.
On March 29, 1885, Frances Payne Bingham was born in Cleveland, Ohio to a family with a long history of funding charities and public service. Bolton's grandfathers, William Bingham and Henry B. Payne served in the Ohio State Senate and Payne was also elected to the US Senate.
In 1907, Frances Payne Bingham married Chester Castle Bolton. After marriage, Bolton took on many volunteer activities that enabled her to support and help the nursing profession. She sat on numerous boards including the Visiting Nurse Association and the Lakeside Hospital Training School. As World War I began, Bolton saw the need for greater training and inclusion of nurses into the armed services and urged the government to take action. As a result, the Secretary of War created the Army School of Nursing.
After the war, Bolton continued to support the development of nursing as a profession in numerous ways. One of her most important activities at this time was to donate $500,000 to Western Reserve University (later known as Case Western Reserve University) in 1923. She gave the money to the college to create its school of nursing. The school was later renamed the Frances Payne Bolton School of Nursing to reflect the generous financial support given by Bolton. A firm believer that the field of nursing should be open to all, regardless of race or ethnicity, Bolton helped financially sustain the work of the National Association of Colored Graduate Nurses. Her assistance enabled the organization to continue its work despite financial difficulties during the Great Depression. A large inheritance in 1929 allowed Bolton to set up the Payne Fund, which dedicated financial resources to projects related to education, nursing care, and the arts.
During this time, Chester Castle Bolton carried out an ambitious political career in which he served in the Ohio State Senate (1923-1928), before winning a seat in the US House of Representatives in 1928. Sadly, his life was cut short, when on October 29, 1939, at the age of 47, he died in office. Frances Payne Bolton ran as the Republican candidate in the special election to fill her husband's vacant position. She won and became Ohio's first female member of the House of Representatives.
During World War II, Bolton had a lasting impact on the field of nursing. She sponsored the Bolton Act in 1943, which set up the US Cadet Nurse Corps to train nurses for military and civilian roles in wartime. In total, the Act provided $5 million of federal funding to enable women to become nurses. Basic training under this program ran for 24 to 30 months. The Act covered students' tuition, books, and living costs. Funding was open to all qualified students regardless of the color of their skin. As a result, the number of qualified nurses increased more quickly, which enabled the US to sustain the war effort at home and abroad.
Bolton became greatly involved in US foreign affairs and humanitarian activities after the war. In Congress, she joined the House Committee on Foreign Affairs. She became the first woman to lead a Congressional delegation on a 20,000 mile tour of Africa in 1947. During this trip, Bolton learned about issues facing the countries there, including decolonization, aid relief, and healthcare. She continued to make frequent trips to Africa, advocating for democratic systems to be set up in the newly independent countries. At home, she urged the US State Department to form a branch specifically dedicated to aiding African countries. The Bureau of African Affairs was founded in 1958 because of Bolton's support. She also became very interested in Arab-Israeli affairs and toured Palestinian camps in 1947. President Eisenhower, aware of Bolton's diplomatic activities, asked her to join a Congressional delegation to the United Nations in 1953. Doing so, made her the first female Congressional delegate to the organization.
Bolton held her Congressional seat from 1940 until 1968, when she was defeated by Charles Vanik, a Democrat. After she lost her seat in the House of Representatives, Bolton retired from Congress. But she continued her charitable work. She sat on a number of boards, including the Tuskegee Institute, the Middle East Institute, and the School of Advanced International Studies at Johns Hopkins University.
Bolton's diverse humanitarian efforts in the US and abroad did not go unnoticed by the US government. In 1976, she received public recognition for her efforts, when President Ford awarded her the National Human Relations Award of the National Conference of Christians and Jews.
Frances Payne Bolton died on March 2, 1977 in Lyndhurst, Ohio at the age of 91.
Article
Lucile Petry. "U. S. Cadet Nurse Corps: Established under the Bolton Act." The American Journal of Nursing, 43/8 (1943): 704-708, accessed July 07, 2017, http://uscadetnurse.org/sites/default/files/petry3456272.pdf
Websites
Biographical Directory of the United States Congress. "Bolton, Frances Payne, (1885-1977)." Accessed July 6, 2017. http://bioguide.congress.gov/scripts/biodisplay.pl?index=B000607
Virginia P. Dawson. "The Life of Francis Payne Bolton 1885-1977: Politician, Humanitarian, Philanthropist, and Patriot." Thirteen WNET New York. Accessed July 06, 2017. http://www.thirteen.org/fpb/index.html
History, Art and Archives: United States House of Representatives. "BOLTON, Frances Payne." Accessed July 07, 2017. http://history.house.gov/People/Listing/B/BOLTON,-Frances-Payne-(B000607)/
Western Reserve Historical Society. "Serving the Community: A Timeline of Philanthropy, Charity, and Non-profit Organizations in Cleveland, Ohio". Accessed July 6, 2017. https://www.wrhs.org/research/library/library-exhibits/philanthropy-timeline/1929-1945/
Western Reserve Historical Society. "Women in Philanthropy and Charity in Cleveland and Northeast Ohio." Accessed July 6, 2017. https://www.wrhs.org/research/library/library-exhibits/women-in-philanthropy/
PHOTO: Library of Congress
MLA - Spring, Kelly. "Frances Bolton." National Women's History Museum. National Women's History Museum, 2017. Date accessed.
Chicago - Spring, Kelly. "Frances Bolton." National Women's History Museum. 2017. www.womenshistory.org/education-resources/biographies/frances-bolton.
Books
Bolton, Frances Payne. Letters from Africa, 1955. Washington, DC: Publisher Unknown, 1956.
Jowett, Garth S., Ian C. Jarvie and Kathryn H. Fuller. Children and the Movies: Media Influence and the Payne Fund Controversy. New York: Cambridge University Press, 1996.
Loth, David Goldsmith. A Long Way Forward: The Biography of Congresswoman Frances P. Bolton. Longmans, Green and Company: New York, 1957.
Film
Bolton,  Frances Payne."Africa: Giant With a Future, 1955", Medium Unknown. Director Unknown. Distributor City Unknown: U.S. National Archives, 1955.
Websites
Case Western Reserve University. "History of the Frances Payne Bolton School of Nursing." Accessed July 07, 2017. https://nursing.case.edu/about/history/
Thirteen WNET New York. "The Life of Francis Payne Bolton 1885-1977: Politician, Humanitarian, Philanthropist, and Patriot- Multimedia Scrapbook." Accessed July 07, 2017. http://www.thirteen.org/fpb/scrapbook.html
U.S. State Department. "Bureau of African Affairs." Accessed July 7, 2017. https://www.state.gov/p/af/