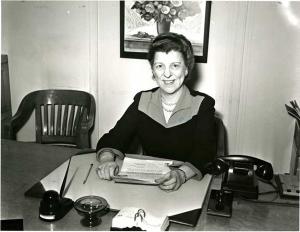 Dedicated to helping women with their domestic concerns, Florence L. Hall pursued a career in the domestic sciences. She is noted for heading the Women's Land Army of America, known as the Women's Land Army, in the United States during World War II.
Florence Louise Hall was born in Michigan in 1888. Her parents owned a farm in rural Michigan, and it was here that Hall grew up, learning about agricultural practices from a young age. After finishing high school, she attended the Michigan Agricultural College's newly formed Home Economics Department around 1905. She took courses in cooking, sewing, and home economization. In 1909, she earned a Bachelor of Science degree in home economics. 
After graduating from college, Hall began teaching school in Lansing, Michigan. However, with the coming of World War I, she took up a new position as a home demonstration agent with the federal government. In this role, she toured the country, giving talks to women living in urban and rural locations about how to deal with wartime shortages of food, clothing, and household goods. She taught women how to decrease food use, reduce waste, and mend clothes.
After World War I, Hall began working for the Bureau of Dairy Industry, part of the United States Department of Agriculture (USDA). Hall gave talks to agricultural and community groups throughout the country on issues related to the dairy industry. In 1928, she became a senior home economist with the USDA Extension Service. The goal of the USDA Extension Service is to provide informal training for a variety of skills, including home economics, to people living in urban and rural communities. Hall remained in this position until World War II.
The USDA was primarily responsible for organizing farming and agricultural labor in World War II.  Farms experienced a labor shortage during the war and some officials advocated employing women on a temporary basis. However, many others in the government were skeptical about this proposal. In November 1942, the USDA created a three person, all-female committee to study the issue of women working in agriculture. The committee consisted of USDA home economists Mary A. Rokahr, Grace E. Frysinger, and Hall. Their findings along with other discussions and studies persuaded officials to create the Women's Land Army (WLA) in 1943.
Hall's rural background, home economics experience, and long career with the USDA made her an ideal choice to head the WLA. She was named director in April 1943.
In her role as head of the WLA, Hall oversaw all WLA operations and organizational issues. Each state and local authority organizing its own WLA groups and Hall coordinated efforts at the national level. She also traveled throughout the United States to inspect WLA sites and speak with members. She oversaw efforts to promote the WLA in the press and on the radio. Hall also supervised all membership recruitment efforts. She was particularly focused on boosting the number of urban, middle-class women involved in the WLA. In order to do so, Hall worked with key women's civic and community groups to raise the profile of the WLA, including: the American Women's Volunteer Services, the YWCA, and the General Federation of Business and Profession Women's Clubs.
To increase communication between the WLA groups throughout the country Hall created the WLA newsletter. Through the newsletter, Hall provided updates about her WLA site visits, discussed the activities of different branches of the WLA, and gave details about how best to publicize the organization. The newsletter continued to run until the end of the war. Hall wrote the last issue in December 1945.
Hall's work in the field of home economics and her wartime service were honored by Michigan Agricultural College, or Michigan State College as it was then known. She was awarded the Distinguished Alumni Award. She was also praised during the Home Economic Department's 50th anniversary celebrations.
Article
Book
Gowdy-Wygant, Cecilia. Cultivating Victory: The Women's Land Army and the Victory Garden Movement Pittsburgh: University of Pittsburgh Press, 2013.
Magazine
Websites
MLA – Spring, Kelly. "Florence Hall." National Women's History Museum. National Women's History Museum, 2017. Date accessed.
Chicago- Spring, Kelly. "Florence Hall" National Women's History Museum. 2017. www.womenshistory.org/education-resources/biographies/florence-hall.