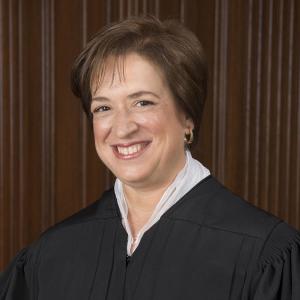 The first female Solicitor General of the United States and now an associate justice on the U.S. Supreme Court, Elena Kagan is a prominent legal scholar and jurist who has advocated for justice and equality since childhood.
Born in New York City on April 28, 1960, Elena Kagan is the daughter of Robert Kagan, an attorney, and Gloria (Gittelman) Kagan, a school teacher. Kagan's father represented the rights of tenants in the city's many co-op conversions and her mother was known as a demanding but dedicated teacher at Hunter College Elementary School. Their work in law and education inspired Kagan's future career path, as well as that of her two brothers, who are both school teachers.
Kagan was raised Jewish and her family belonged to Lincoln Square Synagogue on Manhattan's Upper West Side. A top student at her Hebrew school, she strongly desired to mark her coming of age with a bat mitzvah when she was 12 years old. However, her Orthodox synagogue had never held a bat mitzvah, as only boys were allowed to observe their bar mitzvahs in the Orthodox tradition at the time. Jewish girls were just beginning to celebrate bat mitzvahs in the early 1970s, mostly in Reform and Conservative Jewish synagogues, and Kagan advocated for the same opportunity as her male peers. Though her ceremony took place on a Friday evening rather than the traditional Saturday morning, Kagan's service in May 1973 was Lincoln Square Synagogue's first formal bat mitzvah.
Kagan went to Hunter College High School, where she served as the president of the student government. In her high school yearbook, she is pictured dressed in a judge's robe with a gavel, alongside a quote from Supreme Court Justice Felix Frankfurter. After graduating in 1977, Kagan attended Princeton University. She studied history and served as the editorial chair of The Daily Princetonian, the campus newspaper. Kagan graduated summa cum laude in 1981 and earned a fellowship from Princeton to study philosophy at Worcester College (part of Oxford University) in England. She received her M.Phil degree in 1983.
After her studies at Oxford, Kagan began law school at Harvard. She served as the supervising editor of the Harvard Law Review and graduated magna cum laude in 1986. Following law school, Kagan completed prestigious federal clerkships, first for Judge Abner Mikva of the U.S. Court of Appeals for the D.C. Circuit, then for Justice Thurgood Marshall of the U.S. Supreme Court.
Kagan briefly worked in electoral politics on the campaign of Democratic Party presidential candidate Michael Dukakis in 1988, but soon returned to the law, taking an associate position at the Washington, D.C. firm of Williams & Connolly. In 1991, she joined the University of Chicago Law School faculty as an assistant professor. Kagan received tenure in 1995, but she left the University of Chicago that year to serve as associate counsel for President Bill Clinton. Kagan worked in the Clinton White House for four years, during which time she was promoted first to Deputy Assistant to the President for Domestic Policy and then to Deputy Director of the Domestic Policy Counsel. In these roles, Kagan helped shape and implement executive branch policies on important issues such as education, crime, and public health.
At the end of his second term, Clinton appointed Kagan to a judgeship on the U.S. Court of Appeals for the D.C. Circuit (the same one where she had clerked under Judge Mikva) but the Senate did not confirm her nomination before Clinton left office and Congress adjourned.
Kagan returned to academia in 1999, this time as a visiting professor at her alma mater, Harvard Law School. She taught administrative law, constitutional law, and civil procedure. Kagan rose through the ranks quickly: she earned full professor status in 2001 and was named dean of the law school just two years later. Kagan served as dean until 2009, during which time Harvard Law School increased its faculty, remodeled its curriculum, placed a greater emphasis on public service, and improved the campus facilities and student experience. Kagan made news as dean when she sought to block military recruiters from the law school because of the "don't ask, don't tell" policy that barred openly homosexual service members, calling it a violation of Harvard's anti-discrimination policy.
In 2008, President Barack Obama nominated Kagan to the position of Solicitor General of the United States. The Solicitor General is tasked with leading the government's litigation in the Supreme Court, selecting which cases the government will try before the highest court and which positions the government will argue in those cases (and often personally conducting the oral arguments). The Senate confirmed her nomination in March 2009, making Kagan the first female Solicitor General in the nation's history.
Obama nominated Kagan to replace Justice John Paul Stevens when he retired from the Supreme Court in 2010. The Senate confirmed Kagan's nomination in August 2010 and she became the fourth female justice on the high court, joining Justices Ruth Bader Ginsburg and Sonia Sotomayor (Justice Sandra Day O'Connor retired in 2005). Though experienced as a law professor and government attorney, Kagan had never served as a judge prior to her appointment to the Supreme Court.
Kagan had to recuse herself frequently in her first years on the bench, as a result of her work in the Clinton administration and as Solicitor General. Kagan is a member of the Supreme Court's liberal wing, but is also known as a "bridge-builder" who attempts to bolster the consensus of the court. Kagan has revealed her sense of humor and affinity for popular culture from the bench, such as when she authored a playful majority opinion filled with Spiderman references in Kimble v. Marvel Entertainment (2015) or when she cited Dr. Seuss's One Fish, Two Fish, Red Fish, Blue Fish in a dissenting opinion earlier that same year. In her time on the Supreme Court, Kagan has joined the majority in two historic decisions: upholding the Affordable Care Act in King v. Burwell (2015) and recognizing the right to same-sex marriage in Obergefell v. Hodges (2015).
Published September 3, 2021
Photo Credit: 
Steve Petteway, Collection of the Supreme Court of the United States.
https://en.wikipedia.org/wiki/Elena_Kagan#/media/File:Elena_Kagan_Official_SCOTUS_Portrait_(2013).jpg
"Elena Kagan." Oyez. Accessed Sept. 1, 2021. https://www.oyez.org/justices/elena_kagan
"Elena Kagan Named Next Dean of Harvard Law School." Harvard Law Today. April 3, 2003. Accessed Aug. 31, 2021. https://today.law.harvard.edu/elena-kagan-named-next-dean-of-harvard-law-school/
Foderaro, Lisa W. "Growing Up, Kagan Tested Boundaries of Her Faith." New York Times. May 12, 2010. Accessed Sept. 1, 2010. https://www.nytimes.com/2010/05/13/nyregion/13synagogue.html
Foderaro, Lisa W. and Christine Haughney. "The Kagan Family: Left-Leaning and Outspoken." New York Times. June 18, 2010. Accessed Aug. 31, 2021. https://www.nytimes.com/2010/06/20/nyregion/20kagans.html
"Pals from student days remember a determined Elena Kagan." CNN. May 11, 2010. Accessed Aug. 31, 2021. http://www.cnn.com/2010/POLITICS/05/10/elena.kagan.early.years/
"Solicitor General: Elena Kagan." The United Department of Justice. Oct. 31, 2014. Accesse
Aug. 31, 2021. https://www.justice.gov/osg/bio/elena-kagan
Stern, Mark Joseph. "Supreme Court Fish Case: Alito Saves the Day, Kagan Cites Dr. Seuss." Slate. Feb. 25, 2015. Accessed Sept. 1, 2021. https://slate.com/news-and-politics/2015/02/the-supreme-court-cited-dr-seuss-in-its-fish-case.html
Stern, Mark Joseph. "Kagan Cites Spider-Man in Hilarious Supreme Court Decision." Slate. June 22, 2015. Accessed Sept. 1, 2021. https://slate.com/news-and-politics/2015/06/spider-man-supreme-court-case-kagan-cites-the-comic-book.html
Wolf, Richard. "Associate Justice Elena Kagan, after decade on bench, emerges as Supreme Court 'bridge-builder'." USA Today. Aug. 4, 2020. Accessed Sept. 1, 2021. https://www.usatoday.com/story/news/politics/2020/08/04/elena-kagan-after-10-years-supreme-court-justice-wields-influence/5490349002/