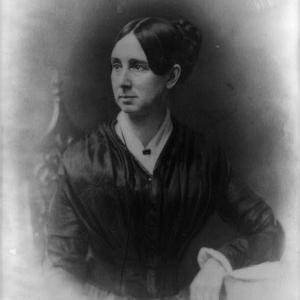 Dorothea Dix was an early 19th century activist who drastically changed the medical field during her lifetime. She championed causes for both the mentally ill and indigenous populations. By doing this work, she openly challenged 19th century notions of reform and illness. Additionally, Dix helped recruit nurses for the Union army during the Civil War. As a result, she transformed the field of nursing.
Dix was born in Hampden, Maine in 1802. Little is known about her childhood. However, historians believe that her parents suffered from alcoholism and her father was abusive. Due to this abuse at a young age she moved to Boston to stay with her grandmother. Dix attended school in Boston and tutored children. She became ill several times and was forced to stop teaching. During one of her bouts of illness her physicians suggested she spend time in Europe. While visiting overseas, Dix met with groups of reformers interested in changing the way the mentally ill were cared for. Once Dix returned to the United States, she set out to tour mental hospitals across the country. She often reported her findings to several politicians. Dix pushed states to care for the unfortunate. Although many politicians disagreed with her work, she moved forward. She eventually established asylums in New Jersey, North Carolina, and Illinois. She worked to pass federal legislation that would create a national asylum, though the bill did not pass. Dix also toured overseas, reporting on the conditions of hospitals in various countries.
When the Civil War started, Dix completely dedicated herself to the Union cause. She was designated as the Superintendent of Army Nurses for the Union Army. Although many believed she set impossibly high standards for recruited nurses, the army of nurses was extremely successful and crucial in advancing the role of nurses in the war and in the medical field. Dix was also known for treating both Confederate and Union soldiers, a practice which gained her respect from many. During a period when male doctors openly expressed disdain for female nurses, Dix continued to push for formal training and more opportunities for women nurses. Over the course of the war she appointed more than 3,000, or about 15%, of Union Army nurse. She stepped down from the position in 1865.
After the war, Dix raised funds for the building of a national monument to honor deceased soldiers, which stands at Fort Monroe, Virginia today. She continued fighting for social reform throughout her life. Her work in support of better care for the mentally ill culminated in the restructuring of many hospitals both in the United States and abroad. After suffering from illness, Dix returned to New Jersey where she spent the remainder of her life in a specially designed suite in the New Jersey State Hospital. She died on July 17, 1887 and is buried in Cambridge Massachusetts.
Brown, Thomas J. Dorothea Dix: New England Reformer. Cambridge, Mass: Harvard University Press, 1998.
"Dorothea Dix Correspondence" Kansas Memory. Accessed 18 April 2017, http://www.kansasmemory.org/item/223255.
 "Dorothea Dix: Mental Health Reformer and Civil War Nurse" Smithsonian Institution Archives, Accessed 18 April 2017, https://siarchives.si.edu/blog/dorothea-dix-mental-health-reformer-and-civil-war-nurse.
 "Dorothea Dix" National Center for Biotechnology Information, Accessed 18 May 2017, https://www.ncbi.nlm.nih.gov/pmc/articles/PMC1470530/.
Gollaher D. Voice for the Mad. New York, NY; London, England: The Free Press; 1995.
PHOTO: Library of Congress
MLA – Norwood, Arlisha. "Dorothea Dix." National Women's History Museum. National Women's History Museum, 2017. Date accessed.
Chicago- Norwood, Arlisha. "Dorothea Dix." National Women's History Museum. 2017. www.womenshistory.org/education-resources/biographies/dorothea-dix.