Claudia 'Lady Bird' Johnson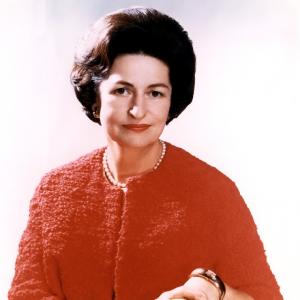 Claudia Johnson, known as "Lady Bird," was an environmentalist, businesswoman, political activist, and First Lady.
Born Claudia Alta Taylor on December 22, 1912 in Karnack, Texas. As a child, someone remarked that she was as cute as a "lady bird" and the nickname stuck. Johnson grew up in a wealthy household, her father was a businessman and her mother remained at home to care for the children. Johnson's mother died when she was young and she was placed under the care of her maternal aunt. As a child, Johnson was shy and reserved. Her family members recalled that she spent much of her time outdoors, a past time that inspired her throughout her life. Johnson excelled in grade school and finished high school at the age of 15. She attended the University of Alabama for a short time, but later decided to return to Texas. She graduated from St. Mary's Episcopal College and the University of Texas with a degree in journalism.
Johnson was introduced to her future husband Lyndon by a mutual friend. The couple married in 1934. After her parents passed away, she inherited a large sum of money, which she invested in several radio and television stations. Johnson funded many of her husband's early political campaigns with this money. Her shrewd investments made her one of the only first ladies to earn one million dollars before her husband became president. In 1960, Lyndon was selected as President John F. Kennedy's running mate, Johnson was immediately thrust into the spotlight as second lady. She was often forced to attend events that the first lady could not attend. After Kennedy's assassination, Johnson unexpectedly became First Lady of the United States
Johnson seemed to transition into the role of first lady naturally. She hired her own staff which included aides and a press secretary. She also became one of the earliest first ladies to do a solo tour. In addition, she began a national effort to beautify the county. She advocated for the "Highway Beautification Act" which focused on planting flowers alongside the national highway system.
When it was time for re-election, Lyndon won by a landslide and started his next four years in office with Lady Bird as his key advisor. "What we knew, at all times, was that she was the most trusted, most loyal, most dependable person that President Johnson could turn to on any issue, but her presence was never one of intruding," said Tom Johnson, a top former aide to the President and future head of CNN.
Johnson also used her influence to call attention to the need to preserve important historic parks such as the California Redwoods and the Hudson River in New York by visiting them with the media in tow. With her support, 200 laws related to the environment passed during Johnson's presidency. Before he left office, Lyndon presented her with a plaque that read: "To Lady Bird, who has inspired me and millions of Americans to try to preserve our land and beautify our nation. With love from Lyndon."
In 1969, the Johnsons retired to their ranch near Austin, Texas. However, Johnson remained active in public life. Starting in 1969, she served for many years on the council of the National Park Service's Advisory Board on National Parks, Historic Sites, Buildings and Monuments. In 1970, she published a book about her experiences in the White House called White House Diary. In 1971, the governor of Texas appointed her to the University of Texas System Board of Regents, which was a large focus of her time over the next several years. She also worked with her husband to build his presidential library, which opened in the University of Texas in Austin in 1972.
After her husband's death, Johnson traveled the world and continued work to beautify the nation and Texas in particular. In 1983, she founded the National Wildlife Research Center in Austin, Texas, which works to re-establish native plants in natural and planned landscapes. It was renamed the Lady Bird Johnson Wildflower Center in 1998. Johnson served as the chairperson of the Center's Board of Directors since its founding. She also served a number of other boards, including the Board of the National Geographic Society. Johnson always enjoyed spending time with her family and occasionally mingling with tourists at the LBJ Ranch in Texas.
She received scores of awards over her lifetime. Two of her most prestigious were bestowed by Presidents Gerald Ford and Ronald Reagan, the Medal of Freedom in 1977 and the Congressional Gold Medal in 1988. Johnson passed away in 2007 at the age of 94. Her funeral was attended by multiple heads of state.
Caroli, Betty Boyd. Lady Bird and Lyndon: The Hidden Story of a Marriage That Made a President. New York: Simon And Schuster, 2015.
Johnson, Lady Bird. A White House Diary. New York: Holt, Rinehart and Winston, 1970.
"Claudia Taylor." First Ladies, Accessed 27 April 2017. https://www.whitehouse.gov/1600/first-ladies/ladybirdjohnson
MLA – Norwood, Arlisha. "Claudia 'Lady Bird' Johnson." National Women's History Museum. National Women's History Museum, 2017. Date accessed.
Chicago- Norwood, Arlisha. "Claudia 'Lady Bird' Johnson." National Women's History Museum. 2017. www.womenshistory.org/education-resources/biographies/claudia-lady-bird-johnson.