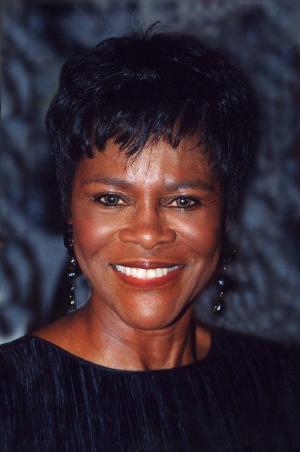 Cecily Tyson dedicated her career to portraying resilient African American women on the stage and the screen. She brought humanity and dignity to the roles she played, showing vast audiences that "Black is Beautiful."  
Cicely Tyson was born on December 18, 1924 in East Harlem, New York. Her parents emigrated from the Caribbean island of Nevis and worked hard to support Tyson and her two older siblings. Her father, William, worked as a carpenter and painter while her mother, Theodosia, was a domestic worker. Tyson helped, too. At the age of nine she sold shopping bags on the streets of East Harlem to support her family. By the time Tyson was 11, her parents had divorced and she was living with her mother. Theodosia raised Tyson in a strict, Christian home and did not permit Tyson to go to movies or on dates. Tyson's early life revolved around the Episcopal Church in Harlem, where she played the piano and organ and sang in the choir. 
After graduating from Charles Evans Hughes High School in Manhattan, Tyson worked as a secretary at the Red Cross. Her friends kept telling her she was beautiful and she should pursue modeling. Tyson recalled in an interview that after being overwhelmed at work, she thought to herself, "God didn't put me on the face of the earth to type for the rest of my life." When her hairdresser called and asked Tyson to be part of a hairstyle show, she jumped at the opportunity. The show led to more modeling opportunities. Tyson eventually appeared in Vogue, Harper's Bazaar, and other magazines. She also began taking classes at the Actors Studio. Her mother disapproved. Tyson recalled that when she told her mother she wanted to be an actress, Theodosia told her she could no longer live in her home. Tyson moved out. 
Tyson's first role was on NBC's "Frontiers of Faith" in 1951. She continued to do small film and television shows and roles in YMCA theater productions throughout the 1950s. Her mother even warmed up to Tyson's acting career, and came to see her star in a drama at the Harlem YMCA in 1956. Tyson had her first break in 1961 when she joined the cast of Jean Genet's anti-colonial play, "The Blacks." It was the longest-running Off Broadway show of the 1960s. Tyson played Stephanie Virtue, a sex worker, and won a Vernon Rice award for her portrayal. She next appeared as a secretary on the CBS series "East Side/West Side" (1963-1964). With this role, she became the first African American actress with a continuing role in a dramatic series. 
Throughout her life, Tyson was known for her style. She is considered one of the idols of the "Black is Beautiful" movement and was on the covers of Ebony, Essence, and Jet magazines. She also became a trendsetter for her natural hairstyle. Ebony magazine dubbed her as "the mother of the Afro." She inspired and encouraged African American women to embrace their own standards of beauty. 
Tyson's major breakthrough came in 1972. That year she starred in Sounder, a film about sharecroppers living in the south. Tyson played a poor but proud woman trying to raise her son after her husband is sent to jail for stealing money to feed his family. The role won her an Oscar nomination.  
Despite her success, Tyson felt pigeonholed by the roles she was offered. She was consistently asked to play sex workers, subservient maids, or drug addicts in movies and TV. This was typical of the era in Hollywood, where many roles offered to African American women were degrading and demeaning. Tyson began to refuse these roles, saying to Parade magazine in 1972, "We Black actresses have played so many prostitutes and drug addicts and housemaids, always negative . . . I won't play that kind of characterless role any more, even if I have to go back to starving." Her refusal meant she was out of work for long stretches of time. 
Tyson continued to seek out strong, African American, female characters to portray on screen. Two years after Sounder, Tyson played the title role in the TV movie, The Autobiography of Miss Jane Pittman, based on the Earnest Gaines novel. Pittman was one of the first TV films to treat African American characters sympathetically and as fully realized characters. Tyson brought a humanity to her portrayal of the 110-year-old formerly enslaved woman at the heart of the story. It was viewed by 40 million people, almost half the TV audience at the time. She then starred as the protagonist's mother in Roots (1977). She received Emmy Awards for both of these portrayals. Tyson's other TV credits include portraying strong African American women such as Harriet Tubman and Coretta Scott King. 
She also continued to act on the stage. Throughout her life she starred in more than 100 film, television, and stage productions. At 88, Tyson became the oldest person to win a Tony Award for her performance in The Trip to Bountiful in 2013. 
Tyson was a very private person. She kept personal information about her life—including her charity work, age, 1981-1988 marriage to jazz musician Miles Davis, and family—private.  
Later in life, Tyson continued to make waves. In 2013 she received a Kennedy Center honor for "a lifetime of powerful performances in roles that shattered boundaries for African American women." In 2014, President Barack Obama gave her a Presidential Medal of Freedom. In 2018, she received an honorary Oscar. She also received numerous NAACP Image Awards and the NAACP's highest honor, the Spingarn Award. She has a star on the Hollywood Boulevard Walk of Fame.  
Cicely Tyson died on January 28, 2021. Her memoir, Just As I Am, was published two days before her passing. Throughout her long career, she brought ennobling portrayals of African American women to vast television, film, and stage audiences. Of her career she once said, "It amuses me when people say, 'Oh, my God, you've done so much.' But it isn't that I've done so much. It's that what I have done has made a real impact, and I'd rather have it that way." 
Adam Bernstein, "Cicely Tyson, actress who gave electrifying portrayals of resilient Black women, dies at 96," Washington Post, January 28, 2021, https://www.washingtonpost.com/local/obituaries/cicely-tyson-dead/2021/01/28/c72969e4-483c-11e5-846d-02792f854297_story.html. 
"Cicely Tyson," Kennedy Center Honors, https://www.kennedy-center.org/artists/t/to-tz/cicely-tyson/. 
Hillel Italie and Mark Kennedy, "Cicely Tyson, groundbreaking Tony award-winning actor, dead at 96," The Chicago Tribune, January 28, 2021, https://www.chicagotribune.com/entertainment/ct-ent-cicely-tyson-dead-obit-20210129-447wsskhpnfhbefdc6io62lp5m-story.html. 
Robert D. McFadden, "Cicely Tyson, an Actress Who Shattered Stereotypes, Dies at 96," New York Times, January 28, 2021, https://www.nytimes.com/2021/01/28/obituaries/cicely-tyson-dead.html. 
"A look back at the life of iconic actress Cicely Tyson," PBS News Hour, January 29, 2021, https://www.pbs.org/newshour/show/a-look-back-at-the-life-of-iconic-actress-cicely-tyson. 
Ben Dickinson, "Cicely Tyson on Rejection, Her Mother, and Choosing the Right Roles," Elle Magazine, January 29, 2021, https://www.elle.com/culture/movies-tv/a13793949/cicely-tyson-women-in-hollywood-november-2017/. 
Cicely Tyson and Michelle Burford, Just As I Am: A Memoir (New York: Harper Collins, 2021). 
Carmel Dagan, "Cicely Tyson, Pioneering Hollywood Icon, Dies at 96," Variety, January 28, 2021, https://variety.com/2021/tv/news/cicely-tyson-dead-dies-1234895188/. 
"Cicely Tyson, Who Brought Grace and Gravitas To The Screen, Has Died at 96," NPR, January 28, 2021, https://www.npr.org/2021/01/28/621638033/cicely-tyson-commanding-actress-has-died-at-age-96. 
Jade King Carroll, "Cicely Tyson: Grace, Poise, Mischief, and Always Truth," American Theatre, Theatre Communications Group, February 17, 2021, https://www.americantheatre.org/2021/02/17/cicely-tyson-grace-poise-mischief-and-always-truth/. 
Wesley Morris, "Cicely Tyson Kept It Together So We Didn't Fall Apart," New York Times, January 29, 2021, https://www.nytimes.com/2021/01/29/arts/cicely-tyson.html.