Catherine Coleman Flowers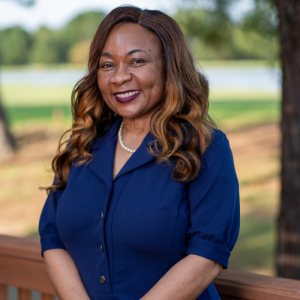 Environmental health advocate Catherine Coleman Flowers is determined to battle "America's Dirty Secret": unequal sewage and sanitation access for rural communities and people of color. A MacArthur Genius, she works on multiple fronts to improve public health, economic development, and access to water and sanitation amidst the growing threat of climate change.  
Catherine Coleman Flowers was born in Birmingham, Alabama in 1958 to parents J.C. and Mattie (DeBardelaben) Coleman. Her father was a military veteran and salesman and her mother was a teacher's aide and a community activist. Her parents wanted to raise their five children (of whom Flowers is the oldest) in the country, so in 1968 they moved to Lowndes County, where her father was from, settling in the small community of Blackbelt. She grew up surrounded by nature and community and her connection to the land that her family has lived on for generations remains strong.  
Flowers's parents were active in the Civil Rights Movement, often hosting fellow activists in their home during her childhood. Flowers's mother organized on behalf of the National Welfare Rights Association to investigate the forced sterilization of African-American women in Alabama, a procedure she experienced herself after the birth of her fifth child.  
Flowers began following in her parents' footsteps at a young age. In 11th grade, Flowers wrote an exposé about the poor conditions and misconduct at her high school, one that was segregated in practice though not by law. Her efforts led to the formation of a community advocacy group, a lawsuit, and, eventually, the resignation of the principal and school board superintendent.  
Flowers enrolled at Alabama State University, a historically Black college, where she gained experience in mass organizing while fighting to protect the school from a merger. In 1978, Flowers took a break from school to join the Air National Guard and then the Air Force, but she left the service in 1980 after experiencing sexual harassment. Flowers was working in Atlanta when she met Thurgood Bunche Flowers. The two soon married and moved to Oklahoma, where Thurgood was stationed at the Fort Sill army base. Flowers resumed her studies at Cameron University in Lawton, Oklahoma and earned her B.A. in history and political science in 1986.  
After graduating, Flowers taught U.S. history, current events, and government in schools in Washington, D.C., North Carolina, and Michigan. Flowers gave birth to a daughter, Taylor. In 2000, urged by friends to return home, Flowers (who had since separated from her husband) took a position as the economic development consultant for Lowndes County.  
Flowers began working with Bob Woodson, the conservative founder of the National Center for Neighborhood Enterprise, on the challenge of improving conditions in a county with a very small tax base. Companies were not interested in places like Lowndes county, as they lacked the infrastructure that came standard in more affluent areas. The county's most striking problem was its lack of adequate sanitation infrastructure. The municipal sewage system was insufficient and many homes lacked functioning septic systems. Wastewater pooled behind homes across the county. Many residents could not afford to install or maintain septic equipment. When the local government took action, it was to issue citations for these violations rather than address the root cause of the problem. Flowers sought to remedy this situation, both as a rural development consultant for Woodson's organization and then as the founder of the Alabama Center for Rural Enterprise (ACRE).  
Flowers made it her mission to draw attention to the disparate impacts people of color and rural communities face regarding sewage and wastewater issues, as the problem extends beyond Lowndes County. Flowers asserts that after the passage of the Clean Water Act in 1972, Black neighborhoods and tribal reservations were often excluded from the federal government's upgrades in wastewater treatment. Inadequate sanitation systems affect places such as rural Alaska, southern Illinois, and the Navajo Nation in the Southwestern United States. Poverty is a significant factor: renting, living in a mobile home, and earning under the local median income all correlate with insufficient sanitation systems. Climate change is making these problems more severe, as rising sea levels lead to contamination in leach (septic drain) fields and increasing rainfall overwhelms septic systems. 
Flowers continued to uncover startling consequences of Lowndes County's wastewater problems. After a visit to a resident's flooded lawn, she noticed insect bites on her legs that led to a rash – one her doctors could not diagnose. She reached out to scientists at Baylor College's National School of Tropical Medicine and they determined that hookworm, a tropical parasite thought to have been eradicated with the advent of modern plumbing, was responsible for her rash as well as many of the health problems plaguing local residents. The findings spurred the Centers for Disease Control to investigate the prevalence of these diseases throughout the region. Flowers later testified before Congress on the issue, leading to legislation to fight these "neglected diseases of poverty." Congress budgeted millions of dollars of new funds for rural septic and wastewater programs in 2019. 
Meanwhile, Flowers's ACRE evolved into a new institution, The Center for Rural Enterprise and Environmental Justice (CREEJ). Its mission is to "reduce health, economic, and environmental disparities and improve access to clean air, water, and soil in marginalized rural communities." CREEJ fosters partnerships among governments, nonprofits, and citizens in order to take comprehensive action to improve water and sanitation infrastructure, public health, and economic development.  
Flowers has brought attention to the intersecting issues of sanitation infrastructure, poverty, and climate change at the national and international levels. In 2011, she worked with the United Nations Special Rapporteur poverty to highlight the plight of the rural South. Flowers teamed up with Columbia University, both with human rights lawyers and scholars to report on water and sanitation inequalities throughout the rural U.S. and with environmental engineers to develop a new toilet that will filter and recycle waste, rather than flush it.  
In addition to her role at CREEJ, Flowers serves as the rural development manager for the Equal Justice Initiative, a senior fellow for the Center for Earth Ethics, and a board member for the Climate Reality Project and the Natural Resources Defense Council. Flowers earned a master's degree in history in 2015 from the University of Nebraska. Flowers was awarded a MacArthur Fellowship, commonly referred to as the "Genius Grant," in 2020. That same year, she published her memoir Waste: One Woman's Fight Against America's Dirty Secret.  
Published April 2021. 
Photo Credit: 
© John D. and Catherine T. MacArthur Foundation- used with permission. 
"Catherine Coleman Flowers." Center for Earth Ethics. Accessed March 26, 2021. https://centerforearthethics.org/catherine-flowers/ 
"Catherine Coleman Flowers." Climate One. Accessed March 26, 2021. https://www.climateone.org/people/catherine-coleman-flowers 
"Catherine Coleman Flowers." MacArthur Foundation. October 6, 2020. Accessed March 26, 2021. https://www.macfound.org/fellows/class-of-2020/catherine-coleman-flowers 
Clark, Anna. "How the Problem of 'Waste' Affects the Rural Poor." The New York Times. November 17, 2020. Accessed March 26, 2021. https://www.nytimes.com/2020/11/17/books/review/waste-catherine-coleman-flowers.html 
Flowers, Catherine Coleman. Waste: One Woman's Fight Against America's Dirty Secret. United States: New Press, 2020.  
Kaplan, Sarah. "Battling America's 'Dirty Secret'." The Washington Post. December 17, 2020. Accessed March 26, 2021. https://www.washingtonpost.com/climate-solutions/2020/12/17/climate-solutions-sewage/?arc404=true  
"A Message From The Founder." The Center for Rural Enterprise and Environmental Justice. Accessed March 26, 2021. https://www.creej.org/founder 
Purifoy, Danielle. "In Lowndes County, getting free means getting infrastructure." Scalawag. February 13, 2017. Accessed March 26, 2021. https://scalawagmagazine.org/2017/02/in-lowndes-county-getting-free-means-getting-infrastructure/ 
Zuco, Sienna "Born Country but Raised an Activist." Global Climate Pledge. Accessed March 26, 2021.  
https://www.globalclimatepledge.com/born-country-but-raised-an-activist-catherine-coleman-flowers-of-the-biden-climate-task-force-uncovers-americas-dirty-secret-in-bloody-lowndes-alabama/  
Flowers, Catherine Coleman. Waste: One Woman's Fight Against America's Dirty Secret. The New Press. 2020.