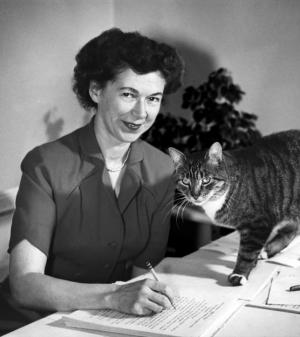 Beverly Cleary created some of the most beloved children's book characters of the 20th century. Writing about the children in her own neighborhood, Cleary's stories of the rambunctious youth of Klickitat and Tillamook Streets have sold more than 91 million copies and changed the genre. For more than half a century, she wrote stories that allowed kids to see themselves in the books. 
Beverly Atlee Bunn was born on April 12, 1916 in McMinnville, Oregon. Up until the age of six, Cleary—an only child—lived on her family farm in nearby Yamhill. The town was small and did not have a library, so Cleary's mother arranged for the State Library to send books to Yamhill. Her mother then acted as the town librarian in a room upstairs from a bank. The young Cleary learned to love books and reading. When her family lost the farm, they moved to northeast Portland's Hollywood neighborhood and her father found work as a bank security guard. When the Great Depression hit, her father lost his job. 
Despite her mother's efforts to bring books to the young Cleary, she was put into the low reading circle when she started school in Portland. This did not diminish Cleary's love of books, and by third grade she was a much better reader and spent most of her time surrounded by books—either at home or at the library. The books she devoured as a child were disappointing, telling stories of aristocratic English children with nannies and ponies or poor children whose problems disappeared when long-lost rich relatives showed up and solved their problems. Cleary found the stories and characters unrelatable and she decided that when she grew up, she would write stories about the sort of children she knew—children who played and sometimes caused trouble. 
After high school, Cleary attended Chaffey Junior College in Ontario, California before enrolling at the University of California at Berkley, from which she graduated in 1938. She then received a degree from the University of Washington's school of librarianship in 1939 and began working as a children's librarian in Yakima, WA. While she was working at the public library in Yakima, she recalled meeting a little boy. In an interview later in life, Cleary recalled that the little boy "faced me rather ferociously once and said, where are the books about kids like us? And it changed my whole attitude." She remembered her own boredom with the  books she read as a child and her pledge to write books in which children could find themselves.  
In 1940, Beverly married Clarence Cleary, a graduate student whom she had met when she was at Berkley. The two moved to San Francisco and later had two children. The two were married until Clarence's passing in 2004. While Clarence served in the U.S. Army during World War II, Cleary sold children's books at the Sather Gate Book Shop in Berkley and worked as a librarian at Camp John T. Knight in Oakland. In these jobs, she began telling her own stories, along with fairy tales and folk tales. The move to San Francisco was an important milestone for Cleary's literary career, as well. 
In 1950, Cleary published her first book. Henry Higgins, a book about a rambunctious young boy, introduced a contemporary note into children's literature. The story—like all the books Cleary would write—dealt with the real, everyday issues that children were experiencing at the time. Primarily, she wrote about the mystery all children deal with—adults. Her clear, direct style and decision to write about real children made her books immediately appealing. Henry Higgins became the first of 39 books she would write during her lifetime. It also introduced readers to her most famous character, Ramona Quimby, who would get her own book series starting in 1968. She introduced another one of her beloved characters, Ralph S. Mouse, in order to get her own young son hooked on reading. 
Cleary was a pioneer in the genre of children's literature. Her books steered the genre away from fantasy and historical fiction. Her focus on relatable characters made her a hero to countless children, many of whom wrote fan mail to Cleary. Despite the pleas from her editors, Cleary answered all of her fan mail herself for 30 years. She credits much of her inspiration for books from these letters. She learned what children wanted to read about and made sure to address those themes—such as bullying and divorce—in a sympathetic and compelling way.   
Cleary won countless awards for her writing. In 1975, she received the American Library Association's Laura Ingalls Wilder Award. The 1980s brought her the Catholic Library Association's Regina Medal, the University of Southern Mississippi's Silver Medallion, and a nomination for the international Hans Christian Anderson Award. Along with more than 35 statewide awards, based on the direct votes of her young readers, she received multiple Newberry Honors, a National Medal of the Arts, and in 2000 was named a Library of Congress Living Legend. The Library of Congress has also designated her birthday, April 12, as national "Drop Everything and Read Day" to be celebrated by schools and libraries across the country. 
Beverly Cleary died in Carmel, California at the age of 104. Her 39 books, including two memoirs, have been translated into more than 14 languages and sold in more than 20 countries. Many of her stories have been adapted for film and television and remain beloved classics by children all over the world.  
"About Beverly Cleary," https://www.beverlycleary.com/about. 
"Children's Author Beverly Cleary, Creator of Ramona Quimby, Dies at 104," All Things Considered, NPR, March 26, 2021, https://www.npr.org/2021/03/26/311881785/beverly-cleary-creator-of-ramona-quimby-dies-at-104. 
Katrina Sarson, "Beloved Oregon author Beverly Cleary has died at age 104," Oregon Public Broadcasting, March 26, 2021, https://www.opb.org/article/2021/03/26/beverly-cleary-has-died-oregon-author/. 
"Remembering Beverly Cleary," Society of Children's Book Writers and Illustrators, https://www.scbwi.org/remembering-beverly-cleary/. 
William Grimes, "Beverly Cleary, Beloved Children's Book Author, Dies at 104," New York Times, March 26, 2021, https://www.nytimes.com/2021/03/26/books/beverly-cleary-dead.html. 
"Beverly Cleary Books," https://www.beverlycleary.com/books. 
"Educators & Librarians," https://www.beverlycleary.com/educators-librarians. 
Elisabeth Egan, "Beverly Cleary Wrote About Real Life, and Her Readers Love Her for It," New York Times, March 26, 2021, https://www.nytimes.com/2021/03/26/books/review/beverly-cleary-ramona-quimby.html?action=click&module=RelatedLinks&pgtype=Article. 
"A Video Interview with Beverly Cleary," Reading Rockets, 2006, https://www.readingrockets.org/books/interviews/cleary.