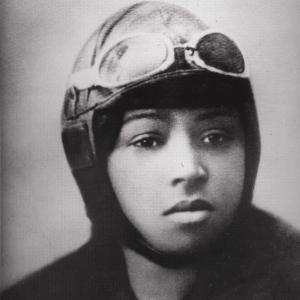 Bessie Coleman soared across the sky as the first woman of African American and Native American descent to earn her pilot's license in the U.S. Known for performing flying tricks, Coleman's nicknames were: "Brave Bessie," "Queen Bess," and "The Only Race Aviatrix in the World." Her goal was to encourage women and African Americans to reach their dreams – and this became her legacy. Though her life and career were cut short in a tragic plane crash, her life and legacy continue to inspire people around the world. 
Born in Atlanta, Texas on January 26, 1892, Bessie Coleman had twelve brothers and sisters. Her mother, Susan Coleman, was an African American maid, and her father George Coleman was a sharecropper of mixed Native American and African American descent. In 1901, her father decided to move back to Oklahoma to try to escape discrimination. Coleman's mother decided not to go with him. Instead, Coleman, her mother, and siblings stayed in Waxahachie, Texas. Coleman grew up helping her mother pick cotton and wash laundry to earn extra money. By the time she was eighteen, she saved enough money to attend the Colored Agricultural and Normal University (now Langston University) in Langston, Oklahoma. She dropped out of college after only one semester because she could no longer afford tuition. 
At age 23, Coleman went to live with her brothers in Chicago. She went to the Burnham School of Beauty Culture in 1915 and became a manicurist in a local barbershop. Meanwhile, her brothers served in the military during World War I and came home with stories of their time in France. Her brother John teased her because French women were allowed to learn how to fly airplanes and, in the United States, Coleman could not. Her brother's stories, along with other news of pilots in the war, inspired her to become a pilot. She applied to many flight schools across the country, but no school would take her because she was both African American and a woman. Robert Abbot, a famous African American newspaper publisher told her to move to France where she could learn how to fly. Since her application to flight schools needed to be written in French, she began taking French classes at night. Finally, Coleman was accepted at the Caudron Brothers' School of Aviation in Le Crotoy, France. She received her international pilot's license on June 15, 1921 from the Fédération Aéronautique Internationale. She then returned to the United States. 
Coleman's dream was to own a plane and to open her own flight school. She gave speeches and showed films of her air tricks at churches, theaters, and schools to earn money. She refused to speak anywhere that was segregated or discriminated against African Americans. In 1922, she performed the first public flight by an African American woman. She was famous for doing "loop-the-loops" and making the shape of an "8" in an airplane. People were fascinated by her performances, and she became more popular both in the United States and in Europe. She toured the country giving flight lessons and performing in flight shows, and she encouraged African Americans and women to learn how to fly. 
Only two years into her flight career, Coleman survived her first major airplane accident. In February 1923, her airplane engine suddenly stopped working mid-flight and she crashed. She was badly hurt in the accident and suffered a broken leg, a few cracked ribs, and cuts on her face. Thankfully, Coleman fully healed from her injuries. This accident did not stop her from flying. She went back to performing dangerous air tricks in 1925. Her hard work helped her to save up enough money to purchase her own plane, a Jenny – JN-4 with an OX-5 engine. Soon she returned to her hometown in Texas to perform for a large crowd. Since Texas was segregated, the managers planned to create two separate entrances for African Americans and white people to get into the stadium. Coleman refused to perform unless there was only one gate for everyone to use. After many meetings, the managers agreed to have one gate, but people would still have to sit in segregated sections of the stadium. She agreed to perform and became famous for publicly standing up for her beliefs. 
On April 30, 1926, Bessie Coleman took a test flight with a mechanic named William Wills. Wills piloted the plane while Coleman sat in the passenger seat. At about 3,000 feet in the air, a loose wrench got stuck in the engine of the aircraft. Wills could no longer control the steering wheel, and the plane flipped over.  Coleman was not wearing a seatbelt. At the time, airplanes did not have a roof. Due to her un-fastened seatbelt, when the plane flipped over Coleman fell out of the open plane. She did not survive the fall. Wills crashed the aircraft a few feet away and also died in the accident. Her death was heartbreaking for thousands of people across the world. At her funeral in Chicago, famous activist Ida B. Wells-Barnett delivered her eulogy.  
Though she died at the age of 34, her legacy continues to inspire communities all over the country. In 1931, the Challenger Pilots' Association of Chicago started a tradition of flying over Coleman's grave every year. Many aviation clubs were named in her honor, including the Bessie Coleman Aero Club, organized by William Powell in the 1930s, and the Bessie Coleman Aviators, which formed in Chicago in 1977. In 1995, the "Bessie Coleman Stamp" was made to commemorate all of her accomplishments. In 2023, the U.S. Mint released a special quarter featuring Bessie Coleman as part of the American Women Quarters™ Program. 
Reflection questions: 
Use the following questions before, during, and after reading the biography to deepen your understanding of Bessie Coleman. 
What obstacles did Bessie Coleman face in the early 20th century and why did she face them? 

How did Bessie Coleman advocate for African American people while she was a pilot? 

What legacy did Bessie Coleman leave behind? 
What inspires you most about Bessie Coleman's life and legacy? 
APA: Alexander, K.L. (2018). Bessie Coleman. Retrieved from https://www.womenshistory.org/education-resources/biographies/bessie-coleman
Chicago: Alexander, Kerri Lee. "Bessie Coleman." National Women's History Museum. 2018. https://www.womenshistory.org/education-resources/biographies/bessie-coleman.
MLA: Alexander, Kerri Lee. "Bessie Coleman." National Women's History Museum. https://www.womenshistory.org/education-resources/biographies/bessie-coleman. Accessed [date]. 
Borden, Louise, Mary Kay. Kroeger, and Teresa Flavin. Fly High!: The Story of Bessie Coleman. Dubuque, IA: Kendall/Hall, 2008.
Kaplan, Betty, Miriam Sawyer, and Caroline M. Fannin. Distinguished African Americans in Aviation and Space Science. Oryx Press, 2002.
Rich, Doris. Queen Bess: Daredevil Aviator. Washington: Smithsonian Institution Press, 1993. 
UNLADYLIKE2020, Unladylike Productions, LLC. "Bessie Coleman." Accessed on December 21, 2022. https://unladylike2020.com/profile/bessie-coleman/ 
National Air and Space Museum. "Bessie Coleman." Accessed on December 21, 2022.  https://airandspace.si.edu/explore/stories/bessie-coleman 
Learn more about professional black female pilots who are committed to supporting future black aviators through mentorship, professional development, outreach and scholarship through Sisters of the Skies: https://sistersoftheskies.org/