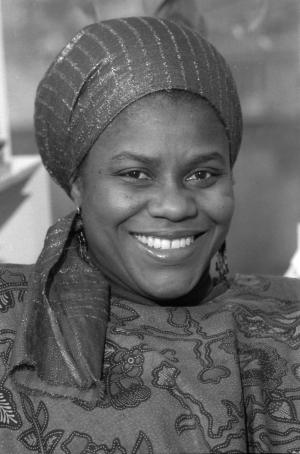 Bernice Johnson Reagon is a renowned composer, historian, musician, and activist. She is also credited with founding Sweet Honey in the Rock, an all-female and all-Black acapella group. Much of her work centers Black identity and social justice and many of her musical projects highlight the Civil Rights Era. 
Bernice Johnson Reagon was born Bernice Johnson on October 4th, 1942 just outside of Albany, Georgia. Her parents, Beatrice and Reverend Jessie Johnson, raised Reagon and her siblings within the town's closely connected African American community. Reagon describes this experience as "being raised by a whole community of people" rather than solely by her parents (Reagon 1986). She recalls living in close proximity to her relatives' homes. Reagon's schooling started young, and she was in fourth grade by the time she was seven years old. Following primary school, she and her siblings attended an all-Black high school.  
Despite the ever-present racism that prevailed in the South, Reagon was able to establish a strong sense of self in the face of the most challenging odds. Her father's role as a reverend in an all-Black church and her childhood in a primarily Black community ensured Reagon was brought up in an environment full of Black music and traditions. Her environment allowed her to constantly learn more about her culture. Heavy engagement with her community was a large factor in the passion she developed for Black identity and heritage. 
In 1959, Reagon attended Albany State College (now Albany State University) where she majored in music. She also began to take an interest in activism and political organizing . Her interest fully took shape when she joined the Student Nonviolent Coordinating Committee (SNCC) as well as the National Association for Colored People (NAACP). During her time with each organization, she assisted in "voter registration drives and anti-segregation protests" (Americans Who Tell The Truth, n.d.). These tasks were central to the Albany Movement, as the campaign's leaders aimed to address the lack of Albany's Black residents registered to vote and the city's refusal to desegregate (SNCC Digital Gateway 2021). The Movement also hosted workshops on how to hold peaceful demonstrations. To further their efforts, the Movement's leaders also recruited local students to partake in the desegregation initiatives.  
One prominent protest method of various Albany Movement rallies was singing. Organizers often called upon Reagon to initiate singing at demonstrations. When interviewed for the Eyes on the Prize: America's Civil Rights Years interview project, Reagon recalled her shock that Albany State College students were unfamiliar with songs that were prominent in her childhood. She remarked, "I remember being surprised that everybody in Albany State College gym at that time didn't know the Negro National Anthem, which in Albany you learned from the time you were born. That was one of my first awareness' that all Black people didn't grow up like we did in Albany" (Reagon 1986). Though this surprised Reagon, she did not let this discourage her. Instead, she put her own unique twist on the music she sang at rallies. Most often, she would change certain words to better fit the theme of the gatherings. For example, if a song incorporated a word she did not think was relevant to their cause, she would change it to "freedom" where applicable (Reagon 1986). 
Reagon was jailed in 1961 for participating in a civil rights demonstration. When she discussed her experience in jail with interviewer Chris Lee, she immediately reflected upon the power of song. Reagon recounted that there were many kinds of Black people in jail with her, all evidently from different walks of life. One thing they had in common though was their imprisonment. When encouraged to sing by fellow jailed civil rights leaders, Reagon reflected that "growing up in Albany, I learned that if you bring Black people together, you bring them together with a song," (Reagon 1986). When singing in jail, she recognized the power of music to create and maintain community - even in the most dire situations. Though this was an enlightening experience for Reagon that would come to guide her for the rest of her career, her imprisonment resulted in her expulsion from Albany State College. 
Reagon was later accepted to Spelman College to continue her undergraduate studies. However, shortly thereafter she dropped out to pursue other civil rights opportunities. Reagon founded the SNCC Freedom Singers along with Rutha Harris, Charles Neblett and future husband Cordell Reagon. The group began touring in December 1962 to raise money for SNCC (SNCC Digital Gateway 2018). They were officially the first group of freedom singers to tour nationally (Folkways n.d.). In 1963, Bernice Johnson and Cordell Reagon married. A year later, Reagon left the Freedom Singers to give birth to their first child, Toshi Reagon. The couple had one more child together in 1965, Kwan Tauna Reagon. Bernice Johnson Reagon and Cordell Reagon then split in 1967. 
Following her divorce, Reagon decided to complete her undergraduate degree at Spelman. She graduated in 1970 with her bachelors in Non-Western History (Hatfield 2020). She then received  the Ford Foundation Fellowship, which was created in 1962  to "increase faculty diversity at US colleges and universities'' and is given to "students who demonstrate academic excellence, a commitment to pluralism, and a strong interest in teaching and research" (Ford Foundation n.d.). The fellowship enabled Reagon to move to Washington, DC in 1971 to begin a graduate program at Howard University. She graduated in 1975 with her Ph.D. in History. During her time at Howard, Reagon was the Vocal Director of the Black Repertory Theater in DC (Hatfield 2020). 
While serving as Vocal Director, Reagon created the all-female and all-Black acapella group called Sweet Honey in the Rock in 1973. This was the second ensemble created by Reagon; in 1966 she founded, Harambee Singers while studying at Spelman. The Harambee Singers were associated with the Black Consciousness Movement, which was born out of opposition to South African Apartheid (or, in other words, segregation) and remained active through the mid 1960s and late 1970s (Hatfield 2020). Reagon described the group as "a choral Black women collective voice calling for unity" (Bernice Johnson Reagon n.d.). Though Reagon was no longer involved with the Harambee Singers after 1970, she emphasized in a 1999 interview that they were still active in Atlanta (Kernan 1999). The Harambee Singers experience lay the foundation for Sweet Honey in the Rock. Reagon explains the name of the group originated from Psalm 81:16, which "describes a land so rich that honey pours from the rock" (Otten 2008). The women also felt the name was a fitting metaphor for Black women - "sweet as honey, strong as rock" (Otten 2008). 
Reagon served as director of Sweet Honey in the Rock from 1973 until 2003. The group became world famous during  her nearly 30 years with the group. Following a performance at a 1975 University of Chicago Festival, Flying Fish Records signed the group (Otten 2008). Sweet Honey's songs covered a wide range of genres, from spirituals to children's songs. They recorded a number of albums and were propelled into stardom. Sweet Honey's  fame allowed them to tour both nationally and internationally, including in Canada, Africa, and Asia. The ensemble performed more than 60 times a year, with most shows sold out well in advance (Kernan 1999).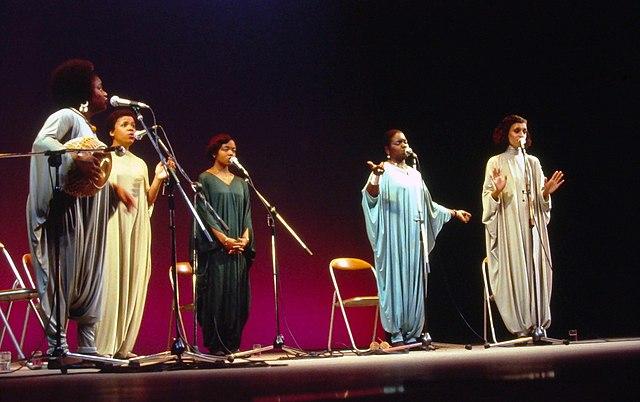 Their debut album was self-titled Sweet Honey in the Rock (1976). Other works include In This Land (1992), Sacred Ground (1995), and The Women Gather (2003). Sweet Honey in the Rock was nominated for Grammy Awards three times. Aside from their high-quality musical compositions, Sweet Honey in the Rock is also applauded for their commitment to "justice, respect and equality" (Bernice Johnson Reagon, n.d.). Their dedication to these principles is highlighted through various ventures, most notably their development of the closing cultural celebrations for the United Nations Decade for Women Conference held in Nairobi, Kenya in 1985 (Britannica 2022). Sweet Honey in the Rock's mission reads:  
"The ensemble educates, entertains and empowers its audience and community through the dynamic vehicles of a cappella singing and American Sign Language interpretation for the Deaf and hard of hearing," (Sweet Honey in the Rock, n.d.). 
In 1993, Reagon wrote the book "We Who Believe in Freedom: Sweet Honey in The Rock, Still on the Journey," which details the history of the group. Though Reagon no longer directs or performs with the ensemble following her retirement, she is still celebrated by Sweet Honey in the Rock's remaining members.
Aside from her extensive musical pursuits, Reagon joined the Smithsonian in 1974. She initially worked in the Division of Performing Arts/African Diaspora Project as a Cultural Historian. In 1988, she became a curator at the National Museum of American History. In her time at the museum, Reagon founded and developed the "Program in Black American Culture." This program entails exhibitions, workshops,  performances, and conferences (Smithsonian Center for Folklife and Cultural Heritage n.d.). She was also responsible for accessioning more collections that highlight the Black American experience.  
While at the Smithsonian, she developed two major projects: Wade in the Water: African American Sacred Music Traditions (1994), a radio series sponsored by the Smithsonian and National Public Radio, and Voices of the Civil Rights Movement: Black American Freedom Songs 1960-66 (1997) (Britannica 2022). Reagon won the Peabody Award, which is granted to those who showcase "excellence in broadcasting," for Wade in the Water  (The Peabody Awards n.d.). Reagon worked at the Smithsonian for almost twenty years and is credited with successfully "[expanding] the [National Museum of American History's] mission to include a greater focus on minority contributions to American life" (Hatfield 2020). 
During her time with the Smithsonian and directing Sweet Honey in the Rock, Reagon received continuous recognition for her many musical, academic and cultural contributions. In 1989, she received a MacArthur Foundation grant which helped her complete Wade in the Water. In 1993, American University appointed her as a Distinguished Professor of History. The next year Reagon was named curator emeritus by the Smithsonian. She was also awarded the Charles E Frankel Prize and Presidential Medal by President Clinton in 1995 for her contributions to the humanities. In 2003, Reagon was named professor emeritus at American University. That same year, Reagon was also awarded the Heinz Award for Arts and Humanities.  
Given her long history of dedication to social justice and protest through song, Reagon has no shortage of achievements. She has also written several her own albums, academic and historical books, and documentaries. Though she created many albums with Sweet Honey in the Rock, she has produced various albums independent of the ensemble, most notably, Folk Songs: The South (1965), Give Your Hands to Struggle: The Evolution of A Freedom Fighter (1975) and River of Life (1986). With regards to academic texts, she wrote We'll Understand it Better By and By: Pioneering African American Gospel Composers (1992) as well as If You Don't Go, Don't Hinder Me: The African American Sacred Song Tradition (2001). Outside of text, she has also contributed to television. In 1987, she assisted with the PBS documentary series Eyes on the Prize and, in 1989, she worked on the PBS documentary We Shall Overcome. The 1989 documentary won an Emmy. She is also credited with contributed to the film score for the 1998 four-part movie series Africans in America. The series was highly regarded and won a Peabody award, making it Reagon's second project that has been a Peabody recipient.  
Reagon has been a prominent figure and a powerful force in both the world of social justice and music. Her life thus far has been a colorful journey filled with connecting and protesting through song. Her voice, both as a vocalist and as an activist, has been pivotal in the fight for civil rights. From her efforts as a young college student to her contributions as a director and composer, Reagon's legacy has paved the way for many. She has demonstrated the power of song throughout her professional and academic career. As of 2023, she continues to highlight Black culture and identity through music by continuing to compose her own work. She also remains a resident of Washington, DC. 
Image Descriptions & Media Questions 
Photo 1: Sweet Honey in the Rock performing in Japan in 1980. They traveled internationally to share their compositions with various audiences. 
Reflect on Sweet Honey in the Rock sharing their uniquely Black styles of music and composition with those of other backgrounds. What can you learn by engaging with the narratives and creations of those of other backgrounds that you might not belong to? 
 
Video 1: In this video, the members of Sweet Honey in the Rock sing soulfully and in colorful cultural attire. 
The lyrics "We who believe in freedom cannot rest," can be heard throughout the song several times. What do you believe the group means by this phrase? 
Think carefully about the other lyrics in the song. Which line(s) stick out to you most and why?  
 
Video 2: Reagon accepts an award in 2003, delivering a speech. She remarks, "I move through the spaces opened by those before me. Walked ground that is dust of the bones of those who died so that I could walk".  
When reflecting on Reagon's life and work, why do you believe she finds it necessary to reflect on the lives and contributions of her ancestors? 
Why do you believe it's important to know our history and learn what we can about those who came before us? 
Video 3: Reagon and the Freedom Singers perform  "Ain't Gonna Let Nobody Turn Me Around" at the White House. As they begin to sing, they encourage the audience to join in on the song. 
Imagine you are in the audience for this performance. What emotions do you think being surrounded by other audience members singing the powerful lyrics of the song might make you feel? 
MLA – Dawson, Shay. "Bernice Johnson Reagon." National Women's History Museum. National Women's History Museum, 2023. Date accessed. 
Chicago - Dawson, Shay. "Bernice Johnson Reagon." National Women's History Museum. 2023. https://www.womenshistory.org/education-resources/biographies/bernice-johnson-reagon.
Media Citations 
Photograph by Dane A. Penland, SI: Dane Penland, Smithsonian Libraries and Archives 
Amy Horowitz, CC BY-SA 4.0 <https://creativecommons.org/licenses/by-sa/4.0>, via Wikimedia Commons. 
"Bernice Johnson Reagon, Heinz Awardee Speech, 2003 Heinz Awards Presentation, Folger Theatre." YouTube. The Heinz Awards, 2003. https://www.youtube.com/watch?v=tYifrjuqvQ4.  
Geepereet. "Sweet Honey in the Rock - Ella's Song." YouTube. December 2, 2008. https://www.youtube.com/watch?v=U6Uus--gFrc.  
folkarchivist. "Bernice Reagon, 'Ain't Gonna Let Nobody Turn Me around', Washington, DC, Feb. 10, 2010." YouTube, February 10, 2010. https://www.youtube.com/watch?v=gJr6YV-KS4Y.