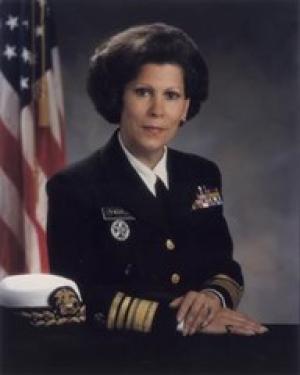 A dedicated public health advocate, Antonia Novello made history as the first female and first Hispanic U.S. Surgeon General in 1990. Novello has led several major public health campaigns in her efforts to improve health conditions and access to medical care, especially for women, children, and minority populations.
Antonia Novello was born Antonia Coello in Fajardo, Puerto Rico on August 23, 1944, the eldest of three children. Novello's father, Antonio Coello, passed away when she was young and her mother, Ana Delia Flores Coello, worked as a school teacher and principal. Her mother emphasized the importance of education, hard work, and respect and care for others, all lessons that Novello took to heart.
As a child, Novello suffered from a condition called congenital megacolon, an abnormality of the large intestine. The condition limited her energy and activities. Her family could not afford the surgery that would correct it, so she spent her summers getting interim treatment in a local hospital. Novello was finally able to have the surgery when she was 18 years old, but a second operation was required two years later before the condition was fully cured. This experience left Novello determined to become a doctor, so that she could help other sick children, especially those who struggled to access the medical care they required.
An excellent student, Novello earned a scholarship to the University of Puerto Rico and received her B.S. in 1965. She attended the University of Puerto Rico School of Medicine, from which she graduated in 1970. After medical school, Novello married Joseph R. Novello, a navy flight surgeon who went on to become a psychiatrist, author, and medical journalist.
While she was in medical school, Novello's aunt died of kidney failure. Her aunt's passing inspired Novello to learn more about kidney disease and the transplant process. Novello went on to specialize in pediatric nephrology (the study of the kidneys), first completing her residency in pediatrics at the University of Michigan (1974) and then her nephrology fellowship at Georgetown University (1976). At the University of Michigan, Novello was the first woman named Pediatrics Intern of the Year.
Novello spent two years in private practice, but found caring for critically ill children emotionally challenging. She felt called to the public health field where she could work to improve health for the broader population, rather than one patient at a time. Novello joined the U.S. Public Health Service Commissioned Corps and worked for the National Institute of Arthritis, Metabolism and Digestive Disorders at the National Institutes of Health. As a Congressional Fellow, Novello helped draft federal legislation for the Organ Transplantation Procurement Act of 1984, which established the national registry for organ matching. She also helped author the health warnings that were added to cigarette packaging.
In 1982, Novello earned a master's degree in Public Health from Johns Hopkins University and in 1986, she became a clinical professor of pediatrics at Georgetown University Hospital. Novello moved to the National Institute of Child Health and Human Development in 1987, where she focused on pediatric AIDS.
President George H.W. Bush took notice of Novello's work on pediatric AIDS and, in 1990, appointed her the United States' 14th Surgeon General, the nation's top health official. She was the first woman and the first Hispanic person to serve as U.S. Surgeon General.
Novello focused on the health of women, children, and minorities during her tenure as Surgeon General. She launched initiatives to combat underage drinking and smoking. One of her most effective campaigns sought to end tobacco advertising aimed at children, such as ads with the "Joe Camel" cartoon. Novello was early to recognize the need to focus on women with AIDS and to strive to prevent the neonatal transmission of HIV. Novello also promoted early childhood health initiatives such as injury prevention and immunization, and sought to raise awareness about domestic violence in the U.S. In her efforts to improve access to healthcare among minority populations, particularly Latinx Americans, she convened national and regional meetings to address community health needs.
Novello stepped down as Surgeon General in 1993, returning to the regular corps of the U.S. Public Health Service. She served as a special representative to the United Nations Children's Fund for three years. There, she focused on the health and nutritional needs of women, children, and adolescents around the world. In 1996, Novello joined the faculty of the Johns Hopkins School of Health and Hygiene as a visiting professor.
New York Governor George Pataki nominated Novello to serve as the state health commissioner in 1999, making her the head of the largest public health agency in the nation. Novello left the position in 2006, but soon after faced controversy when staffers alleged that she abused her power by ordering state employees to run her errands and serve as her chauffeur for non-work-related activities. Charged with defrauding the government, Novello reached a plea agreement with the state that required her to conduct community service at an Albany health clinic and pay fines and restitution to the state government.
From 2008-2014, Novello worked at the Florida Hospital for Children in Orlando, where she retired as the Executive Director of Public Health Policy. Even in retirement, Novello has continued to contribute her time and energy to improve the health of those in need. In 2017, Novello took part in a government relief mission that brought supplies and medical care to her native Puerto Rico in the aftermath of Hurricane Maria. In 2021, she administered Covid-19 vaccines in San Juan and urged people to get vaccinated and wear masks to prevent spreading the virus. That August, Novello took part in a meeting of all living former U.S. Surgeon Generals at the White House to discuss expanding vaccine access and information in communities of color.
Novello earned numerous awards during her storied career as a physician and public health official, including the Public Health Service Commendation Medal (1983); Congressional Hispanic Caucus Medal (1991); Order of Military Medical Merit Award (1992); and the James Smithson Bicentennial Medal (2002).
Published October 2021.
Photo Credit: United States Public Health Service
https://cfmedicine.nlm.nih.gov/gallery/photo_239_3.html
The Associated Press. "State Official Under Pataki Pleads Guilty." The New York Times. June 26, 2009. Accessed Sept. 29, 2021. https://www.nytimes.com/2009/06/27/nyregion/27novello.html 
Britannica, T. Editors of Encyclopaedia. "Antonia Novello." Encyclopedia Britannica, August 19, 2021. Accessed Sept. 29, 2021. https://www.britannica.com/biography/Antonia-Novello 
"CBP Transports Former Surgeon General to Puerto Rico as part of Hurricane Maria Relief Efforts." U.S. Customs and Border Protection. October 3, 2017. Accessed Sept. 20, 2021. https://www.cbp.gov/newsroom/local-media-release/cbp-transports-former-surgeon-general-puerto-rico-part-hurricane-maria  
"Dr. Antonia Novello." Changing the Face of Medicine. June 3, 2015. Accessed Sept. 20, 2021. https://cfmedicine.nlm.nih.gov/physicians/biography_239.html 
"Novello, Antonia: 1944—: Pediatrician." Encyclopedia.com. May 17, 2018. Accessed Sept. 29, 2021. https://www.encyclopedia.com/people/medicine/medicine-biographies/antonia-c-novello 
Sesin, Carmen. "First Hispanic surgeon general on Covid: Use 'common sense,' save your family." NBC News. August 23, 2021. Accessed Sept. 20, 2021. https://www.nbcnews.com/news/latino/first-hispanic-surgeon-general-covid-use-common-sense-family-rcna1742 
"Women Who Inspire Us: Antonia Novello, M.D." OHSU Center for Women's Health. Accessed Sept. 20, 2021. https://www.ohsu.edu/womens-health/women-who-inspire-us-antonia-novello-md  
"Women's History Month: Celebrating Dr. Antonia Novello." Specialty Care. Accessed Sept. 20, 2021. https://specialtycareus.com/celebrating-dr-antonia-novello/