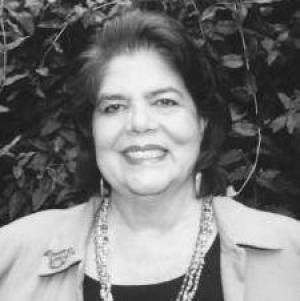 "One of the things my parents taught me, and I'll always be grateful . . . is to not ever let anybody else define me; [but] for me to define myself . . ." 
Wilma Mankiller is honored and recognized as the first female Principal Chief of the Cherokee Nation. She is also the first woman elected as chief of a major Native tribe. She spent her remarkable life fighting for the rights of American Indians. 
Born on November 18, 1945, in Tahlequah, Oklahoma, the capital of the Cherokee Nation, Wilma  was the sixth of eleven children born to Charley Mankiller and Clara Irene Sitton. The surname "Mankiller," Asgaya-dihi (Cherokee syllabary: ᎠᏍᎦᏯᏗᎯ) in the Cherokee language, refers to a traditional Cherokee military rank, like a captain or major. 
Though Mankiller recalled that she never felt poor growing up, the family's rural ancestral home had no electricity, indoor plumbing, or telephones. When she was 11, the family moved to San Francisco, California as part of a Bureau of Indian Affairs' relocation policy, which aimed to move Indians off federally subsidized lands with the promise of jobs in America's big cities. Her father became a warehouse worker and union organizer. In a 1993 interview with The New York Times, Mankiller described the move as "my own little Trail of Tears," a reference to the forced removal of Cherokees from the Southeast by federal troops. Her father's ancestors had been forced to relocate to Indian Territory from Tennessee over the Trail of Tears in the 1830s. 
She first developed her own social activism when a dramatic event changed her life. In 1969, a group of American Indians took over the federal penitentiary on Alcatraz Island in San Francisco Bay and laid claim to it by 'right of discovery' to expose the suffering of American Indians. Mankiller recalled, ". . . When Alcatraz occurred, I became aware of what needed to be done to let the rest of the world know that Indians had rights, too." 
Forever changed by Alcatraz and inspired by the women's movement, Mankiller worked to empower the surrounding Native communities in California, serving as director of Oakland's Native American Youth Center. She believed that restoring pride in Native heritage could reduce the downward spiral of Native youth growing up in the streets. She supported California's Pit River Tribe in its legal battle against Pacific Gas and Electric over the rights to millions of acres of the tribal land, learning the practical applications for exercising tribal sovereignty and treaty rights. She would bring back this knowledge to her own Cherokee community. 
Married from 1963 to 1977, Mankiller and her two daughters moved back to Oklahoma after a divorce. Her activism continued when she founded the Community Development Department for the Cherokee Nation, focusing on improving access to water and housing. Her first project was in Bell, Oklahoma, a small Cherokee community of 200 families with no running water, high unemployment, and a persistent sense of disempowerment. Mankiller's belief in communities' ability to work collectively for the common good enabled Bell residents to construct a 16-mile waterline over a 14-month period. The feat resulted in a full-length feature film, The Cherokee Word for Water. While recruiting volunteers, she met and married Cherokee citizen Charlie Soap. 
Mankiller was elected to serve as the Principal Chief of the Cherokee Nation in 1985. She led for 10 years, guiding a sovereign nation whose population more than doubled, from 68,000 to 170,000, during her tenure. Prior to being elected Principal Chief, she served as Deputy Principal Chief. The first woman to be elected chief of a major American Indian tribe, she revitalized the Nation's tribal government, and advocated relentlessly for improved education, healthcare, and housing services. Under her leadership, infant mortality declined, and educational achievement rose in the Cherokee Nation. 
She was a consensus builder, working with the federal government to pilot a self-government agreement for the Cherokee Nation and with the Environmental Protection Agency. As the tribe's leader, she was both the principal guardian of centuries of Cherokee tradition and customs, including legal codes, and chief executive of a tribe with a budget that reached $150 million a year by the end of her tenure. The money included profits from several factories, gaming, hospitality, natural resources, other businesses as well as money from the federal government. 
Her successes earned her national recognition as the Ms. Magazine Woman of the Year in 1987. She was inducted into the National Women's Hall of Fame in 1993, and in 1998 she received the Presidential Medal of Freedom, the nation's highest civilian honor, from President Bill Clinton. Her autobiography, Mankiller: A Chief and Her People, was published in 1993. 
When asked to send a pair of shoes to an American Indian art exhibit, she reportedly sent a pair of ordinary walking shoes, claiming they were the normal shoes she wore everywhere.
"Remember that I am just a woman who is living a very abundant life," Mankiller said. "Every step I take forward is on a path paved by strong Indian women before me." 
Mankiller died on April 6, 2010 at age 64 from pancreatic cancer. Her funeral was attended by women's rights activist and close friend Gloria Steinem and Oklahoma Governor Brad Henry. President Barack Obama said this about her: "As the Cherokee Nation's first female chief, she transformed the Nation-to-Nation relationship between the Cherokee Nation and the Federal Government and served as an inspiration to women in Indian Country and across America. A recipient of the Presidential Medal of Freedom, she was recognized for her vision and commitment to a brighter future for all Americans. Her legacy will continue to encourage and motivate all who carry on her work." 
Steinem, who was by her side when Mankiller walked on, said of her friend, "Ancient traditions call for setting signal fires to light the way home for a great one; fires were lit in 23 countries after Wilma's death. The millions she touched will continue her work, but I will miss her every day of my life." 
She remains an inspiration to many Cherokees and strong women everywhere. 
"Guide: The Life of Wilma Mankiller, First Woman to Serve as Principal Chief of the Cherokee Nation," National Trust for Historic Preservation, https://savingplaces.org/guides/wilma-mankiller-first-woman-principal-chief-cherokee-nation. 
Olivia Riggio, "Women's History Month Profiles: Wilma Mankiller, Cherokee Nation Chief," DiversityInc, March 15, 2021, https://www.diversityinc.com/womens-history-month-profiles-wilma-mankiller-cherokee-nation-chief/. 
Sam Howe Verhovek, "Wilma Mankiller, Cherokee Chief and First Woman to Lead Major Tribe, Is Dead at 64," New York Times, April 6, 2010, https://www.nytimes.com/2010/04/07/us/07mankiller.html. 
"Wilma Pearl Mankiller," Encyclopedia Britannica, updates April 2, 2021, https://www.britannica.com/biography/Wilma-Pearl-Mankiller. 
D. Sean Rowley, "Mankiller remains an inspiration to many Cherokees," Cherokee Phoenix, March 3, 2021, https://www.cherokeephoenix.org/news/mankiller-remains-an-inspiration-to-many-cherokees/article_83b1b7de-7c2f-11eb-bc74-13dd175c2471.html. 
Wilma Mankiller and Michael Wallis, Mankiller: A Chief and Her People (New York: St. Martin's Griffin, 1999).
MLA – Brando, Elizabeth. "Wilma Mankiller." National Women's History Museum, 2021. Date accessed. 
Chicago – Brando, Elizabeth "Wilma Mankiller." National Women's History Museum. 2021. www.womenshistory.org/education-resources/biographies/wilma-mankiller.