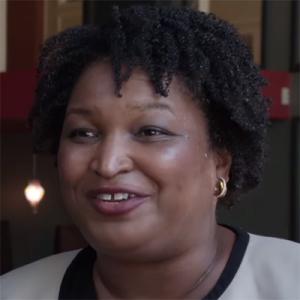 The name Stacey Abrams has become synonymous with voting accessibility and turnout, making history by becoming the first woman and first African American woman to hold positions in state and national politics. Abrams is now one of the most prominent African American female politicians in the United States.
Stacey Yvonne Abrams was born on December 9, 1973 in Madison, Wisconsin. Her mother, Carolyn, was a college librarian and her father, Robert, was a shipyard worker. Coming of age amidst the boycotts and marches of the civil rights movement, both of her parents participated. Her mother was kicked off buses when she tried to sit up front and her father was beaten and jailed for his participation. Carolyn and Robert raised their six kids with a "you-can-be-anything mantra" and advocated civic engagement. Family outings to the polls and outreach trips to prisons were frequent.
The family did not stay long in Wisconsin—Abrams only remembers "the cold and the cheese curds"—and moved to Gulfport, Mississippi. Abrams spent most of her childhood in Gulfport, recalling that her family was part of what her mother called "the genteel poor." Abrams said this meant the family "had no money, but we watched PBS and read books." Abrams read the encyclopedia for fun.
Education was of the upmost importance in the Abrams household. Abrams likes to say that her "parents said you could miss school if you had a doctor's note and a surgical scar." Abrams credits the public school system with "saving" her and her siblings. Her siblings include a professor of anthropology, federal judge, evolutionary biologist, and a social worker, and the family remains close and the siblings have a book club that meets regularly via conference call.
When Abrams was in high school, the family moved to Atlanta so her parents could attend the Theological Seminary at Emory University. Both became ordained Methodist ministers. In 1991, she was chosen as valedictorian of her high school. Invited to the annual valedictorians' reception, Abrams and her parents traveled by bus to the governor's mansion. At the gate, they were told to leave by the guard on duty. While the mistake was eventually corrected, the experience stuck with Abrams. While she knew she belonged, she recalls about that day, "I don't remember meeting the governor of Georgia or my fellow valedictorians...All I remember that day was a man at a gate, telling me I don't belong." She would never let someone make her feel out of place again.
After graduation, Abrams matriculated to Spelman College, an all-women's HBCU in Atlanta. During her freshman year, in 1992, she led a protest against the Rodney King verdict and co-founded a group called the Students for African American Empowerment. She also attended a protest on the steps of the Georgia State Capital where they burned the state flag—which at the time was dominated by the Confederate battle flag. Abrams maintains Confederate symbols should not be in public places of honor. The Georgia state flag was changed in 2003, but Stone Mountain—the largest Confederate monument in the world—still stands just outside of Atlanta. Abrams has called for its removal.
She graduated from Spelman "magna cum laude" with a B.A. in interdisciplinary studies (political science, economics, and sociology) and was named a Harry S. Truman Scholar; the scholarship is awarded to a few public-service oriented students every year. Abrams's education did not stop with her B.A. She received a Master's Degree from the Lyndon B. Johnson School of Public Affairs at the University of Texas at Austin, and a J.D. from Yale University. Abrams then returned to Atlanta as a tax
attorney. At 29 she was appointed the Deputy City Attorney for Atlanta. She also co-founded a number of businesses, including a financial-services firm in Atlanta.
In 2006, Abrams was elected to the Georgia House and quickly gained a reputation for bipartisanship. In 2010, she became the House Minority leader—the first African American woman to do so in Georgia. Abrams advocated to increase educational opportunity and promote economic security. Inspired by her brother's experience with mental illness and addiction, she has also called for criminal justice reform, expanded Medicaid, and a better understanding of mental illness. In 2013, while still a member of the Georgia House, she created a voter registration non-profit called The New Georgia Project. It helped complete 86,000 new voter applications, many of whom came from voters of color.
Abrams rose to national prominence when she ran for governor of Georgia in 2018. While she lost that race by about 55,000 votes, her candidacy was historic in and of itself. When she won the Democratic primary in that race, she became the first African American woman to receive a major party's nomination for governor. During her campaign, she focused on bringing new voters to the polls—an extension of the work she did with the New Georgia Project. The race was also historic for other reasons; there were a series of allegations of voter suppression, particularly those targeted at suppressing the votes of African Americans. Abrams recalled after losing, "I sat shiva for 10 days. Then I started plotting." She would not let voter suppression or lack of turnout affect the outcome of another race again.
Abrams continues to advocate for and help with voter registration and founded Fair Fight Action in 2018. Fair Fight is an organization created to address the issues of voter suppression. Abrams is credited with being one of the major forces behind Democrats' wins in Georgia in the 2020 Presidential and Senate races.
Abrams continues to serve as the face of voting advocacy around the country. She has started and inspired many organizations that work to register and turn out voters, particularly young voters and voters of color. For her work, Abrams has received numerous awards including: the John F. Kennedy New Frontier Award (2012), Friend of Labor Award from the Georgia AFL-CIO, and others in recognition for her work as a public servant. In February 2021, she was nominated for the Nobel Peace Prize. Abrams also serves on numerous boards for educational and non-profit organizations.
Abrams is also an author. She has written two non-fiction books: Minority Leader: How to Lead from the Outside and Make Real Change (2018) and Our Time Is Now: Power, Purpose, and the Fight for a Fair America (2020).
Written March 2021
Image Source:
By The Circus - YouTube, CC BY 3.0, https://commons.wikimedia.org/w/index.php?curid=73754255
Works Cited
Bethea, Charles, "Stacey Abrams, the Candidate for Georgia Governor Who Could Make History," The New Yorker, April 17, 2018, https://www.newyorker.com/news/news-desk/stacey-abrams-the-candidate-for-georgia-governor-who-could-make-history
Bethea, Charles, "Stacey Abrams Makes History in the Georgia Primary," The New Yorker, May 23, 2018, https://www.newyorker.com/news/news-desk/stacey-abrams-makes-history-in-the-georgia-primary
"Honorary Degree Recipient Stacey Abrams," Spelman College, March 2017, https://www.spelman.edu/alumnae/stories/stories/2017/03/06/stacey-abrams
Lyall, Sarah and Richard Fausset, "Stacey Abrams, a Daughter of the South, Asks Georgia to Change," The New York Times, October 26, 2018, https://www.nytimes.com/2018/10/26/us/politics/stacey-abrams-georgia-governor.html
Ruiz, Michelle, "How Stacey Abrams Is Turning the Tide in Georgia," Vogue, November 5, 2020, https://www.vogue.com/article/stacey-abrams-georgia-vote-turning-the-tide
MLA – Rothberg, Emma. "Stacey Abrams." National Women's History Museum, 2021. Date accessed.
Chicago – Rothberg, Emma. "Stacey Abrams." National Women's History Museum. 2021.
"Fair Fight, "https://fairfight.com/
Abrams, Stacey and Lauren Groh-Wargo, "Stacey Abrams and Lauren Groh-Wargo: How to Turn Your Red State Blue," Opinion, The New York Times, February 11, 2021, https://www.nytimes.com/2021/02/11/opinion/stacey-abrams-georgia-election.html?searchResultPosition=6
Abrams, Stacey, "3 Questions to Ask Yourself about Everything You Do," filmed in November 2018 at TEDWomen 2018, https://www.ted.com/talks/stacey_abrams_3_questions_to_ask_yourself_about_everything_you_do New Yorker articles about Stacey Abrams, https://www.newyorker.com/tag/stacey-abrams
King, Maya, "How Stacey Abrams and her band of believers turned Georgia blue," Politico, November 8, 2020, https://www.politico.com/news/2020/11/08/stacey-abrams-believers-georgia-blue-434985
Epstein, Reid J. and Astead W. Herndon, "The 10-year Stacey Abrams project to flip Georgia has come to fruition," The New York Times, January 6, 2021, https://www.nytimes.com/2021/01/05/us/politics/stacey-abrams-georgia.html.