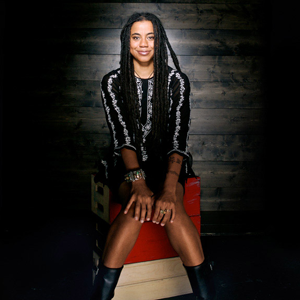 Though a high school teacher discouraged her from writing because of her poor spelling, Suzan-Lori Parks went on to become one of the most successful playwrights in the United States. The first African-American woman to win the Pulitzer Prize for Drama (2002) and a pioneer of historically conscious and linguistically complex theater, her work is now taught at drama schools across the country. 
Parks was born on May 10, 1963 at Fort Knox in Kentucky to Donald and Francis McMillian Parks. Her father was a colonel in the United States Army, and Parks spent her early childhood in Odessa, Texas while her father served in Vietnam. The distinctive dialect she soaked in during her years in West Texas would influence her dialogue when she began writing for the stage. In 1974, Parks moved with her family to Germany where her father was stationed. She and her siblings attended local schools and became fluent in German. An early love for stories from mythology and folklore made Parks dream of becoming a writer, but after her high school teacher dissuaded her, she turned her focus to science. 
After returning to the U.S., Parks graduated from The John Carroll School in Bel-Air, Maryland in 1981. She entered Mount Holyoke College where she rediscovered her love for poetry and prose, and switched her major from chemistry to English and German literature. In college, Parks studied fiction-writing under acclaimed writer James Baldwin. He encouraged her talent, calling Parks, "an utterly astounding and beautiful creature who may become one of the most valuable artists of our time." He steered her toward writing plays, due to her tendency to act out all the voices when she read her short stories aloud. Parks graduated Phi Beta Kappa from Mount Holyoke in 1985. 
Following Baldwin's advice, Parks sought further theater education in order to improve as a playwright. She studied acting at the Drama Studio London and cleaned the school at night in order to support herself. Parks then moved to New York City, working secretarial jobs while writing her plays. Her first produced play was the one-act Betting on the Dust Commander (1987). It debuted at The Gas Station, a bar Parks frequented on Manhattan's Lower East Side, that had never hosted a play before. She paid the actors and the director out of her own pocket. The production was so basic that Parks ran the lighting cues, which consisted of plugging and unplugging an extension cord. The play ran for three nights and Parks's family made up the bulk of the audience. 
Parks's first full-length play, Imperceptible Mutabilities in the Third Kingdom, premiered at the Brooklyn Arts and Culture Association in 1989. The play offers scenes about African-American life in the United States dating back to slavery, all linked by metaphors drawn from the natural sciences. It met with critical success right away and won Off-Broadway's Obie Award for Best New American Play. The New York Times deemed Parks "the year's most promising new playwright." 
Parks continued writing at a prolific pace. She penned the screenplays for the films Anemone Me (1990) and Girl 6 (1996), the latter of which was directed by Spike Lee. In between, she wrote The Death of the Last Black Man in the Whole Entire World (1992), Devotees in the Garden of Love (1992), and The America Play (1994). The success of her plays continued to grow throughout the decade. Venus (1996) told a fictional tale based around the true story of a Khoisian woman, Sarah Baartman, who was exhibited as a curiosity for the amusement of European audiences in the early nineteenth century. Venus earned Parks her second Obie Award in 1996. In the Blood (1999), a work inspired by Nathaniel Hawthorne's The Scarlet Letter, made the shortlist for the Pulitzer Prize.
Parks's most acclaimed play, Topdog/Underdog, is about African-American brothers Lincoln and Booth. Lincoln, who works as an Abraham Lincoln impersonator in whiteface (a concept she first wrote about in The America Play), is staying with Booth after his wife kicked him out of their home. Both men are struggling to cope amid poverty and racism and the tensions deepen as Lincoln overstays his welcome. The play premiered at the Public Theatre in 2001 and moved to Broadway after a sold-out run. That year, Parks was awarded the esteemed "genius grant" from the MacArthur Foundation. The following year, she made history when Topdog/Underdog earned the Pulitzer Prize for Drama. She was the first African-American woman to win the award. 
In the lead-up to the Broadway opening of Topdog/Underdog, Parks finished her first novel, Getting Mother's Body. An experimental retelling of William Faulkner's As I Lay Dying, it is about an African-American family living in 1960s West Texas. Soon after it was published, she set a seemingly-impossible task for herself: to write a new short play every day for a year. She stuck to it, writing in hotels and airports while on her book tour. The result was 365 Plays/365 Days (2006) – a yearlong, nationwide staging of the short plays in nearly 700 theaters around the world, ranging from ornate opera houses to street corners. It was one of the largest grassroots collaborations in theater history.
Parks continued to write in new styles and forms. In 2005, she co-wrote her first teleplay: an adaption of Zora Neale Hurston's novel Their Eyes Were Watching God, starring Halle Berry and produced by Oprah Winfrey. Parks also adapted the book for the Ray Charles Musical (Unchain My Heart) as well as the classic opera Porgy and Bess. The latter won the Tony Award for Best Musical Revival in 2012. 
Parks has taught playwriting at the California Institute for the Arts and New York University's Tisch School of the Arts. The author of nine full-length plays thus far, Parks was again shortlisted for the Pulitzer Prize in 2015. In 2019, she won her second Obie Award for playwriting (and third total) for White Noise. 
Parks lives in New York City with her husband, guitarist Christian Konopka, and their son Patrick. 
Als, Hinton. "The Show-Woman." The New Yorker. Oct. 23, 2006. Accessed Jan. 26, 2021. https://www.newyorker.com/magazine/2006/10/30/the-show-woman

"Bio." Suzan Lori-Parks. Accessed Jan. 26, 2021. http://suzanloriparks.com/bio/

"The 2002 Pulitzer Prize Winner in Drama: Topdog/Underdog, by Suzan-Lori Parks." The Pulitzer Prizes. Accessed Jan. 26, 2021. https://www.pulitzer.org/winners/suzan-lori-parks

"Suzan-Lori Parks: Biography." Academy of Achievement. Rev. Feb. 10, 2020. Accessed Jan. 26, 2021. https://achievement.org/achiever/suzan-lori-parks/

"Suzan-Lori Parks: Biography." The HistoryMakers. Nov. 21, 2006. Accessed Jan. 26, 2021. https://www.thehistorymakers.org/biography/suzan-lori-parks-44