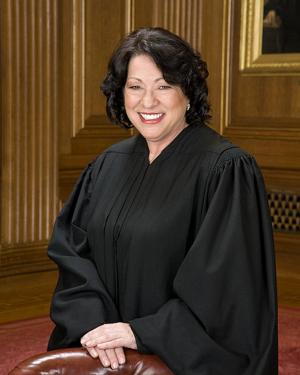 As the first Latina and third woman appointed to the Supreme Court, Associate Justice Sonia Sotomayor has made an impact in and out of the courtroom. With her dedication to the judicial process and fighting spirit, Justice Sotomayor is an inspiration, especially for Americans who feel marginalized or underrepresented.
Sonia Maria Sotomayor was born in the Bronx, New York on June 25, 1954, to father, Juan Sotomayor and mother, Celina Baez. Both of her parents were born in Puerto Rico, moved to the United States, met after World War II, and married after Celina served in the Women's Army Corps. Her father was a tool worker before passing away when Sotomayor was nine, and her mother worked as a nurse. Sotomayor has one younger brother, Juan, and had a very close relationship with her grandmother. Her family lived in the Bronxdale Houses, city-owned housing projects with a thriving community of racially and ethnically mixed working-class families. She was raised Roman Catholic and attended Cardinal Spellman High School, where she graduated as valedictorian in 1972. Drawing inspiration from Nancy Drew books, Perry Mason television shows, and time she spent in student government in high school, Sotomayor knew from a young age that she wanted to pursue a legal career.
After receiving a full scholarship to Princeton University, Sotomayor found her surroundings difficult to get used to at first because there weren't many women, and even fewer Latinx students. She put in long hours studying and found purpose as a student activist, becoming co-chair of the Acción Puertorriquena organization, where she supported Puerto Rican students and advocated for a more diverse faculty at Princeton. As a result of Sotomayor's involvement within the university and the organization, more Latinx staff was hired, and Puerto Rican history classes were implemented into the curriculum. After a hardworking and influential few years, she graduated summa cum laude from Princeton University with her degree in history in 1976. Before continuing her education at Yale Law School to pursue her J.D., she married her high school sweetheart, Kevin Noonan, and spent seven years together until their amicable divorce. Sotomayor felt like she fit in more at Yale than she had at Princton, and her time there within the university, activism, and work ventures were the start of an amazing career.
Her advocacy for hiring a more diverse staff continued at Yale, as well as achieving positions such as editor of the Yale Law Journal and of another student-run publication. She gained attention through her writing on the topic of Puerto Rican statehood and by the time she was in her second year, she obtained a summer position at a New York law firm. In 1979, Sotomayor graduated with her J.D. and was hired right out of school by New York County District Attorney Robert Morgenthau, where she spent five years working as an assistant district attorney. Twenty-five-year-old Sotomayor showed her grit by helping to put major criminals behind bars, including in the high-profile Tarzan murder case. After gaining valuable experience, she moved into private practice with Pavia & Harcourt in 1984 where she focused on intellectual property litigation, where she made partner in 1988. In the time between joining the firm and becoming a judge in 1992, Sotomayor served on multiple New York City boards advocating for affordable housing for low-income homeowners. Her career was thriving, and her hard work ethic continued to propel her forward.
Upon the recommendation of Senator Daniel Patrick Moynihan, Sotomayor was nominated to the United States District Court for the Southern District of New York in 1992, by the George H.W Bush administration. Her nomination was confirmed unanimously on August 11, 1992, making her the youngest judge to join the court. She continued to gain recognition as she took on high interest cases of copyright infringement, setting the standard in the fair use doctrine in Castle Rock Entertainment, Inc. v. Carol Publishing Group. Her notable rulings led to another recommendation by Moynihan resulting in Sotomayor's nomination to the U.S. Court of Appeals for the Second Circuit on June 25, 1997, by President Bill Clinton. Although Sotomayor's confirmation was slowed down by Republican pushback for over a year, she was confirmed in October 1998, and she went on to hear over 3,000 cases, writing 380 majority opinions.
Over the next decade, she gained a reputation for her attention to detail and straightforwardness., and her advocacy for Latinx representation in the judicial system continued. Sotomayor was dedicated to helping the next generation of law students by teaching at New York University from 1998-2007, and Columbia Law School from 2000-2007. Her next journey began when a seat opened up on the Supreme Court.
After the retirement of Justice David Souter, President Obama nominated Sotomayor to the United States Supreme Court on May 26, 2009, and the Senate confirmed her on August 6, 2009, with a vote of 68-31. This made her the first Hispanic and third woman to serve on the Supreme Court, and her confirmation was celebrated by the Hispanic community, Democrats, and Liberals alike. She went straight to work with her first case, Citizens United v. Federal Election Commission, where she dissented from the majority that was in favor of the rights of corporations in campaign finance. Over the next five years, Sotomayor became known for her concerns for the rights of defendants, dissenting on issues of race, ethnicity, and gender, and calls for criminal justice reform. She has notably fought for the defense of affirmative action, which she has credited in part for her admission to Princeton and Yale. She ruled in the majority in Obergefell v. Hodges, calling for the legalization of same-sex marriage in all 50 states. Her strong will, respect for the judicial process, and desire to make an impact are traits that continue to make her time in the court influential.
The Bronxdale Houses where she grew up were renamed in her honor and she has become a best-selling author. Her autobiography, My Beloved World, was published in 2013, and she is also the author of children's books, including, Turning Pages: My Life Story, published in 2018.
Article published September 1, 2021
MLA – Angelucci, Ashley. "Sonia Sotomayor." National Women's History Museum, 2021. Date accessed.
Chicago – Angelucci, Ashley. "Sonia Sotomayor." National Women's History Museum. 2021. www.womenshistory.org/education-resources/biographies/sonia-sotomayor
Photo Credit: 
Associate Supreme Court Justice, Sonia Sotomayor, in her official portrait in 2009.
Wikipedia Public Domain: https://en.wikipedia.org/wiki/File:Sonia_Sotomayor_in_SCOTUS_robe.jpg
Article originally published September 1, 2021
"Current Members". Supreme Court of the United States website. Accessed 10 August 2021. https://www.supremecourt.gov/about/biographies.aspx
Sotomayor, Sonia. My Beloved World. Alfred A. Knopf. New York, NY. 2013.
Sotomayor, Sonia. Turning Pages: My Life Story. Penguin Young Readers Group. New York, NY. 2018.