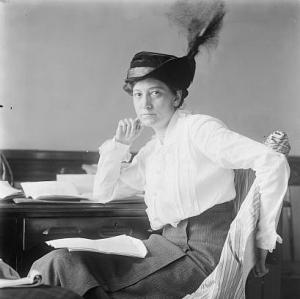 Ruth Hanna McCormick Simms was a Republican United States Representative from Illinois who served from 1929 to 1931. Before running for office herself, for three decades Hanna McCormick had political experience working in the office of her father, Senator Marcus Alonzo Hanna, and campaigning for her husband, Representative and Senator Medill McCormick. Hanna McCormick was a leader in the Suffrage Movement and worked to ensure that the newly enfranchised women would support Republicans in elections. Her partisan activities set her apart from many other suffragists. Hanna McCormick was also the first woman elected to a national state-wide office, the first to be nominated by a major party to the Senate, and the first to manage a presidential nomination campaign.
Hanna McCormick was born on March 27, 1880 in Cleveland, Ohio. She attended elite private schools. When she was 16 her father was elected to the US Senate. After she graduated from high school, Hanna McCormick joined him in Washington, DC where she worked as his personal secretary. When her father was not able to attend debates in the Senate, Hanna McCormick would sit in the gallery taking notes for him. During these sessions, she learned legislative procedure and political technique. She married Medill McCormick, heir to the Chicago Tribune, on June 10, 1903.
The couple moved to Chicago where Medill worked as the Chicago Tribune publisher for eight years. During their years in Chicago, Hanna McCormick worked towards many progressive reform activities, was part of the Settlement House Movement, and raised three children, Katrina, Medill, and Ruth. Hanna McCormick was also active in the pure foods movement and when she was unable to find clean milk for her children she opened a dairy and breeding farm. Hanna McCormick then sold the clean, safe milk to the community.
From 1913 until the ratification of the 19th Amendment in 1920 Hanna McCormick was active in the Suffrage Movement. Hanna McCormick's husband was elected to the Illinois legislature, and she worked as a lobbyist to ensure passage of the Illinois Equal Suffrage Act in 1913. She also succeeded Alice Paul as the chair of the Congressional Committee of the National American Woman Suffrage Association in 1913. Hanna McCormick's goal in working towards suffrage was to bring women into the Republican Party. The Republican Party was pushing for major reforms during the Progressive Era and Hanna McCormick believed female voters would support these ideals. Hanna McCormick was also a supporter of Prohibition. To help her better organize women to vote Republican, in 1918 Hanna McCormick was appointed to direct the newly created Republican Women's National Executive Committee.
When women won the right to vote in 1920, Hanna McCormick involved herself even more in party politics, and became the first National Committeewoman from Illinois. After Hanna McCormick's husband failed to be renominated for his Senate seat in 1924, he committed suicide in February of 1925. Hanna McCormick attributed her husband's lost election to a lack of women voters. So she spent the next four years creating a network of GOP women's clubs, establishing clubs in 90 of Illinois' 102 counties.
Throughout her political career Hanna McCormick ran on a platform to keep the United States out of foreign wars. While she was not a pacifist Hanna McCormick did not think it benefited the country to be involved in Europe's problems. Hanna McCormick was elected US Representative At-Large from Illinois in 1928. Her election is credited to the grassroots base of women she had built up over the previous years. She was appointed to the House Committee on Naval Affairs, becoming the first woman to serve on the committee.
After a successful term in the House of Representatives Hanna McCormick ran for the Senate. She was nominated by the Republican Party, and became the first woman nominated for the Senate by a major party. Hanna McCormick's nomination was again credited to the network of women she had created. Hanna McCormick did not win the Senate election of 1930 for a variety of reasons. Her Democratic opponent agreed with her signature stance on non-intervention in European wars. Another woman, Lottie O'Neill angered by Hanna McCormick's pledge to support the results of the Illinois referendum on the repeal of Prohibition, ran as an independent and siphoned off women voters who supported the continuation of Prohibition. Hanna McCormick was further undermined by revelations of her large campaign expenditures, which damaged her in the first years of the Great Depression. Ultimately, the poor economy was the biggest factor in her defeat.
Hanna McCormick married Albert Gallatin Simms in 1932 and moved with him to Albuquerque, New Mexico. He had also been a Representative during the 71st Congress, and their marriage marked the first time two concurrent Members had married. In New Mexico, McCormick Simms founded a girls' school in 1934, and continued to manage two newspapers and a radio station back in Illinois. In 1940, she sold her Illinois dairy farm and bought a 250,000 acre Colorado cattle and sheep ranch. 
In 1940, McCormick Simms became the first woman to manage a presidential campaign when she worked on Thomas Dewey's campaign against Franklin D. Roosevelt. Dewey was only 37 and lacked political experience, but McCormick Simms used her many years of experience to help run his bid for president. McCormick Simms campaigned hard. During speaking tours, she often gave multiple speeches a day and traveled overnight to ensure the most opportunities to meet with voters in each region. However, Dewey did not win the nomination and the campaign ended after the convention.
McCormick Simms spent much of the next four years on her ranch in Colorado. She also spent time offering Dewey political advice on his term as governor and his next presidential campaign. In October 1944, while riding a horse on her ranch the horse fell and McCormick Simms broke her shoulder. Not long after leaving the hospital McCormick Simms was diagnosed with pancreatitis. On December 4th, her pancreas ruptured and on December 31st McCormick Simms died.
MLA – Patrick, Jeanette. "Ruth Hanna McCormick." National Women's History Museum. National Women's History Museum, 2016. Date accessed.
Chicago- Patrick, Jeanette. "Ruth Hanna McCormick." National Women's History Museum. 2016. www.womenshistory.org/education-resources/biographies/ruth-hanna-mccormick-simms.
Web Sites:
Books/Articles:
Miller, Kristie. "Ruth Hanna McCormick and the Senatorial Election of 1930." Illinois Historical Journal 81 (Autumn 1988): 191-210.
"Ruth Hanna McCormick" in Women in Congress, 1917-2006. Prepared under the direction of the Committee on House Administration by the Office of History & Preservation, U.S. House of Representatives. Washington: Government Printing Office, 2006.
Shore, Amy Elizabeth. "Suffrage and the Silver Screen." Ph.D. diss., New York University, 2003.