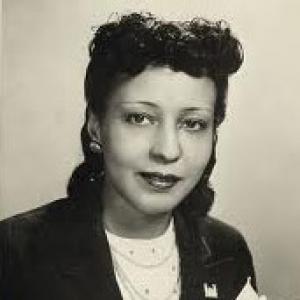 Civil rights pioneer and campaigner, Ruby Hurley is most known for her work with the National Association for the Advancement of Colored People (NAACP) in the 1950s and 1960s. She was an advocate for non-violent legislative activities, which advocated equality for all.
Ruby Hurley was born and raised in Washington, DC. Her parents were Alice and Edward Ruffin. However, little is known about them. They were not in Hurley's life by 1920, when she was known to be living with teachers Emma and Perey Ray.
Hurley attended the academically oriented and predominantly African American school, Dunbar High School in Washington, DC. The school attracted many well educated instructors, among them the son of Fredrick Douglas, who taught Hurley. She graduated from high school in 1926.
Hurley then went on to attend Miner Teachers College in DC. Opened in 1851 as the Colored Girls School by Myrtilla Miner, the institution was dedicated to training teachers, particularly African American educators. After completing college, Hurley worked for a short time in the federal government, and then she was employed by the Industrial Bank of Washington, an African American owned financial institution. While working, she also attended evening law courses at the Robert H. Terrell Law School. The school, which was based in DC, focused on providing law degrees to African Americans. Although Hurley did not complete a degree with the school, she gained knowledge about the legislative process, which invariably helped her in her varied career with the NAACP.
Hurley's activities with the NAACP began in 1939. In that year, Marian Anderson, the world-famous opera singer, had been hired by the Daughters of the American Revolution (DAR) to give a performance at the organization's Constitution Hall. However, the DAR cancelled the concert because Anderson was African American. Eleanor Roosevelt, a member of the DAR and First Lady, resigned in protest against the organization's racial discrimination. Hurley swung into action. She and a committee of NAACP civil rights advocates moved the performance to the Lincoln Memorial. Anderson's concert was held on April 9, 1939, and it was attended by thousands in DC.
From this time onwards, Hurley was an active member of the NAACP in Washington, DC. In recognition of her work for the organisation, she was made its national Youth Secretary in 1943. She continued in this position until 1952. During this time, she greatly enhanced the organization's membership. As Youth Secretary, she expanded the youth councils and college chapters, adding over 200 new groups. In total, NAACP youth groups incorporated 25,000 members by the early 1950s due in large part to Hurley's efforts.
In 1951, the NAACP sent Hurley to Birmingham, Alabama for three months to expand its membership in five southern states, Alabama, Florida, Georgia, Mississippi, and Tennessee. Hurley's work would later expand to recruiting new members in North and South Carolina. She was also tasked with strengthening ties between local NAACP branches and the main branch of the NAACP, located in New York City.
The next year, the NAACP decided to establish the Southeast Regional branch of the NAACP. Hurley was first named Regional Secretary and then Director of this new group. Through the 1950s and 1960s, under Hurley's guidance and oversight, this branch would become the largest group within the NAACP, reaching over 90,000 members by the end of the 1960s.
Her main activities as Director of the Southeast Regional branch included civil rights advocacy, increasing NAACP membership, representing NAACP at numerous events, and investigating racial incidents and murders in this area of the country. She investigated and compiled reports, which she gave to the FBI and the NAACP on the murders of Reverend George Lee, who was killed in Belzoni, Mississippi in 1955, and Medgar Evers assassination in Brookhaven, Mississippi in 1963. Hurley also examined the murder of Emmett Till in Money, Mississippi in 1955. She went undercover dressed as a cotton picker in order to travel to different plantations and interview eye witnesses about Till's death.
Hurley's civil rights activities did not go unnoticed by local authorities and people living in the area. She was often threatened by individuals driving by her home. She received obscene phone calls and death threats at her home. Bombs were also thrown at her house. The pressure, racism and segregation Hurley experienced had negative effects on her mental and physical health. She lost a great deal of weight, and often did not have any appetite. Hurley refused to eat in segregated restaurants and bus stops. However, she was often on the road, recruiting new members, and had little to eat. She carried Hershey's chocolate bars with her, but if she ran out of the bars, she would go without food. Her travel schedule often meant that she would go without food for a twenty-four-hour period. Hurley was ill many times. Her doctor diagnosed her with having situational stress disorder.
In June 1956, Alabama passed an injunction on NAACP's activities. The organization was banned from raising funds and recruiting new members. The state also sought to obtain the Southeast Regional's membership list, which would have been catastrophic for its members. Hurley closed the branch that day and relocated to Atlanta, Georgia. Alabama's ruling against the NAACP remained in place for eight years. Hurley continued to lead the Southeast Regional's operations from Georgia.
After 39 years of service and dedication to the NAACP, Hurley retired from the organisation on March 31, 1978. In her career, Hurley was one of the few women to rise to prominence within the organization, holding one of its top positions, which were usually reserved for African American men.
Hurley died on August 9, 1980, leaving behind a legacy of civil rights advocacy. Her accomplishments were recognized by the United States Post Office in 2009 with the release of a commemorative stamp in the Civil Rights Pioneers stamp series.
Books
Carney Smith, J., ed. Notable Black American Women. Detroit: Gale Research, 2003.
Hamlin, F. N. Crossroads at Clarksdale: The Black Freedom Struggle in the Mississippi Delta After World War II. Chapel Hill: University of North Carolina Press, 2012.
Raines, H. My Soul is Rested: Movement Days in the Deep South Remembered. New York: Putnam, 1977.
Robnett, B. How Long? How Long?: African-American Women in the Struggle for Civil Rights. New York: Oxford University Press, 1997.
Ware, S., ed. Notable American Women: A Biographical Dictionary Completing the Twentieth Century. Cambridge: Belknap Press, 2004.
Websites
PHOTO: Library of Congress
MLA - Spring, Kelly. "Ruby Hurley." National Women's History Museum. National Women's History Museum, 2017. Date accessed.
Chicago - Spring, Kelly. "Ruby Hurley." National Women's History Museum. 2017. www.womenshistory.org/education-resources/biographies/ruby-hurley.