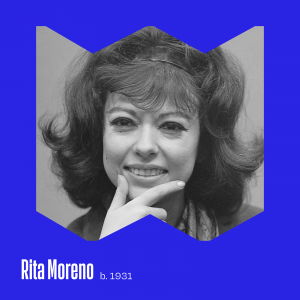 Rita Moreno has influenced the entertainment industry for over 70 years as an actress, singer, and dancer. After earning the four major entertainment awards: an Emmy, Grammy, Oscar and Tony, Moreno became the first Latina woman to have an "E.G.O.T." In 2004, she was honored with the Presidential Medal of Freedom for her many contributions to the arts.
Rita Moreno was born on December 11, 1931 in Humacao, Puerto Rico. Given the nickname "Rosita," when she was young, Moreno's birth name was Rosa Dolores Alverío. She spent much of her childhood on a Puerto Rican farm until she was five years old. Her mother saved enough money for them to move to New York, but Moreno's little brother Francisco had to be left behind. When she arrived in New York City, Moreno began taking dance classes and quickly started working in the film industry. She was first hired at age 11 to record Spanish language versions of American films. Shortly after this, Moreno made her Broadway debut at age 13 as "Angelina" in Skydrift. This role caught the attention of Hollywood filmmakers and she started receiving offers from Hollywood agents. Her first film was called So Young, So Bad, and was released in 1950. After this role, she signed a seven-year contract with Louis B. Mayer's MGM Studios where she adopted the stage name Rita Moreno.
For the next few years, Moreno was offered smaller roles in feature films. Her first role for MGM Studios was in the musical The Toast of New Orleans. Two years later, she landed a small role as the actress Zelda Zanders in Singin' in the Rain. Moreno was often typecast and remembers frequently being offered stereotypical "ethnic" or sexualized roles. Casting directors asked her to depict various ethnicities including; Hawaiian, Native American, Egyptian, Filipino, and a young Burmese woman named Tuptim in The King and I. In 1961, Moreno was cast as Anita in the film adaptation of the musical West Side Story. For her portrayal, Moreno won an Academy Award for Best Supporting Actress. Even after winning the Oscar, Moreno's agents still only submitted her for "exotic" and Latina roles. Moreno decided to leave the mistreatment of Hollywood and mostly acted in summer theater for the next seven years.  
In the 1970s, Moreno decided to return to the entertainment industry with popular films such as The Night of the Following Day, Carnal Knowledge, and Marlowe. Upon her return, Moreno also starred as a main cast member of the PBS children's television series The Electric Company from 1971 to 1977. Moreno won a Grammy in 1972 for "The Electric Company Album" based on her contributions to the show's soundtrack. A few years later, Moreno appeared in the musical The Ritz and subsequently earned the 1975 Tony Award for Best Featured Actress. During this time, she also appeared on various television shows as a guest. In 1977, Moreno appeared on The Muppet Show and earned a Primetime Emmy Award for Outstanding Individual Performance in a Variety or Music Program. This award solidified her as the third person in history and first Latina to win all four major entertainment awards: an Oscar, an Emmy, a Grammy and a Tony.
Shortly after, Moreno earned another Primetime Emmy for her role on the television show The Rockford Files. She also voiced the role of Carmen Sandiego on the Fox cartoon series Where on Earth is Carmen Sandiego? In the late 1990s, Moreno continued to star on television and played a psychologist in the HBO series OZ. She won several ALMA Awards for her work. Moreno's talent and influence has also been recognized by the White House. She was invited to perform at President Bill Clinton's inauguration in 1993, received the Presidential Medal of Freedom from President George W. Bush in 2004, and received the National Medal of Arts from President Barack Obama in 2009. At 87 years-old, Moreno has won countless lifetime achievement awards but does not show any signs of slowing down. She currently starts as Lydia on the Netflix series One Day at a Time, and she is set to executive produce and star in Steven Spielberg's 2020 remake of West Side Story.
Gans, Andrew. "Rita Moreno Explains What's Important About the New Upcoming West Side Story Movie." Playbill. March 08, 2019. http://www.playbill.com/article/rita-moreno-explains-whats-important-about-the-new-upcoming-west-side-story-movie.
Gettell, Oliver. "SAG Awards 2014: Rita Moreno Receives Lifetime Achievement Award." Los Angeles Times. January 18, 2014. https://www.latimes.com/entertainment/movies/moviesnow/la-et-mn-sag-awards-2014-rita-moreno-life-achievement-award-story.html.
Gilbert, Sophie. "Why Rita Moreno Almost Quit Show Business." The Atlantic. June 28, 2019. https://www.theatlantic.com/entertainment/archive/2019/06/why-rita-moreno-almost-quit-show-business/592672/.
Hopwood, Jon C. "Rita Moreno." IMDb. Accessed August 06, 2019. https://www.imdb.com/name/nm0001549/bio.
Institute for Latino Studies. "Rita Moreno, Legend of Stage and Screen, to Discuss Her Career and Issues Facing Latinos in Entertainment." University of Notre Dame. January 29, 2019. https://latinostudies.nd.edu/news-events/news/rita-moreno-legend-of-stage-and-screen-to-discuss-her-career-and-issues-facing-latinos-in-entertainment/.
Time. "The Actor: Rita Moreno." FIRSTS: Women Who Are Changing the World. Accessed August 06, 2019. https://time.com/collection/firsts/4898542/rita-moreno-firsts/.
Photo: Public Domain.
MLA - Alexander, Kerri Lee.  "Rita Moreno." National Women's History Museum.  National Women's History Museum, 2019.  Date accessed.
Chicago - Alexander, Kerri Lee.  "Rita Moreno."  National Women's History Museum.  2019.  www.womenshistory.org/education-resources/biographies/rita-moreno.
PBS. "Rita Moreno, Actress and Singer." Accessed August 07, 2019. https://www.pbs.org/newshour/brief/165270/rita-moreno.