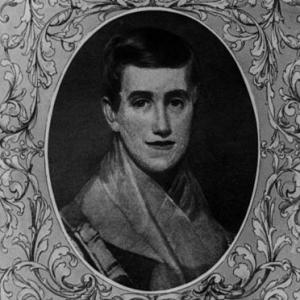 A Quaker abolitionist and teacher, Prudence Crandall bravely defied prevailing patterns of racial discrimination when she opened one of the first schools for African American girls in Connecticut in 1833. Though supported by leading anti-slavery activists—among them William Lloyd Garrison—Crandall, a white woman, faced legal harassment and social ridicule for her efforts to educate free blacks in the North.
Born in Hopkinton, Rhode Island on September 3, 1803 to farmers Pardon and Esther Carpenter Crandall, Prudence Crandall moved with her family to Canterbury, Connecticut when she was ten years old. She attended the New England Friends' Boarding School in Providence, where she studied arithmetic, Latin and science—subjects not typical for women but embraced by Quakers who believed in equal educational opportunities. She taught briefly in Plainfield, and in 1831 opened a private girl's academy in Canterbury, where she initially taught daughters from the town's wealthiest families. Ranked as one of the state's best schools, her rigorous curriculum provided female students with an education comparable to that of prominent schools for boys.
In 1832, Crandall admitted Sarah Harris, an African American woman from a successful family, who sought to become a teacher. Local white parents were outraged, urging Crandall to expel Harris. She refused. When white parents withdrew their children, Crandall transformed her boarding school into one for African American girls. That, too, met with hostility from local white men who feared that it would draw more African Americans into their community and would lead to interracial marriage. Garrison, editor of the Liberator, the nation's major antislavery newspaper, helped Crandall's school by advertising it and by linking Crandall with prominent African American families interested in sending their daughters to her school.
White Canterbury townspeople continuously protested Crandall's school. When African American students ventured beyond the school, they were met with taunts, threats and violence. Some whites pelted them with eggs, stones or manure. When Crandall continued undaunted, the Canterbury legislature passed its 1833 "Black Law" (repealed in 1838), making it illegal to run a school teaching African American students from a state other than Connecticut. Crandall was arrested and jailed. Her first trial ended in a hung jury; the second trial resulted in her conviction, which was overturned by a higher court. On the night of September 9, 1834, an angry mob broke most of the school's windows and smashed furniture. Fearing for her students' safety, Crandall finally closed the school.
In 1835, Crandall married Baptist minister and abolitionist Calvin Philleo. The couple left Connecticut, ultimately settling in La Salle County, Illinois, where Crandall ran a school and participated in the women's suffrage movement. After her husband's death in 1874, she moved to Elk Falls, Kansas to live with her brother. In 1886, prompted by repentant Canterbury citizens and Hartford resident author Mark Twain, Crandall received a small pension from the Connecticut legislature. Her Canterbury school now houses the Prudence Crandall museum, and she was named Connecticut's state heroine.
Connecticut College: Linda Lear Center for Special Collections and Archives. "Biographical Information." Accessed October 16, 2014.
Drake, Thomas. "Prudence Crandall" in James, Edward T., Janet Wilson James, Paul S. Boyer. Notable American Women: 1607-1950, A Biographical Dictionary. Cambridge: Belknap Press, 1971.
La Gorce, Tammy. "Honoring a Teacher Who Fought for Equality." New York Times, last modified September 13, 2014.
State of Connecticut, Depart of Economic & Community Development, Offices of Culture and Tourism. "Prudence Crandall Museum." Accessed October 15, 2014. 
PHOTO: Library of Congress
MLA - Michals, Debra.  "Prudence Crandall."  National Women's History Museum.  National Women's History Museum, 2015.  Date accessed. 
Chicago - Michals, Debra.  "Prudence Crandall."  National Women's History Museum.  2015.  www.womenshistory.org/education-resources/biographies/prudence-crandall.
Websites:
Books:
Susan B. Anthony, Elizabeth Cady Stanton, and Matilda Joslyn Gage, History of Woman Suffrage, Volume III, 1886.

May, Samuel J. Some Recollections of Our Antislavery Conflict, 1869.

William Lloyd Garrison, 1805-1879: The Story of His Life Told By His Children, 1885.

Contemporary newspaper coverage in The Liberator and the Boston-based Colonizationist during 1833-34.

Jurmain, Suzanne. The Forbidden Schoolhouse: The True and Dramatic Story of Prudence Crandall and Her Students. New York, NY: Houghton Mifflin Company, 2005.

Strane, Susan. A Whole-Souled Woman: Prudence Crandall and the Education of Black Women. New York, New York: W.W. Norton & Company Inc., 1990.

Thayer, George B. Pedal and Path: Across the Continent Awheel and Afoot. Hartford, Conn.: Case, Lockwood & Brainard, n.d.

Welch, Marvis Olive. Prudence Crandall: A Biography. Manchester, CT: Jason Publisher, 1984.

Williams, Jr., Donald E. Prudence Crandall's Legacy: The Fight for Equality in the 1830s, Dred Scott, and Brown v. Board of Education. Middletown, CT: Wesleyan University Press, 2014.