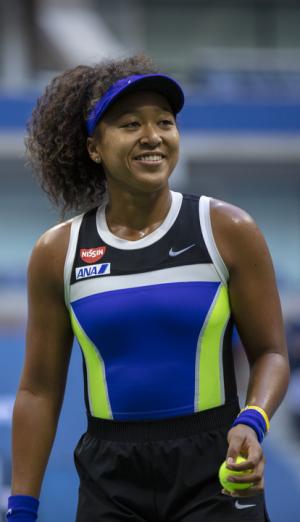 Naomi Osaka is one of the world's greatest tennis players, having won numerous tournaments and awards and reaching the rank of World No. 1. Her openness about her struggles with mental health and the pressure of expectations inspired many athletes and others to share their own stories. Osaka's bravery renewed the conversation around the importance of mental health.
Naomi Osaka was born on October 16, 1997, in Osaka, Japan to Leonard Francois and Tamaki Osaka. Her father, Leonard, is Haitian, and her mother, Tamaki, is Japanese. The two met in 1990 when Leonard was visiting Sapporo as a college student. When Tamaki's father found out she was dating a non-Japanese man, he accused her of bringing shame upon the family. The couple moved to Osaka; for nearly a decade, Tamaki had virtually no contact with her family. In Osaka, the couple had a daughter, Mari (also a professional tennis player). 18 months later, Naomi was born. The girls took their mother's last name for practical purposes for living in Japan.
In 1999, while still living in Japan, Leonard saw a broadcast of sisters Serena and Venus Williams competing at the French Open. He became transfixed, seeing a parallel between the Williams and his two daughters as well as between him and Richard Williams, Serena and Venus's father. Leonard played a little tennis and thought to himself "the blueprint was there...I just had to follow it." When the family moved to Long Island in 2000 to live with Leonard's parents, he began a regimen to turn his daughters into tennis stars. With access to gyms, free public courts, instructional books, and DVDs, Leonard made both Mari and Naomi hit thousands of balls a day. Osaka, who started playing tennis at age 3, recalls she was motivated by her desire to beat her sister. It took her 12 years, but she got there.
Beyond tennis, Osaka was surrounded by a loving and multicultural family. Her paternal grandparents spoke no English and made many Creole dishes that she loved. Her mother spoke to her in Japanese and made Japanese food she also loved. Osaka feels both the Haitian and Japanese cultures and languages are equally important to her.
After five years in Long Island, the family moved to Broward County, Florida to focus on tennis full time. Broward County was where many of the country's best young players trained. It also had a sizable Haitian community—Creole is the third most spoken language in the county. Osaka and her sister trained on the Pembroke Pines public court during the day and were homeschooled at night. Like the Williams sisters, Osaka and her sister skipped the usual circuit of junior tournaments and competed against older players. This meant the two did not have a ranking or much tournament experience and few coaches took interest in helping develop the sisters. As a dual-citizen, Osaka could choose to play for either Japan or the United States when she turned professional. Her father decided Osaka would play for Japan because he thought it would open up more opportunities. Her Japanese grandfather, who initially disagreed with the focus on tennis and the decision to homeschool, has since embraced Osaka's tennis career.
As a pro tennis player, Osaka began competing and finding success. In 2016, a reporter asked about her career goals. Osaka responded, "to be the very best, like no one ever was. That's a Pokémon quote." At 19, Osaka won the coveted Women's Tennis Association Newcomer of the Year Award. Osaka burst onto the international stage in 2018. Not only did she win two Grand Slam tournaments—the U.S. Open and the Australian Open—but she beat Serena Williams in the final of the U.S. Open. Osaka found the win especially meaningful because she idolized Williams. These wins made her Japan's first Grand Slam winner and, probably, the first winner of Haitian-descent. In total, she has won four individual Grand Slam tournaments.
In 2021, Osaka was 23 and playing in the French Open. She stated in a tweet she would want to participate in post-match news conferences to protect her mental health. Citing how the press repeatedly asked questions that "bring doubt" into her and other athletes' minds, she said, "here in Paris I was already feeling vulnerable and anxious, so I thought it was better to exercise self-care and skip the press conferences." The organizers fined her $15,000 for not "fulfilling media obligations" and threatened to expel her from the tournament. A few days later, Osaka withdrew from the French Open, citing mental health concerns. It was the first time in professional tennis a major star withdrew without a physical injury. Many people, including other athletes, were unsupportive and upset, attacking Osaka in the press. Osaka took to Instagram and explained her decision, writing, "the truth is that I have suffered long bouts of depression since the US Open in 2018 and I have had a really hard time coping with that" and "I think now the best thing for the tournament, the other players and my well-being is that I withdraw so that everyone can get back to focusing on the tennis going on in Paris." Osaka offered to speak with the tournament organizers about changing the media rules, which she argued were "outdated."
Osaka returned to tennis, lighting the Olympic Cauldron at the postponed 2020 Summer Games. Later that year, she entered the U.S. Open championships but lost in the third round. Saying, "I guess we're all dealing with some stuff, but I know that I'm dealing with some stuff," Osaka continued to speak openly about her struggles with mental health. She said she was trying to figure out what to do and might take a break from tennis.
Since coming forward about her own struggles, Osaka has inspired countless athletes to speak about their struggles with mental health. Female athletes, in particular, felt empowered by Osaka's bravery. Writing in The New York Times, reporter Alan Blinder argued, "her decision was also a potent example of a movement among elite athletes to challenge the age-old notion that they are, and must be, as peerless in mind as they are in body, untroubled by the scourge of mental illness."
Osaka has since become one of the most marketable, admired, and recognized athletes, and women, in the world. She has a growing list of endorsements and serves as the face of many brands. She is also an activist, vocally supporting the Black Lives Matter movement and frequently speaking out against anti-Asian hate crimes. In 2020, she was named Sports Illustrated Sportsperson of the Year.
Alan Blinder, "With Her Candor, Osaka Adds to Conversation About Mental Health," The New York Times, June 1, 2021, https://www.nytimes.com/2021/06/01/sports/tennis/mental-health-osaka.html
Antonia Noori Farzan, "Japanese, Haitian, and now a Grand Slam Winner: Naomi Osaka's historic journey to the U.S. Open," The Washington Post, September 10, 2018, https://www.washingtonpost.com/news/morning-mix/wp/2018/09/10/japanese-haitian-and-now-a-grand-slam-winner-naomi-osakas-historic-journey-to-the-u-s-open/
"Biography: Naomi Osaka," Olympics.com, https://olympics.com/en/athletes/naomi-osaka
Brook Larmer, "Naomi Osaka's Breakthrough Game," The New York Times Magazine, August 23, 2018, https://www.nytimes.com/2018/08/23/magazine/naomi-osakas-breakthrough-game.html
Edward Helmore, "'I'm dealing with stuff': Naomi Osaka questions her future in tennis," The Guardian, September 4, 2021, https://www.theguardian.com/society/2021/sep/04/im-dealing-with-stuff-naomi-osaka-questions-her-future-in-tennis
Jon Wertheim, "Naomi Osaka Shouldn't Feel Pressured to Rush Return to Tennis," Sports Illustrated, September 6, 2021, https://www.si.com/tennis/2021/09/06/namoi-osaka-take-her-time-break-from-tennis-mental-health
Matthew Futterman, "Naomi Osaka Quits the French Open After News Conference Dispute," The New York Times, May 31, 2021, https://www.nytimes.com/2021/05/31/sports/tennis/naomi-osaka-quits-french-open-depression.html
Shanna McCarriston, "Naomi Osaka announces she will not speak to the media at the French Open, citing mental health awareness," CBS Sports, May 26, 2021, https://www.cbssports.com/tennis/news/naomi-osaka-announces-she-will-not-speak-to-the-media-at-the-french-open-citing-mental-health-awareness/
MLA – Rothberg, Emma. "Naomi Osaka" National Women's History Museum, 2022. Date accessed.
Chicago – Rothberg, Emma. "Naomi Osaka." National Women's History Museum. 2022. www.womenshistory.org/education-resources/biographies/naomi-osaka.
Image Credit: Andrew Henkelman - Own work, CC BY-SA 4.0, https://commons.wikimedia.org/w/index.php?curid=94117573.