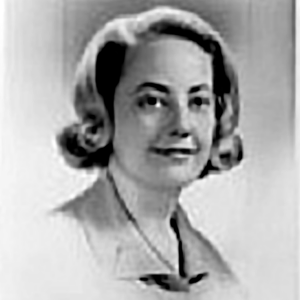 Muriel "Mickie" Siebert was a fearless Wall Street broker that was known as The First Woman of Finance. She was also the first woman to become a member of the New York Stock Exchange, and the first woman to become the superintendent of banking for New York State. Although she did not have a college degree, Siebert successfully became one of Wall Street's most popular names.
Muriel Siebert was born on September 12, 1928 in Cleveland, Ohio. Her mother Margaret Siebert, and her father Irwin had two daughters. In 1949, Muriel began attending Western Reserve University. During her time there, she took business classes and was often the only girl in her class. On her first trip away from home, she visited the New York Stock Exchange and was determined to work there one day. She told all of her friends that she would eventually come back and ask for a job. Unfortunately, in 1952 her father was diagnosed with cancer and she had to leave school early. However, she still believed she could reach her dream. Two years later, Siebert moved to New York. During that time, the only women working on Wall Street were secretaries and support staff. Siebert wanted to do more. She lied about having a college degree, so she could get her first job training as a researcher for Bache & Company. She changed jobs three times because she was being paid less than the men that were doing the same work as her.
By the mid-1960s, Siebert was tired of making less money than men. Her friend Gerald Tsai was a famous investor, and she asked him how to find a job that would pay her as much as a man. He advised her to buy a seat on the New York Stock Exchange. At the time, she thought that it would be impossible. However, she later decided it was a good idea, and applied to buy a seat. She needed someone to sponsor her application, but the first nine men she asked told her they would not do it. Finally, the tenth person she asked agreed to sponsor her. The next step was for her to raise enough money to afford the cost of a seat. The stock exchange told her that she would have to pay $445,000 and $300,000 of the price had to come from a bank. After two years, Chase Manhattan bank loaned her the money. On December 28, 1967, Siebert became the first woman to buy a seat and become a member of the New York Stock Exchange.
In 1969, Siebert started Muriel Siebert & Company. For ten years, she was the only woman out of 1,365 men on the stock exchange. Her hard work was noticed by Governor Hugh L. Carey, and he selected her to become New York's first female superintendent of banking in 1977. While she was in that position, none of the banks in New York had to shut down. During that time, she also directed New York City's Municipal Credit Union, Urban Development Corporation, and Job Development Authority. At the end of her position, she returned to her company on the stock exchange but decided that she wanted to participate in government. In 1982, she ran as a Republican candidate for the United States Senate. Unfortunately, she came in second place out of three candidates. Although she returned to Wall Street, she continued to make a difference. She successfully campaigned to get a ladies' bathroom on the seventh floor of the New York Stock Exchange because there was no bathroom for women during most of her time there. She threatened that she would put a portable toilet in the building if there was no bathroom for women.
Siebert enjoyed helping the community. She started the Siebert Entrepreneurial Philanthropic Plan in 1990 to help buyers give money to charities. She was recognized for her work and was inducted into the National Women's Hall of Fame in 1994. Four years later she became the president of the New York Women's Agenda. In 2002, Siebert published her autobiography called Changing the Rules: Adventures of a Wall Street Maverick. Although she never graduated from college, she received an honorary doctorate degree from Wagner College in 2010 and has been given a total of 17 honorary doctorates. Siebert was never married, and never had any kids, but she was known for having her pet Chihuahua named Monster Girl with her at all times.
Muriel Siebert died on August 24, 2013 from cancer. After her death, the New York Stock Exchange named a room after her. Siebert Hall was the first time a room at the stock exchange has been named after a person.
Nemy, Enid. "Muriel Siebert, a Determined Trailblazer for Women on Wall Street, Dies at 84." The New York Times. August 25, 2013. Accessed December 04, 2018. https://www.nytimes.com/2013/08/26/business/muriel-siebert-first-woman-to-own-a-seat-on-wall-st-dies-at-80.html.
Scutts, Joanna. "History of Women in Finance: How Muriel Siebert Opened Doors." Time. April 19, 2016. Accessed December 04, 2018. http://time.com/4297571/muriel-siebert-wall-street-history/.
Siebert, Muriel, and Aimee Lee. Ball. Changing the Rules: Adventures of a Wall Street Maverick. New York: Free Press, 2002.
Zarroli, Jim. "Muriel Siebert Was One Of the First Women Of Wall Street." NPR. August 26, 2013. Accessed December 04, 2018. https://www.npr.org/templates/story/story.php?storyId=215838761.
MLA - Alexander, Kerri Lee.  "Muriel Siebert." National Women's History Museum.  National Women's History Museum, 2019.  Date accessed.
Chicago - Alexander, Kerri Lee.  "Muriel Siebert."  National Women's History Museum.  2019.  www.womenshistory.org/education-resources/biographies/muriel-siebert.