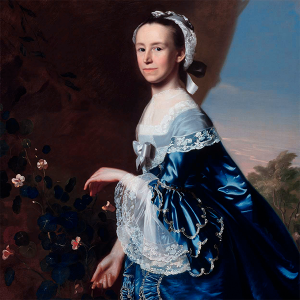 Mercy Otis Warren was a published poet, political playwright and satirist during the age of the American Revolution—a time when women were encouraged and expected to keep silent on political matters. Warren not only engaged with the leading figures of the day—such as John, Abigail, and Samuel Adams—but she became an outspoken commentator and historian, as well as the leading female intellectual of the Revolution and early republic.
Born on September 14, 1728 in Barnstable, Massachusetts, Warren was the third of thirteen children of James Otis and Mary Allyne Otis. Her exposure to politics began early; her father was an attorney who was elected to the Massachusetts legislature in 1745. Like most girls at the time, Warren had no formal education; hers came from sitting in on her brother's lessons, where she took a particular interest in history and politics. She also made extensive use of her uncle's large book collection to educate herself.  
In 1754, she wed the politically active James Warren, a classmate of her brother's at Harvard, who encouraged her to pursue writing. The couple had five sons. After James Warren's election to the Massachusetts Legislature in 1766, the Warrens began hosting leading citizens in their Plymouth home, particularly those opposed to British policies. In fact, Warren herself would maintain a lifelong, though at times tumultuous, friendship with John Adams, which included extensive letters on the nature of the new republic.
An avid patriot, Warren began writing political dramas that denounced British policies and key officials in Massachusetts, notably Governor Thomas Hutchinson. Her 1772 satire, "The Adulator" (published anonymously in the Massachusetts Spy newspaper), criticized the British colonial governor's policies a full four years before Jefferson wrote the Declaration of Independence. Warren also published two additional plays skewering British colonial leaders, Defeat (1773) and The Group (1775.) She supported the Boston Tea Party and boycotts of British imports and urged other women to follow suit.
From the outset of the American Revolution, Warren began writing its history, which was published in 1805 as History of the Rise, Progress and Termination of the American Revolution. This was among the first nonfiction book published by a woman in America, and she was the third woman (after Anne Bradstreet and Phillis Wheatley) to publish a book of poems.  Some of her other works—Poems, Dramatic and Miscellaneous, for example—were similarly influenced by her first-hand experiences with the war. Warren, who embraced the natural rights philosophy that undergirded the Patriot cause, was hopeful that it would lead to egalitarian and democratic policies in the new republic and beyond. A Jeffersonian Republican, she took a firm stand against ratification of the Constitution, which put her at odds with conservative political friend, John Adams, a champion of the document. Likely based on her personal experiences, she opposed women's lack of access to formal education.
Warren lived to age eighty-six. She remained vital even in her final years, continuing to write and correspond with political friends.
Feer, Robert. "Mercy Otis Warren" in James, Edward T., Janet Wilson James, Paul S. Boyer. Notable American Women: 1607-1950, A Biographical Dictionary. Cambridge: Belknap Press, 1971.
Lauter, Paul, ed. "Mercy Otis Warren (1728-1814)" in The Heath Anthology of American Literature, Fifth Edition. Accessed February 10, 2015.
"Mercy Otis Warren." Encyclopedia of World Biography. Detroit: Gale, 1998. U.S. History in Context. Accessed February 10, 2015.
"Mercy Otis Warren Papers: Biographical Sketch." Massachusetts Historical Society. Accessed February 10, 2015.
Weatherford, Doris. American Women's History: An A to Z of People, Organizations, Issues, and Events. New York: Macmillan General Reference, 1994.
MLA - Michals, Debra.  "Mercy Otis Warren."  National Women's History Museum.  National Women's History Museum, 2015.  Date accessed.
Chicago - Michals, Debra.  "Mercy Otis Warren."  National Women's History Museum. 2015. www.womenshistory.org/education-resources/biographies/mercy-otis-warren.
Books:
Dubois, Ellen Carol and Lynn Dumenil. Through Women's Eyes: An American History with Documents. (Boston: Bedford/St. Martins, 2009). Pp. 153-154.

Kerber, Linda K. Women of the Republic: Intellect and Ideology in Revolutionary America. Chapel Hill, 1980.

Norton, Mary Beth. Liberty's Daughters: The Revolutionary Experience of American Woman, 1750-1800. Boston, 1980.
Websites: