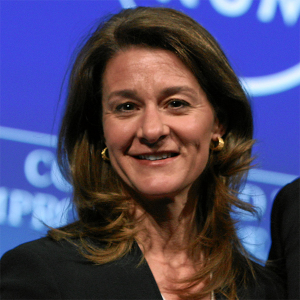 As co-chair of the world's largest private charitable foundation, Melinda Gates is one of the most powerful women in philanthropy. Co-founder of the Bill & Melinda Gates Foundation, she is not only a tech-savvy businesswoman, but she is also an advocate for women's equality. In early 2019, Gates published her first book entitled, The Moment of Lift: How Empowering Women Changes the World.
Melinda Gates was born as Melinda Ann French on August 15, 1964. The second of four children, Gates grew up in Dallas, Texas with her family. Her father Raymond Joseph French Jr. was an aerospace engineer that worked on the Apollo space program, and her mother Elaine Agnes Amerland was a stay-at-home mom. When Gates was 14 years old, her father purchased the Apple II computer, which was one of the first computers sold to consumers. Gates learned computer programming and convinced her parents to put it in her bedroom so she could play computer games. Her love for science and technology continued when she attended Ursuline Academy, an all-girls Catholic high school in Dallas. During her senior year, she took a campus tour of Duke University and fell in love with their computer science department. When Gates graduated from Ursuline Academy a year later, she went on to earn her bachelor's degree in computer science and her master's degree in business from Duke University.
After graduating, Gates was offered a job at IBM, but turned it down to work at a smaller software company called Microsoft. Microsoft eventually grew to become a Fortune 500 company valued at over $1 trillion dollars. Joining the team in 1987, Gates was the youngest recruit and the only woman in her group of ten new employees with business degrees. She came on as a marketing manager and developed multimedia products such as; Microsoft Cinemania, Publisher, Word, and Expedia.com. She was later promoted to General Manager of Information Products and held that position until she left Microsoft in 1996. Gates left the company to focus on raising her growing family with Microsoft co-founder and CEO Bill Gates. Four months after she started at Microsoft, Melinda met Bill Gates at a PC Expo trade show in New York City. Later that fall, the two started dating, and got married seven years later in Lanai, Hawaii. Together, they have three children.
After leaving Microsoft, Melinda Gates served on the Board of Trustees for Duke University from 1996 to 2003. In 1997, Gates began her advocacy and philanthropic work by co-creating the Gates Library Foundation with her husband. Later renamed the Gates Learning Foundation, this organization gave computers with internet access to public libraries across the country. By 2000, the Gates Learning Foundation merged with the William H. Gates Foundation to become the Bill & Melinda Gates Foundation. Co-founded and co-chaired with her husband, Melinda Gates has led the organization to become the world's wealthiest charitable foundation. In an effort to improve equity around the world, the Gates Foundation has given money to various projects to improve global poverty, inequality, and global health. The foundation focuses on problems in five major programmatic areas that include; the Global Health Division, Global Development Division, Global Growth & Opportunity Division, United States Division, and the Global Policy & Advocacy Division.
Highly recognized for their giving, the Gates were named Persons of the Year by Time Magazine in 2005. A year later, the Gates Foundation formed a $150 million partnership with the Rockefeller Foundation, and received a multi-year pledge from Warren Buffett to give over 10 million of his company's shares to the Gates Foundation. Buffett and the Gates later created "The Giving Pledge," after reading The Power of Half by the Salwen family. By signing this pledge, the three philanthropists committed to donating at least half of their wealth to charity over the course of their lifetime. In addition, Melinda Gates has spearheaded initiatives that support women's rights. She led the London Summit on Family Planning in 2012 with the goal of giving over 120 million women in developing countries access to contraceptives by 2020. In early 2019, she released her book entitled The Moment of Lift: How Empowering Women Changes the World. She also started an investment and incubation company called Pivotal Ventures to address pay inequality, and support women founders in the United States. Gates currently lives in Medina, Washington with her family.
Bill & Melinda Gates Foundation. "Bill & Melinda Gates Foundation." Accessed December 15, 2019. https://www.gatesfoundation.org/.

Gates, Melinda. The Moment of Lift: How Empowering Women Changes the World. Australia: Pan Macmillan, 2019.

Legend, John. "Melinda Gates Is Proud Women Are Becoming More Empowered—But It's Not Happening Quickly Enough." Town & Country, October 22, 2019.
https://www.townandcountrymag.com/society/money-and-power/a27324587/melinda-gates-moment-of-lift-cover-interview-john-legend/.

Marchese, David. "Melinda Gates on Tech Innovation, Global Health and Her Own Privilege." The New York Times. The New York Times, April 15, 2019. https://www.nytimes.com/interactive/2019/04/15/magazine/melinda-gates-foundation-interview.html.

Martin, Michel. "Melinda Gates On Marriage, Parenting and Why She Made Bill Drive The Kids To School." NPR. NPR, April 28, 2019. https://www.npr.org/sections/goatsandsoda/2019/04/28/717438397/melinda-gates-on-marriage-parenting-and-why-she-made-bill-drive-the-kids-to-scho.

Sellers, Patricia. "Melinda Gates Goes Public ... about Living with Bill, Working with Warren Buffett, and Giving Away Their Billions." CNN Money, January 7, 2008. https://web.archive.org/web/20120501013308/http://money.cnn.com/2008/01/04/news/newsmakers/gates.fortune/index2.htm.
Photo: Public Domain.
MLA - Alexander, Kerri Lee.  "Melinda Gates."  National Women's History Museum.  National Women's History Museum, 2019.  Date accessed. 
Chicago - Alexander, Kerri Lee.  "Melinda Gates."  National Women's History Museum.  2019.  www.womenshistory.org/education-resources/biographies/melinda-gates. 
Forbes Magazine. "Melinda Gates." Forbes. Accessed December 15, 2019. https://www.forbes.com/profile/melinda-gates/#7f8650a37c2b.
Pivotal Ventures | A Melinda Gates Company. "Pivotal Ventures: A Melinda Gates Company." Accessed December 15, 2019. https://www.pivotalventures.org/.