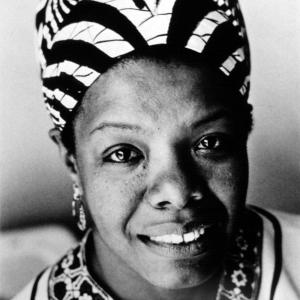 Poet, dancer, singer, activist, and scholar Maya Angelou was a world-famous author. She was best known for her unique and pioneering autobiographical writing style.
On April 4, 1928, Marguerite Ann Johnson, known to the world as Maya Angelou, was born in St. Louis, Missouri. Due to her parents' tumultuous marriage and subsequent divorce, Angelou went to live with her paternal grandmother in Stamps, Arkansas at an early age. Her older brother, Bailey, gave Angelou her nickname "Maya."
Returning to her mother's care briefly at the age of seven, Angelou was raped by her mother's boyfriend. He was later jailed and then killed when released from jail. Believing that her confession of the trauma had a hand in the man's death, Angelou became mute for six years. During her mutism and into her teens, she again lived with her grandmother in Arkansas.
Angelou's interest in the written word and the English language was evident from an early age. Throughout her childhood, she wrote essays, poetry, and kept a journal. When she returned to Arkansas, she took an interest in poetry and memorized works by Shakespeare and Poe.
Prior to the start of World War II, Angelou moved back in with her mother, who at this time was living in Oakland, California. She attended George Washington High School and took dance and drama courses at the California Labor School.
When war broke out, Angelou applied to join the Women's Army Corps. However, her application was rejected because of her involvement in the California Labor School, which was said to have Communist ties. Determined to gain employment, despite being only 15 years old, she decided to apply for the position of a streetcar conductor. Many men had left their jobs to join the services, enabling women to fill them. However, Angelou was barred from applying at first because of her race. But she was undeterred. Every day for three weeks, she requested a job application, but was denied. Finally, the company relented and handed her an application. Because she was under the legal working age, she wrote that she was 19. She was accepted for the position and became the first African American woman to work as a streetcar conductor in San Francisco. Angelou was employed for a semester but then decided to return to school. She graduated from Mission High School in the summer of 1944 and soon after gave birth to her only child, Clyde Bailey (Guy) Johnson.
After graduation, Angelou undertook a series of odd jobs to support herself and her son. In 1949, she married Tosh Angelos, an electrician in the US Navy. She adopted a form of his surname and kept it throughout her life, though the marriage ended in divorce in 1952.
Angelou was also noted for her talents as a singer and dancer, particularly in the calypso and cabaret styles. In the 1950s, she performed professionally in the US, Europe, and northern Africa, and sold albums of her recordings.
In 1950, African American writers in New York City formed the Harlem Writers Guild to nurture and support the publication of Black authors. Angelou joined the Guild in 1959. She also became active in the Civil Rights Movement and served as the northern coordinator of the Southern Christian Leadership Conference, a prominent African American advocacy organization
In 1969, Angelou published I Know Why the Caged Bird Sings, an autobiography of her early life. Her tale of personal strength amid childhood trauma and racism resonated with readers and was nominated for the National Book Award. Many schools sought to ban the book for its frank depiction of sexual abuse, but it is credited with helping other abuse survivors tell their stories. I Know Why the Caged Bird Sings has been translated into numerous languages and has sold over a million copies worldwide. Angelou eventually published six more autobiographies, culminating in 2013's Mom & Me & Mom.  
She wrote numerous poetry volumes, such as the Pulitzer Prize-nominated Just Give me a Drink of Water 'fore I Diiie (1971), as well as several essay collections. She also recorded spoken albums of her poetry, including "On the Pulse of the Morning," for which she won a Grammy for Best Spoken Word Album. The poem was originally written for and delivered at President Bill Clinton's inauguration in 1993. She also won a Grammy in 1995, and again in 2002, for her spoken albums of poetry.
Angelou carried out a wide variety of activities on stage and screen as a writer, actor, director, and producer. In 1972, she became the first African American woman to have her screen play turned into a film with the production of Georgia, Georgia. Angelou earned a Tony nomination in 1973 for her supporting role in Jerome Kitty's play Look Away, and portrayed Kunta Kinte's grandmother in the television miniseries Roots in 1977.
She was recognized by many organizations both nationally and internationally for her contributions to literature. In 1981, Wake Forest University offered Angelou the Reynolds Professorship of American Studies. President Clinton awarded Angelou the National Medal of Arts in 2000. In 2012, she was a member of the inaugural class inducted into the Wake Forest University Writers Hall of Fame. The following year, she received the National Book Foundation's Literarian Award for outstanding service to the American literary community. Angelou also gave many commencement speeches and was awarded more than 30 honorary degrees in her lifetime.
Angelou died on May 28, 2014. Several memorials were held in her honor, including ones at Wake Forest University and Glide Memorial Church in San Francisco. To honor her legacy, the US Postal Service issued a stamp with her likeness on it in 2015. (The US Postal Service mistakenly included a quote on the stamp that has long been associated with Angelou but was actually first written by Joan Walsh Anglund.) 
In 2010, President Barack Obama awarded Angelou the Presidential Medal of Freedom, the country's highest civilian honor. It was a fitting recognition for Angelou's remarkable and inspiring career in the arts.
Books:
Angelou, Maya. I Know Why the Caged Bird Sings. (New York: Random House, 1969).
Angelou, Maya. Maya Angelou: A Glorious Celebration. (New York: Doubleday, 2008).
Websites:
"Poet – Maya Angelou." Academy of American Poets. Accessed August 8, 2017. https://www.poets.org/poetsorg/poet/maya-angelou
Brown, Emma. "Maya Angelou, Writer and Poet, dies at age 86." The Washington Post, May 28, 2014. Accessed August 8, 2017. https://www.washingtonpost.com/entertainment/maya-angelou-writer-and-poet-dies-at-age-86/2014/05/28/2948ef5e-c5da-11df-94e1-c5afa35a9e59_story.html?utm_term=.408fffb9a82c
Brown, DeNeen L. "Maya Angelou honored for her first job as a street car conductor in San Francisco." The Washington Post, March 12, 2014. Accessed August 8, 2017. https://www.washingtonpost.com/blogs/local/wp/2014/03/12/maya-angelou-honored-for-her-first-job-as-a-street-car-conductor-in-san-francisco/?tid=a_inl&utm_term=.92c836957f2f
"About Harlem Writers Guild." Harlem Writers Guild. Accessed August 10, 2017. http://theharlemwritersguild.org/about.html
Moore, Lucinda. "Growing Up Maya Angelou." Smithsonian.com, April 2013. Accessed August 8, 2017. http://www.smithsonianmag.com/arts-culture/growing-up-maya-angelou-79582387/
Nixon, Ron. "Postal Service Won't Reissue Maya Angelou Stamp." The New York Times, April 8, 2017. Accessed August 8, 2017. https://www.nytimes.com/2015/04/09/us/postal-service-wont-reissue-maya-angelou-stamp.html
"History." Southern Christian Leadership Conference. Accessed August 10, 2017. http://nationalsclc.org/about-us/history/
Thursby, Jacqueline S. "Angelou, Maya (4 Apr. 1928–28 May 2014), writer, performer, and activist." American National Biography. 29 Nov. 2018; Accessed 7 Dec. 2021. https://doi.org/10.1093/anb/9780198606697.013.00700
"Dr. Maya Angelou." National Book Foundation. Accessed December 7, 2021. https://www.nationalbook.org/people/dr-maya-angelou/#fullBio
MLA - Spring, Kelly. "Maya Angelou." National Women's History Museum. National Women's History Museum, 2017. Date accessed.
Chicago - Spring, Kelly. "Maya Angelou." National Women's History Museum. 2017. www.womenshistory.org/education-resources/biographies/maya-angelou.
Photo Credit: MAYA ANGELOU, circa 1976. Courtesy: CSU Archives / Everett Collection.