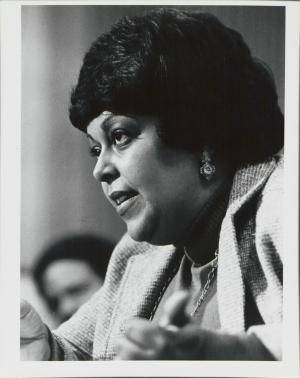 Mary Treadwell was a notable DC-based activist and community organizer. Treadwell is most noted for co-creating Youth Pride, Inc., a job-training program that assisted inner-city youth. She also advocated for the decriminalization of abortion, particularly as part of her work advocating for bodily autonomy as a form of Black liberation.  
Treadwell was born Mary Miller in Lexington, Kentucky on April 8th, 1941. Treadwell grew up in a middle-class household with parents Ollie Phillips and James W. Miller and younger sister Joan Miller. Her father, James, was a masonry contractor whose work kept his family afloat. The family eventually moved to Columbus, Ohio, where Treadwell lived until her early twenties.  
Treadwell attended Fisk University (located in Nashville, Tennessee) in the early 1960s, where she received her undergraduate degree in business. Her time at Fisk overlapped with a period when civil rights protests were at an all-time high. Historians have noted that "...hundreds of black Nashville students participated in desegregation sit-ins" (Valk 2010, p. 13). These specific sit-ins are known collectively as the Nashville Sit-Ins, which are regarded as one of the earliest non-violent approaches to confronting racial segregation (Momodu 2016). After weeks of protests, Nashville became one of the first southern cities to desegregate. Thanks to the work of civil rights leaders (some of them Fisk University students), Nashville activists' efforts provided a model for other activists in other southern cities to follow (Momodu 2016).  
Fisk University has always been proactive in its involvement in social justice. Founded in 1866 to provide an education for those that were once enslaved, Fisk has a long-standing history of being socially and politically progressive (Tamburin, 2016). Being surrounded by her politically-motivated peers was pivotal for not only Treadwell's growth, but for the work she would do post-graduation. Fisk University is also where she became acquaintances with future husband, and future DC mayor, Marion Barry.  
After graduating, Treadwell moved to Washington, DC to pursue further schooling at the Antioch School of Law. She attended law school briefly, but when she reconnected with her former classmate Marion Barry in 1966 ( he was picketing near her workplace), the course of her life shifted completely (Valk 2010, p. 13). Barry was heavily involved with Black activists' efforts to protest and work with government organizations to promote change, which inspired and radicalized Treadwell. . She saw local activists fight for better voting rights in the District and how bystanders subject protestors to racist attacks on their activism. Witnessing how dedicated these activists were to their cause empowered Treadwell to join the movement to increase political power for the District's residents.  
Treadwell's closeness to Barry helped her learn more about politics and activism. Barry's experience included being a member of the National Association for the Advancement of Colored People (NAACP) in college, heavy involvement in Nashville's desegregation efforts, and serving as the first chairman of the Student Nonviolent Coordinating Committee (SNCC) (Valk 2010, p. 13). In 1966, Treadwell joined SNCC. In 1967, Barry and Treadwell organized Youth Pride, Inc. Dedicated to the professional growth of Black men in DC, the organization also received funding from the U.S. Department of Labor. Local activists Caroll Harvey and Rufus "Catfish" Mayfield also assisted the pair in organizing Youth Pride, Inc. (Massimo, 2018). 
Youth Pride, Inc. addressed issues in job security among youth and adults. Ex-offenders also received assistance from the organization, pairing them with counselors in hopes of setting them up for success. The organization was largely triumphant in their efforts and received rave reviews from young men who had secured jobs through its programs. Gerald Bruce Lee, now a retired judge, was one of the many positively impacted by the program. When involved with Youth Pride, Inc., he lived in Anacostia, DC (a primarily Black neighborhood, with 91% of residents being African American) and swept the neighborhood's streets (Niche n.d.). When asked how he felt about the work, he stated, "It changed everything. I learned leadership; I learned how to work … It opened up a lot of doors and windows of opportunity," (Massimo, 2018). 
In the late 1960s, activism against segregation and discrimination of Black students continued to increase. Many Americans had to contend with a series of life-altering events such as "urban unrest, assassinated leaders, and tectonic social and cultural shifts" (Kahn, 2018). With Martin Luther King, Jr.'s assassination in 1968, Black Americans were plagued with unrest but remained proactive in paving the way forward. Treadwell especially ramped up her activism by increasing Youth Pride, Inc.'s outreach. These efforts allowed her to provide more employment opportunities to young Black men from underserved areas of DC. Clearly concerned with prioritizing the needs of Black youth, Barry and Treadwell saw an opportunity for partnership with American University due to heavy political activism on its campus. As such, Youth Pride, Inc. and AU developed the Pride American University Project (Kahn, 2018). The project created opportunities for local Black high schoolers to take college courses on AU's campus. Prior to this program, AU did not have a well-established connection to the DC-based Black population. While Black students attended the university, few of them had gone to high school in DC. The Pride American University Project opened the door for many local Black DC students, making the university that once seemed like an "oasis up on the hill" far more accessible (Kahn, 2018).  
Though Youth Pride, Inc. kept Treadwell busy, she still found time to dedicate her attention to other causes. Some of the issues she championed included "the antiwar movement, prison reform, and reproductive rights" (Valk 2010, p. 14). She organized a large anti-Vietnam War protest in 1971 and later joined the Women's Commission on Abortion and Forced Sterilization. When speaking out in support of decriminalizing abortion, Treadwell proclaimed, "I support the abortion campaign for reasons inherent in being a member of the Black minority in racist America," (Valk 2010, p. 14). She believed that government control over bodies (including not allowing abortion and forced sterilization) was another form of discrimination. Treadwell remained impassioned about reproductive rights.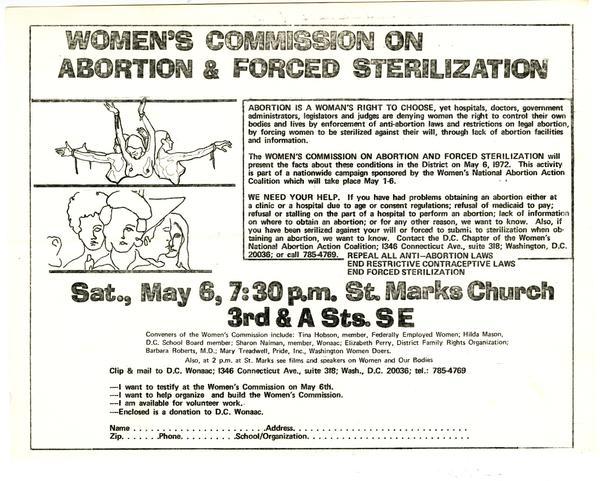 In the late 1960s and early 1970s, discussions around pregnancy, abortion, and sterilization among public health officials  increased due to changing attitudes. Though abortion had been discussed at length in the United States prior to 1969, the medical procedure had yet to be viewed as controversial. Even so, lack of quality education about safe sexual practices and contraception was widespread and affected many women. As a result, many families relied heavily upon abortion to keep their families small (Lord 2010). While the procedure was widely accepted prior to the late 1960s, public health officials' desire to ban abortion increased. Though there were a variety of reasons for wanting to ban abortion, one of the most prominent among medical professionals was "fear that abortionists, many of whom were women, were performing a procedure that was difficult to perform safely" (Lord 2010, p. 125). Making abortion illegal did not necessarily solve this problem, as these procedures were still conducted by local practitioners. Many flew under the radar - so long as women did not die in their care, the practitioners would not be prosecuted (Lord 2010).  
The work that Treadwell and many other women did with the Women's Commission on Abortion and Forced Sterilization was not simply about the right to choose. Attitudes toward White women seeking abortions and Black women seeking abortions differed due to ideas society placed on the value of each woman. With new emphasis placed on "domesticity and motherhood" in the mid-20th century, White women who experienced unwanted pregnancies were encouraged to carry to term and then put their child up for adoption (Lord 2010, p. 126). Black women, on the other hand, were given the opposite treatment. Though Black women were also encouraged to give birth to their unwanted children, there was a push from medical professionals for them to raise the child rather than put them up for adoption. Adoption services paint a clear picture of why the stark contrast between the treatment of both groups of women existed. Historically, the children of Black women "lacked value in the adoption market" (Lord 2010, p. 126).  
Furthermore, single Black women who became pregnant also had to contend with medical professionals pushing for their sterilization after giving birth to any unwanted children (Lord 2010). These practices placed Black women and other women of color in vulnerable positions. Regarding sterilization specifically, "an estimated 100,000 to 150,000 poor women, nearly 50 percent of them African American, were sterilized annually in the early 1970s…," (Valk 2010, p. 88). These oppressive approaches impacted women of all races, with some Native American women even reporting that they had been operated on and sterilized without their consent (Valk 2010).  
In 1970, the future of reproductive rights appeared bright with the case of Roe V. Wade. Following a sexual assault, Norma L. McCorvey (Jane Roe) was faced with an unwanted pregnancy. McCorvey was unable to get an abortion due to the criminalization of the procedure. Her case eventually ended up before the Supreme Court. The Court ruled that "the illegalization of abortion violated, among other things, a constitutional right to privacy," (Lord 2010, p. 126). The Court's decision was monumental for reproductive justice activists, though Roe V. Wade has since been overturned as of 2022. 
The battle was not over though, as racist approaches to family planning by public health professionals ran rampant. Women of color and poor women widely reported practices such as coercion and deception when receiving procedures (Valk 2010). For some of these women, they were persuaded to receive abortions by medical professionals and, if they considered backing, were faced with threats such as "loss of welfare benefits," (Valk 2010, p. 89). Economically stable women were confronted with lack of choice as well, as highlighted by difficulty finding doctors who would sterilize them at their request (Valk 2010). Such a wide range of issues made it clear that conflicts in receiving quality reproductive care were complex and persistent. As a result, activists had to remain steadfast in the fight for reproductive justice. 

After years of continued collaboration, Barry and Treadwell married in 1973. Treadwell kept her surname. She had gone from Mary Miller to Mary Treadwell, following her marriage to David Treadwell, a Navy sailor, years prior to her relationship with Barry. Treadwell and Barry were married for five years before divorcing in 1977. Following their split, Barry was elected DC mayor in 1979. He served four terms as mayor, from 1979 to 1991 and again from 1995 to 1999. Upon his first election, Barry left Youth Pride, Inc. Treadwell then became the director of the organization (Barnes 2012).  
Though Treadwell's relationship with Barry had come to an end, she remarried later in 1977 to Ronald S. Williams, Youth Pride, Inc.'s financial officer. Her marriage to Williams also ended in divorce. Throughout, Treadwell remained a staple of the local DC community. Trouble was on the horizon though, with some of her other business pursuits ending in claims of fraud. 
In 1968, Youth Pride, Inc. took on a contract to improve an apartment complex called Clifton Terrace in Northwest DC. The building was a "dilapidated low-income apartment," which Youth Pride, Inc. sought to upgrade (Shafer and Simons 1982). Among the upgrades, Youth Pride, Inc. cleaned and painted Clifton Terrace (McQuirter 2020). By this time, Youth Pride, Inc. had expanded from assisting youth in getting jobs to also managing residential apartments (Barnes 2012). To support this mission, Treadwell had created a spinoff of Youth Pride, Inc. in the early 70s called P.I. Properties, which ultimately took over caring for Clifton Terrace. She vowed that the apartment complex would be "a model complex for low-income tenants" (Barnes 2012). P.I. Properties also managed other low income housing in DC, including the Kensaw apartments and Buena Vista apartments. In all three complexes, there were reports of a lack of "heat, electricity, water and sanitary living conditions" from tenants (Shafer and Simons 1982). Tenants also expressed confusion regarding how their rent money was used since they continued to live in such poor conditions.  
Conflicts regarding P.I. Properties came to a head in 1978 and 1979. Former employees came forward to reveal that Treadwell as well as two other employees (one of them her sister, Joan) had stolen funds meant for low-income individuals in DC (Shafer and Simon, 1982). A two-and-a-half-year investigation by a federal grand jury followed. A nine-week trial resulted in Treadwell's conviction. She served time in federal prison. During her imprisonment, Youth Pride, Inc. went out of business. Upon her release, Treadwell worked for the DC Parole Board. After leaving that role, she conducted policy work for the then DC mayor, Sharon Pratt Kelly.  
Unfortunately, Treadwell's first stint in prison would not be her last. In January 1998, she pleaded guilty to stealing $10,400 dollars from the Columbia Heights Advisory Commission (CHAC). The commission is a group of local representatives that advocate on behalf of neighborhood residents. Treadwell was head of the CHAC at the time of her guilty plea and asserted she intended to use the money to pay overdue bills (Barnes 2012). She expressed remorse about her actions, proclaiming, "I thought, when I came back [from prison] I was ready to put Humpty Dumpty back together again. Humpty Dumpty is still cracked," (Barnes 2012). She returned to federal prison for four months. After her release, she continued to be a women's rights activist.  However, her momentum in speaking out about these issues was undoubtedly lost following years of turmoil and lost trust from community members. 
On July 21, 2012, Treadwell passed away in her home in Baltimore, Maryland. Treadwell was, like many, imperfect and complex. Her early life set her on a path of advocacy. Her later years were marked by poor decisions that have imprinted themselves upon her legacy. Even so, her impact as a community organizer can be found in all of the opportunities Youth Pride, Inc. provided for local youth and in the growing movement for reproductive rights for Black women. Though the work continues, Treadwell helped pave the way for future generations of activists.  
Image Descriptions & Media Questions
Video 1: In this interview, Gerald Bruce Lee details his experience with Youth Pride, Inc. He shares how his time made him not only a better worker, but a better member of his community. 
Based on what you have read and watched so far about Youth Pride, Inc., why do you think that Treadwell and Barry thought hard work was the key to self- sufficiency 
What projects, organizations, initiatives, etc. have you noticed in your local community that inspire you? 
Photo 2:  This is a poster from the Women's Commission on Abortion and Forced Sterilization that announces an informational meeting. Treadwell was a member of this organization. 
What do you notice about the imagery included on this poster? How does looking at these two images make you feel? 
Based on the wording used on the poster (i.e. "We need your help," "A woman's right to choose, etc), how do you think that the WCAFS wanted to make those looking at it feel?
Barnes, Bart. "Mary M. Treadwell, 71, Dies; Ex-Wife of Marion Barry Served Prison Time for Defrauding the Federal Government." The Washington Post. WP Company, July 25, 2012. https://www.washingtonpost.com/local/obituaries/mary-m-treadwell-71-dies-ex-wife-of-marion-barry-served-prison-time-for-defrauding-the-federal-government/2012/07/25/gJQAz5Qz9W_story.html.  
DeBonis, Mike. "Mary Treadwell, Ex-Wife of Marion Barry, Dies at 71." The Washington Post. WP Company, July 25, 2012. https://www.washingtonpost.com/blogs/mike-debonis/post/mary-treadwell-ex-wife-of-marion-barry-dies-at-71/2012/07/25/gJQA39IB9W_blog.html.  
"Historic Anacostia Demographics and Statistics." Niche. n.d. https://www.niche.com/places-to-live/n/historic-anacostia-washington-dc/residents/. 
Kahn, Alison. "Say It Loud: Voices from a Black Campus Movement." American University, July 2018. https://www.american.edu/magazine/article/say-it-loud.cfm.  
Lord, Alexandra M. Condom Nation: The U.S. Government's Sex Education Campaign from World War I to the Internet. Baltimore: Johns Hopkins University Press, 2010., doi:10.1353/book.3453. 
Shaffer, Ron, and Lewis M. Simons. "The Treadwell Story: From '60s Militant to Businesswoman." The Washington Post. WP Company, February 23, 1982. https://www.washingtonpost.com/archive/politics/1982/02/23/the-treadwell-story-from-60s-militant-to-businesswoman/49b450fd-0f31-4bfa-8d53-9676f9ebd634/.  
Massimo, Rick. "The Making of Marion Barry, Part 2: Street Activist to Power Player." WTOP News, November 6, 2018. https://wtop.com/dc/2018/11/the-making-of-marion-barry-part-2-street-activist-to-power-player/slide/1/. 
McQuirter, Marya. "8 Jan 1968 & Pride Inc.." dc1968 project: 365 stories re washington dc in 1968, September 10, 2020. https://www.dc1968project.com/blog/2018/1/8/8-jan-1968-pride-inc.  
Momodu, Samuel. "Nashville Sit-Ins (1960)." August 3, 2016. https://www.blackpast.org/african-american-history/nashville-sit-ins-1960/. 
Tamburin, Adam. "Fisk Students Have Long History of Fighting Injustice." The Tennessean. The Tennessean, February 28, 2016. https://www.tennessean.com/story/news/education/2016/02/27/generations-activism-make-fisk-university-hallowed-ground/78738988/.  
Valk, Anne M. Radical Sisters: Second-Wave Feminism and Black Liberation in Washington, D.C. Urbana: University of Illinois Press, 2010.  
Media Citations
Mary Treadwell, December 3, 1980, Courtesy of The People's Archive, DC Public Library 
Gerald Bruce Lee on Marion Barry's Legacy, Pride Inc. YouTube. WTOP News, 2018. https://www.youtube.com/watch?v=ixqTmDsEIvs. 
Patrick Frazier Political and Social Movements Collection, American University Library 
MLA – Dawson, Shay. "Mary Treadwell." National Women's History Museum. National Women's History Museum, 2023. Date accessed.  
Chicago - Dawson, Shay. "Mary Treadwell." National Women's History Museum. 2023.