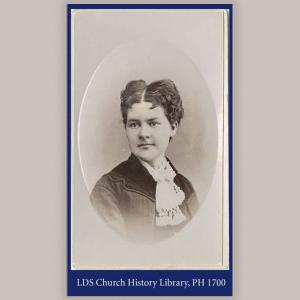 Martha Hughes, or Mattie, as she preferred to be called, was born in Wales on July 1, 1857.  Around the time of Mattie's birth, her parents joined the Church of Jesus Christ of Latter-Day Saints, often referred to as the Mormon church.  The family: Mattie, her parents, and one older sister, though quite poor, wanted to join with other Mormons in Utah.  In 1860, they left Wales for the United States.  Mattie's father was ill and unable to work, so the family remained in New York for about a year, while Mattie's mother worked to get enough money to travel west.  A younger sister was born during this time.   Unfortunately, the baby died while they crossed the plains, and Mattie's father died just three days after arriving in Salt Lake City.
Mattie's mother remarried, and sometimes Mattie would refer to herself as Martha Hughes Paul Cannon, in honor of her stepfather.  The family was very large, and Mattie began working at age 14.  She was a typesetter for the Deseret (dez-er-EHT) News, a local Salt Lake City newspaper.   She was known to be very bright, and from her job with the newspaper, she learned a great deal about news and politics.  She got her undergraduate degree in chemistry at the University of Deseret (now the University of Utah). She very much wanted to be a doctor, and she was sent east to attend medical school, with financial help from the Mormon church. 
Very few medical schools of the time admitted women.  There were a few medical schools set aside specifically for women, but Mattie was admitted to one of the very few schools that accepted both men and women, the University of Michigan.  She was 21 when she left Utah for school.  She graduated from medical school on her 23rd birthday.  She then went further east to the University of Pennsylvania, where she received an additional degree in pharmacy.  She was a proponent of the then-new germ theory of disease.   She also attended the National School of Oratory and learned how to speak eloquently in public. 
Upon her return to Utah at the age of 25, Mattie was the first physician in residence for Deseret Hospital, but she longed to be a wife and mother.   She fell in love with a man 23 years her senior.  His name was Angus M. Cannon.  He was a Mormon leader in the area where Mattie was living.  He was in love with her as well, by accounts.  Mattie was his fourth wife.   At this time, while polygamy was acceptable in the Mormon Church (about 10-20% of Mormon marriages at this point were polygamous), the United States was engaged in a battle to rid the country of polygamy.  The wedding in 1884 had to be held in secret, because the U.S. government was actively prosecuting polygamists, especially the men.   Mattie knew that she was getting into a difficult situation by marrying Angus, but she felt it was an important test of her religious faith.
Mattie was considered an important witness in prosecuting polygamy.  Not only was she in a polygamist marriage herself, but as a doctor, she often delivered the babies of polygamist wives.  To the federal government, a baby delivered to a polygamist wife was proof a polygamist marriage.  The prosecutors had a warrant out for Mattie to testify.  She did not want to be responsible for a man getting arrested, leaving so many children without support.  She decided to leave so that she would not have to testify.  For the next two years, she and her young daughter Elizabeth moved around in England and the eastern U.S., until the warrant for her had expired.
She returned to Salt Lake City and opened a nurses' training school, along with her own practice and lecturing.  She had a son, James.  With his birth, she had to leave again to prevent her husband's arrest; this time, she settled in San Francisco. 
In 1890, the Church of Jesus Christ of Latter Day Saints disavowed polygamy, and Mattie was able to return to Salt Lake City.  The territory of Utah immediately began to apply for statehood, which had been held up due to the polygamy issue.  Women had been given the right to vote in Utah in 1870, and the first women to vote in the U.S. voted in Utah, but that right had been taken away by the anti-polygamist Edmunds-Tucker Act in 1877.  Women pushed for restoration of those rights in the new Utah state Constitution, and women in Utah once again received the right to vote in 1896. 
Many people were asked by various political parties to run for the new state legislature.  The Democratic party approached Martha Hughes Cannon and asked her to run for the state senate.   Quite a few others were also asked to run for the same seat, including the Republican party's choice: Angus M. Cannon, Mattie's husband!   While they never ran head to head—there were many others running as well—Mattie did win the election.  She was the first female state senator in U.S. history.  In her four years in office, Mattie particularly concentrated on public health.  She wrote bills to start the Utah Health Department, to help with sanitation, and to provide education for children with disabilities.  She was known as an effective senator, and was being considered for a run for Congress.
But then, scandal struck.  Mattie had a third child, Gwendolyn.   This was seen as proof that Mormons had not abandoned polygamy, and was news all over the country.  Her political career gone, Mattie threw herself into caring for children and grandchildren, as well as maintaining her practice.  She moved between Salt Lake City and California, where her son was living.   Angus M. Cannon died in 1915, and Mattie moved to California permanently.  She began to struggle with health problems, but continued to practice.  Tragedy hit when Mattie's youngest child, Gwendolyn, died at age 29 of tuberculosis.  Mattie's older daughter, Elizabeth, said that Mattie never recovered from Gwendolyn's death, because even with her medical training, Mattie was unable to save her.   Martha Hughes Cannon died in 1932, at the age of 65.   She is remembered today for her groundbreaking work in women's rights and public health. 
In 2018, the Utah state legislature voted to honor Martha Hughes Cannon by sending a statue of her to Washington D.C. to represent Utah in Statuary Hall.   The statue will be placed in Statuary Hall in 2020, the 100th anniversary of the 19th amendment, which allowed women the right to vote in the United States.
Green, Nancy, producer, and Ken Verdoia, narrator, Martha Hughes Cannon. DVD. Salt Lake City, Utah: KUED, 2012. 
Karras, Christy, More than petticoats: remarkable Utah women, 1st ed. , Guilford, Connecticut: Globe pequot press, 2010.
Stapley, Jonathan A. and Constance L. Lieber, Women of faith in the latter days, 1st ed. Women of faith in the latter days, 3, 1846-1870. Richard E. Turley Jr. And Brittany A. Chapman , Salt Lake City, Utah: Deseret book , 2014. 
Image: Public domain.
MLA – Baker, Jennifer. "Martha Hughes Cannon." National Women's History Museum, 2019. Date accessed.
Chicago – Baker, Jennifer. "Martha Hughes Cannon." National Women's History Museum. 2019. www.womenshistory.org/education-resources/biographies/martha-hughes-cannon.