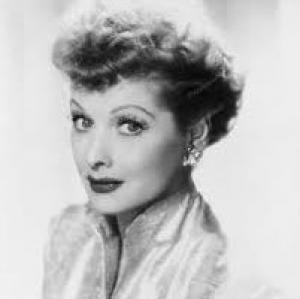 Lucille Ball was an American actress and pioneer in comedy. She was the star of the popular television series, I Love Lucy. As an entertainer and businesswoman, Ball continuously broke barriers for women in entertainment business.
Lucille Ball was born on August 6, 1911 in Jamestown, New York. Her father died early on, leaving Ball's mother a widow. Eventually, her mother remarried. By the age of 12, Ball knew that she loved being on stage. She enrolled in many acting classes and in 1925, her mother sent her to John Murray Anderson School for Dramatic Arts. There she trained under popular teachers and one of her classmates was future Hollywood star, Bette Davis. Unfortunately, Ball did not enjoy her time at the school and the teachers believed that she lacked talent.
She did not let the opinions of others stop her. Ball started working as a model in 1932, but she was never able to keep steady work. In 1933, she moved to Hollywood, California. For the next few years, Ball held small roles in several motion pictures. During this time, she also worked in theatre. In 1940, while working on movie set, she met Desi Arnaz, a Cuban American actor. The couple started dating immediately and eloped only a year later. They proved to be a powerful couple. Their relationship was the inspiration behind a television show created by Ball.
I Love Lucy premiered in 1951. Ball produced the series which centered around the marriage of Desi and Lucy. The show was an instant success. It received critical acclaim and went on to win over twenty awards including five Emmys. It remained on the air until 1957 and created several spin-offs.  Ball also used her star power to financially invest in the entertainment business. In 1950, Ball and her husband created Desilu Productions. The company not only produced I Love Lucy but it went to on create other hit television shows like The Dick Van Dyke Show and Star Trek. Ball and Arnaz divorced in 1960. When the marital relationship ended Arnaz decided to sell his ownership of Desilu Productions to Ball. The deal made her the first woman to own a major studio. Ball continued her successful career in film, television, and theatre.
Ball guest starred in several popular television shows before she retired in 1974. Despite their divorce, the couple remained friends throughout her life. Additionally, they continued to coparent their two children. Ball's work behind the scenes with Desilu Productions transformed the way studios created and produced movies and television shows. Many commonplace techniques in television productions, like filming in front of a live studio audience and using three cameras, started with Desilu Productions. Although Ball died in 1989, her career continues to influence the work of other female comedians. Throughout her life she mentored several women making sure to impart her invaluable knowledge to the next generation.
Harris, Warren C. Lucy and Desi: the legendary love story of television's most famous couple. New York: Simon & Schuster,1991.
Kanfer, Stefan. Ball of Fire: The Tumultuous Life and Comic Art of Lucille Ball. New York: Alfred A. Knopf, 2003.
Sanders, Cory and Tom Gilbert. Desilu, The Story of Lucielle Ball and Desi Arnaz. New York: 2011.
PHOTO: Library of Congress
MLA – Norwood, Arlisha. "Lucille Ball." National Women's History Museum. National Women's History Museum, 2017. Date accessed.
Chicago- Norwood, Arlisha. "Lucille Ball." National Women's History Museum. 2017. www.womenshistory.org/education-resources/biographies/lucille-ball.