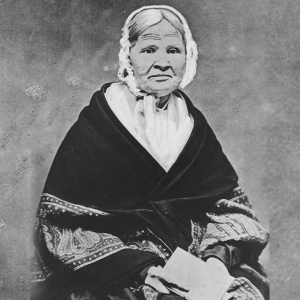 On September 6, 1870, 70-year-old Louisa Ann Swain, a grandmother with white hair peeking out from beneath her bonnet, stepped up to the ballot box in Laramie, Wyoming and cast her vote in the general election. In doing so, she became the first woman to legally cast a ballot in a general election since 1807, the year New Jersey took away a woman's right to vote. 
Born in Norfolk, Virginia in 1800 or 1801 into a Quaker family, Swain's father was a sea captain. When he did not come home from a voyage, 7-year-old Swain and her mother moved to Charleston, South Carolina to be closer to her mother's family. Shortly after the move, Swain's mother died when Swain was around 10 years old and she moved into The Charleston Orphan House. At the time, there was a fine line between apprenticing with a family in exchange for shelter and food and adoption, and Swain seems to have had to navigate both worlds as a child. Swain was first sent to a woman who promised to teach her needlework, spinning, and weaving, provide a little schooling, and decent living conditions. Swain stayed with this woman until 1818 when, for an unknown reason, she was sent back to the orphanage. She was immediately sent to another woman who was in the needle trade. Swain stayed with her for a year.     
Shortly after she left the orphanage, sometime around 1821, she met and married Steven Swain, the owner of a chair factory. The two lived in Baltimore for a time and had four children. Swain and her husband then began moving west, first to Ohio and then Indiana. After one of her son's moved to Wyoming, Swain and her husband followed and settled in Laramie to be close to him. 
Wyoming was still a territory when Swain arrived. Granted territorial status in 1869, Wyoming's law allowed certain women over the age of 21 to vote, own property, and serve in office. Women who wanted to cast a vote needed to prove they were seeking citizenship, a requirement that barred Native American and Chinese women from casting votes since at the time they legally could not become U.S. citizens. Black women were able to vote under this law, but it is unknown if any did and Wyoming had very few Black residents at the time. Wyoming's territorial government had different reasons for granting women the right to vote: some thought it would attract more women to the sparsely populated territory while others thought that women played an important role on the frontier and had a right to decide how the territory should be run.  
According to Laramie and Cheyenne newspapers, Swain became the first woman to legally cast a ballot in a general election since 1807 by 30 minutes. Swain's vote beat that of Augusta C. Howe, the 27-year-old wife of the U.S. Marshall Church Howe of Cheyenne, Wyoming. No one at the time disputed Swain's status.
1870 was a historic year for women's suffrage. On February 14, 1870, women in Utah became the first in the nation to cast ballots under an equal suffrage law as part of Salt Lake City's municipal election. Seraph Young, grand-niece of Bringham Young, became the first women to cast a ballot in a municipal election since 1807.
Shortly after casting her historic ballot, Swain and her husband moved back to Baltimore to live near their daughter. Swain died in 1878 and is buried in Friends Burying Grounds on the Old Harford Road in Baltimore. The Louisa Swain Foundation, founded in 2001 in Laramie, is dedicated to celebrating and preserving her legacy. In October 2008, Congress passed a resolution making September 6, 2008 "Louisa Swain Day." The day was celebrated for the first time in 2009 and continues to be celebrated annually in Laramie. There is also a statue of Swain in downtown Laramie. 
Swain may have been one of the first women to legally cast a ballot but she certainly was not the last. When Wyoming received statehood in 1890, it continued to allow women to vote. After decades of work, protest, marches, advocacy, and lobbying, the United States ratified the Nineteenth Amendment in 1920. The Nineteenth Amendment states, "The right of citizens of the United States to vote shall not be denied or abridged by the United States or by any State on account of sex." While the Amendment opened the door for women to legally vote across the United States, many women were still barred through other means such as: intimidation, violence, poll taxes, literacy tests, criminal convictions, their race, denying their citizenship, and their immigration status. Many women in the United States today still cannot cast a vote without serious complications, road blocks, and voter suppression. Louisa Ann Gardner Swain serves as one woman in a long line of women who have and will continue to cast their vote. 
Photo:
By Alice Stone Blackwell - Blackwell, Alice Stone (November 1918) The Woman Citizen (Public domain ed.), Leslie Woman Suffrage Commission, Public Domain, https://commons.wikimedia.org/w/index.php?curid=76605606  
Works Cited:
Billock, Jennifer. "Women Have Been Voting in Wyoming for 150 Years, and Here Is How the State Is Celebrating." Smithsonian Magazine. June 7, 2019. https://www.smithsonianmag.com/travel/women-voting-wyoming-150-years-here-how-state-celebrating-180971263/. 
Clark, Rebekah. "Seraph Young Ford, First Woman to Vote with Equal Suffrage." Better Days 2020. https://www.utahwomenshistory.org/bios/seraph-young/.
Irwin, Gayle M. "Wyoming's Louisa Swain was the first woman to vote 150 years ago." Billings Gazette. September 6, 2020. https://billingsgazette.com/news/article_c30a2b87-4d63-5c8f-854b-c9af3e200212.html. 
Jacobs, Becky. "Utah's Seraph Young is being celebrated 150 years after she cast the first vote." The Salt Lake Tribune. February 14, 2020. https://www.sltrib.com/news/2020/02/14/once-footnote-utah-woman/.
"Louisa Gardner Swain." The Louisa Swain Foundation. https://www.thelouisaswainfoundation.com/volunteer. 
Murray, John E. The Charleston Orphan House: Children's Lives in the First Public Orphanage. Chicago: University of Chicago Press. 2013. 
Ricker, Brianna. "Biographical Sketch of Louisa Swain." Biographical Database of NAWSA Suffragists, 1890-1920. Alexander Street. https://documents.alexanderstreet.com/d/1010596430. 
MLA – Rothberg, Emma. "Louisa Ann Swain." National Women's History Museum, 2020. Date accessed.
Chicago – Rothberg, Emma. "Louisa Ann Swain." National Women's History Museum. 2020. www.womenshistory.org/education-resources/biographies/louisa-ann-swain.
Enss, Chris and Erin H. Turner. No Place for a Woman: The Struggle for Suffrage in the Wild West. Helena, Montana: TwoDot. 2020. 
Mead, Rebecca J. How the Vote Was Won: Woman Suffrage in the Eestern United States, 1868-1914. New York: New York University Press. 2004.