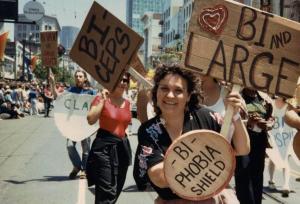 Lani Ka'ahumanu, a leader of the bisexual rights movement in the U.S., has worked for greater visibility for bisexuals both within the LGBTQ movement as well as broader society. An author, community organizer, and health advocate, she has been a driving force behind the fight against biphobia since 1980.
Lani Ka'ahumanu was born in Edmonton, Alberta on October 5, 1943 and grew up in the Bay Area. Her mother was of Native Hawaiian, Japanese and Euro descent and her father had Irish and Polish Jewish ancestry. Ka'ahumanu often passed for white, due to her light skin and features, and from a young age she saw how she was treated differently than her mother and sister as a result. These experiences with racial bias and passing informed her advocacy for social justice and bisexual rights and visibility later in life.
Ka'ahumanu married her high school sweetheart when she was 19. She settled in to life as a suburban housewife and the mother of two children. Ka'ahumanu grew more politically active in the 1960s: she joined Another Mother for Peace, an anti-war advocacy group; collected food for the Black Panther free breakfast program; and supported the United Farm Workers' grape boycott. Buoyed by the women's movement, she started taking college courses and began going by Ms. instead of Mrs.
By the late 1960s, Ka'ahumanu recognized that she was unhappy, but could not determine why. She was leading the life of marriage and motherhood that she had been raised to desire. Her husband figured it out first, telling Ka'ahumanu that she had never had a life of her own, that she needed to experience independence. He took care of their children while she moved to an apartment nearby and continued working at the children's school. She eventually moved to San Francisco. The two divorced amicably in 1974.
Ka'ahumanu continued her education at San Francisco State University (SFSU), where she took part in the successful campaign to establish a Women Studies Department. In 1976, Ka'ahumanu came out as a lesbian. She thrived in the burgeoning feminist community, one made up largely of lesbian feminists and separatists. Ka'ahumanu acknowledges she supported the commonly held idea that there are only two sexual orientations before realizing that she herself was bisexual.
In 1979, Ka'ahumanu earned a B.A. in Women Studies from SFSU. She was the first person in her family to graduate from college. She took a summer job as a chef at a new-age resort in Mendocino County called The Village Oz. There, Ka'ahumanu struck up a friendship with a bisexual man. Soon, their relationship became romantic, causing Ka'ahumanu to struggle with her identity. She later attributed her reluctance to identify as bisexual to her belief that bisexuality did not exist. When she moved back to San Francisco as an out bisexual in 1980, she knew she would be ostracized from her lesbian community. Many of her old friends did distance themselves, but a few stuck by her.
At first, Ka'ahumanu described herself as a lesbian-identified bisexual, to demonstrate her continued alliance with the lesbian feminist community, despite her relationship with a man. Soon, though, Ka'ahumanu dropped the "lesbian-identified" qualifier and began organizing a bisexual community within the lesbian and gay community in San Francisco.
In 1983, she co-founded BiPOL, the first feminist bisexual political action group in the country. Ka'ahumanu then co-coordinated the San Francisco Bay Area Bisexual Network (BABN) in 1987. BABN offered an array of programming, including cultural and educational forums, social retreats, and a newsletter that became the first national bisexual magazine, Anything That Moves.  
Ka'ahumanu's organizing efforts expanded when she met with bisexuals from around the country at the Second National March on Washington for Lesbian and Gay Rights in 1987. Spurred by a call from the Boston Bisexual Women's Network to organize nationally, Ka'ahumanu and fellow activist Autumn Courtney worked with BiPOL and BABN to coordinate the first National Bisexual Conference in 1990, where BiNET USA, the first national bisexual rights group, was founded.
When organizing began for the 1993 March on Washington, Ka'ahumanu challenged lesbian and gay leadership to include bisexuals in the name of the march, citing growing bisexual visibility and inclusion throughout the country. She organized a 12-city campaign for bisexuals to canvass prominent local lesbian and gay leaders for their endorsements. The campaign was successful, but there was a catch – they had to remove the "sexual" from "bisexual." The full name read: "The 1993 March on Washington for Lesbian, Gay, and Bi Equal Rights and Liberation."
Ka'ahumanu was the only openly bisexual person invited to speak on the march's main stage, where she was the last of 18 speakers. The event ran long, her time was cut short, and the stage was being dismantled behind her as she spoke. Despite these obstacles, Ka'ahumanu was proud of what they achieved: "We were at that national table. We did the work. We got the votes. We were there."
Ka'ahumanu published the anthology Bi Any Other Name: Bisexual People Speak Out in 1991. Co-edited with Loraine Hutchins, the book is considered a major text in the modern bisexual rights movement and was listed by the Lambda Book Review as one of the top 100 GLBT books of the twentieth century.
Ms. Magazine recognized Ka'ahumanu, who had become a safe sex educator in the early 1990s, in its 1994 "50 Ways to be a Feminist" issue for her work with the Safer Sex Sluts. Ka'ahumanu organized the group while coordinating an American Foundation for AIDS Research grant for Lyon-Martin Health Services' outreach program, which targeted young lesbian and bisexual women at high-risk for HIV/AIDS. Safer Sex Sluts conducted interviews and performed comedic skits that demonstrated the erotic side of safer sex practices in an amusing way.
Ka'ahumanu was the first openly bisexual person to be invited and to sit on any national lesbian and gay organization's board of directors; she concluded her term on the National Gay and Lesbian Task Force's board in 2000. Ka'ahumanu is currently completing her activist memoir, My Grassroots Are Showing, and a book of poetry, Passing for Other.
Published June 2021.
"Bio." LaniKaahumanu.com. Accessed May 29, 2021. https://www.lanikaahumanu.com/bio.shtml
Cassell, Heather. "Bisexual network celebrates 25 years." The Bay Area Reporter. Nov. 14, 2012. Accessed May 29, 2021. https://www.ebar.com/news///243070
Hapsis, Emmanuel. "Meet the LGBTQ+ Elders Who Rioted, Organized and Lobbied to Change History." KQED. June 10, 2019. Accessed May 29, 2021. https://www.kqed.org/arts/13859162/meet-the-lgbtq-elders-who-rioted-organized-and-lobbied-to-change-history 
"Lani Ka'ahumanu." Ms. July/August 1994. Vol. v, No. 1.
Lani Ka'ahumanu Oral History Interview. Outwords. July 25, 2016. https://theoutwordsarchive.org/subjectdetail/lani-ka.ahumana
"Lani Ka'ahumanu." Pride is a Protest. Accessed May 29, 2021. https://prideisaprotest.com/12
Orndorff, Kata, ed. Bi Lives: Bisexual Women Tell Their Stories. United States: See Sharp Press, 2012.
Photo Credit: 1984 San Francisco Lesbian Gay Pride Parade. Arlene Krantz, photographer. Image courtesy of Lani Ka'ahumanu.