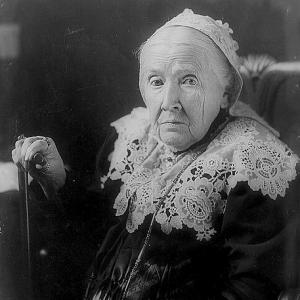 Writer, lecturer, abolitionist and suffragist, Julia Ward Howe not only authored the Civil War anthem "Battle Hymn of the Republic," but she also co-founded the American Woman Suffrage Association.
Born on May 27, 1819, Howe was the fourth of seven children of prominent New York City banker Samuel Ward and poet Julia Rush Ward. Ward was a descendant of Roger Williams, who founded the Rhode Island colony in 1636.  Her mother died in childbirth when Howe was five years old; thereafter, her rearing and education fell to an aunt, who ensured her exposure to literature, languages and science. Early on, Howe developed a love of poetry and by age twenty was anonymously published in literary magazines.
When her father died in 1839, Howe sought solace by visiting friends in Boston. As a wealthy young woman, she traveled in social circles that included noted writers, among them Ralph Waldo Emerson and Margaret Fuller.
In 1843, while touring the New England Institute for the Blind with poet friend Henry Wadsworth Longfellow, Howe met and became smitten with its director Dr. Samuel Howe, who was nearly twenty years her senior. They quickly married and had six children. The marriage was troubled from the start; Howe enjoyed writing and socializing while her husband preferred the solitude of his studies at the Perkins Institute and wanted her to be content with homemaking. In 1848, she garnered some acclaim for her published poetry, and the couple did work together on a journal advocating the end of slavery. As the marriage faltered, she wrote dark poems and plays about her unhappiness with her husband.
During the Civil War, Howe worked for the US Sanitary Commission, which promoted clean and hygienic conditions for soldiers and hospitals. In 1862, Atlantic Monthly published Howe's poem, "The Battle Hymn of the Republic," which brought lasting fame and is considered the Union's Civil War anthem.
After the war, an active clubwoman, Howe established and led major women's organizations. She championed the vote for women, helping to found the New England Suffrage Association in 1868, as well as the Massachusetts Woman Suffrage Association. The National Woman Suffrage Association (NWSA) divided over whether to support the 15th Amendment, which promised voting rights for black men but not all women. Howe joined Lucy Stone in founding the American Woman Suffrage Association (AWSA), which championed the Fifteenth Amendment, and broke with Susan B. Anthony and Elizabeth Cady Stanton's NWSA. Howe also helped establish the AWSA's newspaper, the Woman's Journal, which she edited for 20 years. In 1889, the groups reunited as the National American Woman Suffrage Association with the singular goal of votes for women.
Howe also became a peace advocate, presiding over the Women's International Peace Association in 1871. Known as the "Dearest Old Lady in America," she lectured widely, particularly for the Unitarian Church, founding clubs wherever she went. In 1873, she organized the Association for the Advancement of Women to improve women's education and entry into the professions.
After her husband's death in 1876, Howe wrote a flattering biography of him, despite his deathbed confession of multiple adulterous affairs. She continued to publish poems, essays, and books throughout the 1880s and was the first woman elected to the American Academy of Arts and Letters in 1908. She also received an honorary degree from Smith College.
"Howe, Julia Ward." Reconstruction Era Reference Library. Ed. Lawrence W. Baker, et al. Vol. 2: Biographies. Detroit: UXL, 2005. 124-132. U.S. History in Context. Accessed January 30, 2015.
Goodwin, Joan. "Julia Ward Howe." Dictionary of Unitarian & Universalist Biography. May 28, 2002. Accessed January 31, 2015.
Grant, Mary H. Private Woman, Public Person: An Account of the Life of Julia Ward Howe from 1819–1868.Brooklyn: Carlson Publishers, 1994.
Howe, Julia Ward. Reminiscences, 1819–1899. Boston: Houghton, Mifflin, 1899.
Raum, Elizabeth. Julia Ward Howe. Chicago: Heinemann Library, 2004.
Weatherford, Doris. American Women's History: An A to Z of People, Organizations, Issues, and Events. New York: Macmillan General Reference, 1994.
PHOTO: Library of Congress
MLA - Michals, Debra.  "Julia Ward Howe."  National Women's History Museum.   National Women's History Museum, 2015.  Date accessed.
Chicago - Michals, Debra.  "Julisa Ward Howe."  National Women's History Museum."  2015.  www.womenshistory.org/education-resources/biographies/julia-ward-howe.
Web:
Books:
Is Polite Society Polite and Other Essays, Julia Ward Howe

A Trip to Cuba, Julia Ward Howe

Julia Ward Howe 1819-1910, Maud Howe Elliott and Laura Elisabeth Howe Richards

The Civil Wars of Julia Ward Howe: A Biography, Elaine Showalter