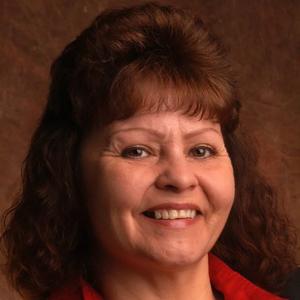 Judy Bonds led the fight in West Virginia to stop the mountaintop mining that was destroying her Appalachian homeland. A concerned grandmother inexperienced with environmental activism, she became an effective organizer who brought attention to mountaintop mining and sought to hold coal companies accountable for the damage they caused.  
Julia "Judy" Belle Thompson Bonds was born on August 27, 1952 in what is now called Marfork, West Virginia, to parents Oliver and Sarah Thompson. Bonds was the daughter and granddaughter of coalminers and her family had lived in West Virginia for several generations. Her father died of pneumoconiosis (black lung disease) several months after he retired from the coal mines at the age of 65.  
As an adult, Bonds worked in restaurants and convenience stores, still living in Marfork and scraping by as a single mother. Until the 1990s, she was conflicted about the environmental risks posed by coalmining. But then Massey Energy Co. arrived in her corner of Appalachia.  
Massey brought a practice called mountaintop mining to the area. Mountaintop mining involves blasting off the peaks of mountains with explosives so that large machinery can mine the seams of coal below. It was developed in the 1970s but became much more prevalent in the 1990s. Studies show this type of mining leads to a host of harmful consequences: it pollutes nearby waterways with toxic metals; causes extensive flooding; poisons the air with rock dust silica that leads to high rates of asthma and black lung disease; displaces wildlife that in turn threaten humans; and its explosions can both damage homes and cause residents to suffer from post-traumatic stress. Debris from the explosions also harms the local environment: more than 1,000 miles of Appalachian streams have been buried and hundreds of thousands of acres of the region's forests have been decimated.  
When Massey began mountaintop mining near Marfork, the noise and dust-filled air caused many families to flee the area. Bonds felt deeply rooted to her home and refused to leave, but conditions continued to worsen. In 1996, her six-year-old grandson (who suffered from asthma, like many other children in the area) was playing in a creek when he asked Bonds, "What's wrong with these fish?" He was surrounded by dead fish floating belly-up near his ankles. Bonds credits it as her eye-opening moment. She began volunteering with Coal River Mountain Watch (CRMW), an organization devoted to protecting the region from mountaintop mining. 
Bonds held out leaving her home until 2001, when she learned that Massey planned to build a dam farther up Marfork Hollow that would hold back millions of gallons of coal sludge. If the dam failed, her family and her home would be in great danger, and dams like this one had failed before. Being forced from her home only made Bonds more determined to fight on behalf of the communities and natural resources of Appalachia that were threatened by practices like mountaintop mining.  
That same year, Bonds left her job as a manager at Pizza Hut to become the outreach director of Coal River Mountain Watch. She became an outspoken advocate and a statewide symbol of opposition to mountaintop mining. Bonds lobbied at the West Virginia statehouse and in Washington, D.C. to rein in coal companies' mining efforts. She traveled the country speaking to young people about what she had witnessed, telling them that the profits of coal companies were coming at the expense of the health and safety of low-income Appalachians.  
Bonds organized protest rallies and pickets to confront coal companies' executives and stockholders, testified at regulatory hearings about the effects of mountaintop mining, and filed lawsuits to try to stop these mining practices. Bonds and CRMW began tracking every permit issued for mountaintop mining, and forced public hearings on them. Previously, residents were not aware when a permit was granted, let alone if they had the ability to challenge it. This strategy was especially important after a 2003 federal court ruling relaxed restrictions on mountaintop mining and West Virginia was flooded with requests for new permits.  
One of Bonds's most important victories was the partnership she forged with the United Mine Workers Union concerning oversized coal trucks. These trucks often carried more than double the legal weight limit down steep and narrow roads, which endangered other drivers, wore down the roads, and even damaged local homes. She worked with fellow activists to launch a nationwide letter-writing campaign to the governor of West Virginia. Together with the union, Bonds and her team sued and forced the companies to transport smaller, safer loads. Bonds also helped win valuable concessions from the West Virginia State Mining Board when it enacted stricter protections on mine blasting for local communities.  
Bonds faced threats to her personal safety as a result of her activism. She received anonymous, threatening phone calls any time she planned a protest. Neighbors and coal workers, who viewed Bonds's work as a threat to their livelihoods, insulted and harassed her. She even experienced a physical attack at a 2010 protest when a woman in a miner's shirt struck Bonds. 
In 2003, Bonds received the Goldman Environmental Prize, an honor given annually to one unrecognized grassroots environmental activist on each continent. Earning $12,000 a year at the time with Coal River Mountain Watch, she received $125,000 as the Goldman prizewinner. After covering family expenses, Bonds donated nearly $50,000 to CRMW, an amount close to the organization's yearly budget.  
Bonds used her platform to call attention to the connections between coalmining and climate change. She held that, "coal is an enemy to all of us in terms of global warming." Forests absorb carbon and thus can aid against global warming, but coal mining has led to the destruction of massive sections of forest in Appalachia, precisely when they are needed the most.  
Bonds had long dreamt of a "thousand hillbilly march" on Washington, D.C. to protest the exploitation of Appalachian lands by coal companies. That came to pass in September 2010 when approximately 2,000 people joined the "Appalachia Rising" march. Unfortunately, Bonds was too ill with cancer to join the march herself. Bonds passed away on January 3, 2011. Coal River Mountain Watch created The Judy Bonds Center for Appalachian Preservation in her honor; located in Naoma, West Virginia, it serves as the organization's community center, office, volunteer housing, and sustainable economic demonstration site. 
Published April 2021.  
Photo Credit:
"File:Julia Bonds, 2003 (cropped).jpg" by Natalie Silverstein on behalf of the Goldman Environmental Prize is licensed under CC BY-SA 3.0
Brown, Emma. "Julia 'Judy' Bonds, 58, Dies; Outspoken Foe of Mountaintop Strip Mining." The Washington Post. February 25, 2011. Accessed March 28, 2021. https://www.washingtonpost.com/obituaries/julia-judy-bonds-58-dies-outspoken-foe-of-mountaintop-strip-mining/2011/01/04/ABJL4jD_story.html  
Cohen, Janet. "Award-winning Environmentalist Speaks Her Mind." The Union (Nevada County, CA). Janauary 3, 2008. Accessed March 28, 2021. https://www.theunion.com/news/award-winning-environmentalist-judy-bonds-speaks-her-mind/  
Hevesi, Dennis. "Judy Bonds, an Enemy of Mountaintop Coal Mining Dies at 58." The New York Times. January 15, 2011. Accessed March 28, 2021. https://www.nytimes.com/2011/01/16/us/16bonds.html 
"Judy Bonds Center for Appalachian Preservation." Coal River Mountain Watch. Accessed March 28, 2021. https://www.crmw.net/projects/judy-bonds-center-for-appalachian-preservation.php  
"Julia Bonds." The Goldman Environmental Prize. Accessed March 28, 2021. https://www.goldmanprize.org/recipient/julia-bonds/  
Shnayerson, Michael. "The Rape of Appalachia." Vanity Fair. November 20, 2006. Accessed March 28, 2021. https://www.vanityfair.com/news/2006/05/appalachia200605?currentPage=all