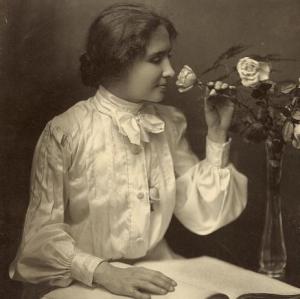 Undeterred by deafness and blindness, Helen Keller rose to become a major 20th century humanitarian, educator and writer. She advocated for the blind and for women's suffrage and co-founded the American Civil Liberties Union.
Born on June 27, 1880 in Tuscumbia, Alabama, Keller was the older of two daughters of Arthur H. Keller, a farmer, newspaper editor, and Confederate Army veteran, and his second wife Katherine Adams Keller, an educated woman from Memphis. Several months before Helen's second birthday, a serious illness—possibly meningitis or scarlet fever—left her deaf and blind. She had no formal education until age seven, and since she could not speak, she developed a system for communicating with her family by feeling their facial expressions.
Recognizing her daughter's intelligence, Keller's mother sought help from experts including inventor Alexander Graham Bell, who had become involved with deaf children. Ultimately, she was referred to Anne Sullivan, a graduate of the Perkins School for the Blind, who became Keller's lifelong teacher and mentor. Although Helen initially resisted her, Sullivan persevered. She used touch to teach Keller the alphabet and to make words by spelling them with her finger on Keller's palm. Within a few weeks, Keller caught on. A year later, Sullivan brought Keller to the Perkins School in Boston, where she learned to read Braille and write with a specially made typewriter. Newspapers chronicled her progress. At fourteen, she went to New York for two years where she improved her speaking ability, and then returned to Massachusetts to attend the Cambridge School for Young Ladies. With Sullivan's tutoring, Keller was admitted to Radcliffe College, graduating cum laude in 1904. Sullivan went with her, helping Keller with her studies. (Impressed by Keller, Mark Twain urged his wealthy friend Henry Rogers to finance her education.)
Even before she graduated, Keller published two books, The Story of My Life (1902) and Optimism (1903), which launched her career as a writer and lecturer. She authored a dozen books and articles in major magazines, advocating for prevention of blindness in children and for other causes.  
Sullivan married Harvard instructor and social critic John Macy in 1905, and Keller lived with them. During that time, Keller's political awareness heightened. She supported the suffrage movement, embraced socialism, advocated for the blind and became a pacifist during World War I. Keller's life story was featured in the 1919 film, Deliverance. In 1920, she joined Jane Addams, Crystal Eastman, and other social activists in founding the American Civil Liberties Union; four years later she became affiliated with the new American Foundation for the Blind in 1924.
After Sullivan's death in 1936, Keller continued to lecture internationally with the support of other aides, and she became one of the world's most-admired women (though her advocacy of socialism brought her some critics domestically). During World War II, she toured military hospitals bringing comfort to soldiers.
A second film on her life won the Academy Award in 1955; The Miracle Worker —which centered on Sullivan—won the 1960 Pulitzer Prize as a play and was made into a movie two years later. Lifelong activist, Keller met several US presidents and was honored with the Presidential Medal of Freedom in 1964. She also received honorary doctorates from Glasgow, Harvard, and Temple Universities.
MLA - Michals, Debra.  "Helen Keller."  National Women's History Museum.  National Women's History Museum, 2015.  Date accessed.
Chicago - Michals, Debra.  "Helen Keller."  National Women's History Museum.  2015.  www.womenshistory.org/education-resources/biographies/helen-keller. 
Web Sites:
Films:
 The Miracle Worker (1962). Dir. Arthur Penn. (DVD) Film.

The Miracle Worker (2000). Dir. Nadia Tass. (DVD) Film.
Books:
Ford, Carin.  Helen Keller: Lighting the Way for the Blind and Deaf.  Enslow Publishers, 2001.

Herrmann, Dorothy.  Helen Keller: A Life.  Chicago: The University of Chicago Press, 1998.