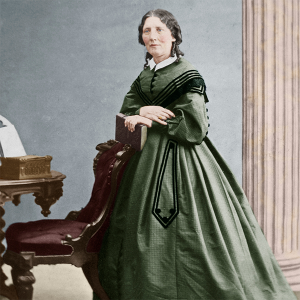 Abolitionist author, Harriet Beecher Stowe rose to fame in 1851 with the publication of her best-selling book, Uncle Tom's Cabin, which highlighted the evils of slavery, angered the slaveholding South, and inspired pro-slavery copy-cat works in defense of the institution of slavery.
Stowe was born on June 14, 1811 in Litchfield, Connecticut, the seventh child of famed Congregational minister Lyman Beecher and Roxana Foote Beecher. Her famous siblings include elder sister Catherine (11 years her senior), and Henry Ward Beecher, the famous preacher and reformer. Stowe's mother died when she was five years old and while her father remarried, her sister Catherine became the most pronounced influence on young Harriet's life. At age eight, she began her education at the Litchfield Female Academy. Later, in 1824, she attended Catherine Beecher's Hartford Female Seminary, which exposed young women to many of the same courses available in men's academies. Stowe's proclivity for writing was evident in the essays she produced for school.  Stowe became a teacher, working from 1829 to 1832 at the Hartford Female Seminary.
In 1832, when Stowe's father Lyman accepted the position of president of the esteemed Lane Seminary in Cincinnati, Ohio, she went with him. There, she met some of the great minds and reformers of the day, including noted abolitionists. Smitten with the landscape of the West, she published her first book, Primary Geography, in 1833, which celebrated the diverse cultures and vistas she encountered. In 1836, she met and married Calvin Stowe, a professor at the Lane Seminary. He encouraged her writing, they had seven children, and weathered financial and other problems during their decades-long union. Stowe would write countless articles, some were published in the renowned women's magazine of the times, Godey's Lady's Book. She also wrote 30 books, covering a wide range of topics from homemaking to religion in nonfiction, as well as several novels.
The turning point in Stowe's personal and literary life came in 1849, when her son died in a cholera epidemic that claimed nearly 3000 lives in her region. She later said that the loss of her child inspired great empathy for enslaved mothers who had their children sold away from them. The passage of the Fugitive Slave Act of 1850, which legally compelled Northerners to return runaway slaves, infuriated Stowe and many in the North. This was when Stowe penned what would become her most famous work, the novel, Uncle Tom's Cabin. Originally serialized in the National Era, Stowe saw her tale as a call to arms for Northerners to defy the Fugitive Slave Act. The vivid characters and great empathy inspired by the book was further aided by Stowe's strong Christianity.
Uncle Tom's Cabin was released as a book in March 1852, selling 300,000 copies in the US in the first year. It was later performed on stage and translated into dozens of languages. When some claimed her portrait of slavery was inaccurate, Stowe published Key to Uncle Tom's Cabin, a book of primary source historical documents that backed up her account, including the narratives of notable former slaves Frederick Douglass and Josiah Henderson. Southern pro-slavery advocates countered with books of their own, such as Mary Henderson Eastman's Aunt Phillis's Cabin; Or, Southern Life as It Is. This work and others like it attempted to portray slavery as a benevolent institution, but never received the acclaim or widespread readership of Stowe's.
Stowe used her fame to petition to end slavery. She toured nationally and internationally, speaking about her book and donating some of what she earned to help the antislavery cause. She also wrote extensively on behalf of abolition, most notably her "Appeal to Women of the Free States of America, on the Present Crisis on Our Country," which she hoped would help raise public outcry to defeat the 1854 Kansas-Nebraska Act.
During the Civil War, Stowe became one of the most visible professional writers. For years, popular folklore claimed that President Abraham Lincoln, upon meeting Stowe in 1862, said, "So you're the woman who wrote the book that started this great war." That quote, published in a 1911 biography of Stowe by her son Charles, has been called into question, as Stowe herself and two others present at the meeting make no reference to it in their accounts (and Charles was only a boy at the time of the meeting).
In 1873, Stowe and her family moved to Hartford, Connecticut, where she remained until her death in 1896, summering in Florida. She helped breathe new life into the Wadsworth Atheneum Museum of Art, and was involved with efforts to launch the Hartford Art School, later part of the University of Hartford.
Barbara M. Cross, "Harriet Beecher Stowe," in Edward T. James, Janet Wilson James, and Paul Boyer, editors, Notable American Women, 1607-1950: A Biographical Dictionary (Cambridge: Belknap Press of Harvard University, 1971), p. 393-402.

The Harriet Beecher Stowe Center, "Harriet Beecher Stowe's Life." Accessed 7July 2017,  https://www.harrietbeecherstowecenter.org/hbs/

"Harriet Beecher Stowe" in Lauter, Paul, editor, Heath Anthology of American Literature. Accessed 7 June 2017. https://college.cengage.com/english/lauter/heath/4e/students/author_pages/early_nineteenth/stowe_ha.html

"Harriet Elizabeth Beecher Stowe." Encyclopedia of World Biography, Gale, 1998. Biography in Context, link.galegroup.com/apps/doc/K1631006289/BIC1?u=deschutes&xid=016ee01c. Accessed 2 Aug. 2017.

Hedrick, Joan D. Harriet Beecher Stowe: A Life. (Oxford University Press, 1995).

Hedrick, Joan D. "Stowe's Life and Uncle Tom's Cabin." Accessed 2 August 2017. http://utc.iath.virginia.edu/interpret/exhibits/hedrick/hedrick.html

Vollaro, Daniel. "Lincoln, Stowe, and the 'Little Woman/Great War' Story: The Making, and Breaking, of a Great American Anecdote." Journal of the Abraham Lincoln Association. Volume 30, Issue 1, Winter 2009, pp. 18-34. Accessed 2 August 2017 https://quod.lib.umich.edu/j/jala/2629860.0030.104/--lincoln-stowe-and-the-little-womangreat-war-story-the- making?rgn=main;view=fulltext
MLA – Michals, Debra. "Harriet Beecher Stowe." National Women's History Museum, 2017. Date accessed.
Chicago – Michals, Debra "Harriet Beecher Stowe." National Women's History Museum. 2017. www.womenshistory.org/education-resources/biographies/harriet-beecher-stowe.
Web Sites:
Books:
Boydston, Jean, Mary Kelley and Anne Margolis. The Limits of Sisterhood: The Beecher Sisters on Women's Rights and Women's Sphere. (University of North Carolina Press, 1988).

Stowe, Harriet Beecher. Uncle Tom's Cabin.

Stowe, Charles Edward and Lyman Beecher Stowe. Harriet Beecher Stowe: The Story of Her Life. (Boston: Houghton Mifflin, 1911).
Videos: