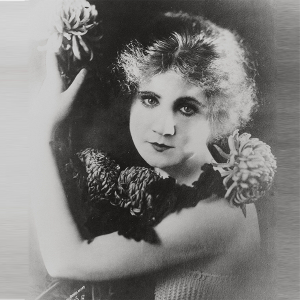 As one of the first motion picture stars, Florence Lawrence was known as "The Biograph Girl." Throughout her career she appeared in almost 300 films and became one of the first women to lead a US film studio. She was also an inventor and was credited as the inventor of the turn signal and the brake signal for automobiles.
Florence Lawrence was born as Florence Annie Bridgwood on January 2, 1886. The youngest of three children, she was born in Hamilton, a port city of Ontario, Canada. Her mother, Charlotte Bridgwood, was a theater actress that went by the stage name Lotta Lawrence. She was also the manager and main actress of the Lawrence Dramatic Company. As a result of her mother's career, Florence Lawrence grew up frequently touring with the theater company. When Lawrence was twenty-one years old, she followed in her mother's footsteps and began her career as an actress. Her first role was in a short film called Daniel Boone/Pioneer Days in America produced by the Edison Manufacturing Company. Both Lawrence and her mother were featured in this film. They both went on to star in another film produced by The Vitagraph Company of America called The Shaughraun, an Irish Romance. After this film, her mother went back to performing in live productions, while Lawrence continued to act in films. She worked on films with The Vitagraph Company of America's cofounder J. Stuart Blackton and director Charles Kent.
In 1908, Lawrence began acting in films directed by D.W. Griffith at the American Mutoscope and Biograph Company. She appeared in almost all of the sixty films directed by Griffith that year. As she became more popular, Lawrence was able to ask for weekly wages and better benefits as an actress. She also was able to demand twice the normal salary and her own makeup table. However, because actors were typically required to remain anonymous, Lawrence became famous as "the Biograph girl." During this time, Lawrence met fellow actor Harry Solter, and worked with him on a film called The Girl and the Outlaw. Lawrence and Solter got married later that year. Unfortunately, they were both fired from the Biograph Company in 1910. Soon after, they were hired by producer Carl Laemmle to work for his new studio called the Independent Motion Picture Company (IMP). While working for this company, Lawrence participated in a publicity stunt where her "death" in a car accident was announced by IMP. Lawrence reemerged on March 25, 1910 in St. Louis, Missouri for a publicity tour. She made about fifty films with IMP during that year.
The following year, Lawrence joined the Philadelphia Lubin Company, and took her husband with her. However, the couple did not stay with the company long. In 1912, they started their own film studio called the Victor Company in Fort Lee, New Jersey. With Lawrence as one of the owners, the Victor Company was one of the first US film companies to be led by a woman. After signing a deal with Laemmle's Universal Film Manufacturing Company to distribute their films, the Victor Company began to produce more movies. That same year, Lawrence and Solter separated and Solter moved to Europe. After writing her many letters, Lawrence reunited with Solter by the end of 1912. Unfortunately, their company was still having trouble with distribution and they had not made any profits. After a short break from their company, Lawrence returned to producing films with not much success. The company was later absorbed by the Universal Film Manufacturing Company. In 1916, Lawrence and Solter filed for divorce.
After trying to start a film company of her own, Lawrence returned to acting roles. Unfortunately, it was harder for her to get hired as an actress. During this time she married her second husband, automobile salesman Charles B. Woodring. Lawrence was a skilled businesswoman and used her talents to open a cosmetic store called Hollywood Cosmetics that featured her own line of makeup. She also became the president of her mother's company, Bridgwood Manufacturing. Both mother and daughter were also brilliant inventors. Her mother invented a patent for a type of windshield wiper in 1917, while Lawrence invented the first car turn signal, or "auto-signaling arm," and the brake signal for automobiles. However, Lawrence did not patent her inventions and did not receive any profits from her work. In 1931, Lawrence and Woodring filed for divorce, and Lawrence married Henry Bolton the next year. Their marriage only lasted five months because Bolton frequently abused Lawrence.
On December 27, 1938, Florence Lawrence was found dead in her apartment. She committed suicide by eating ant poison. Her funeral was held on December 30, 1938 and was paid for by the Motion Picture & Television Fund. She is buried in the Hollywood Forever Cemetery in Hollywood, California.
Brown, Kelly. "Florence Lawrence." In Jane Gaines, Radha Vatsal, and Monica Dall'Asta, eds.  Women Film Pioneers Project. New York, NY: Columbia University Libraries, 2013.  https://doi.org/10.7916/d8-2jnw-2x82.
Massachusetts Institute of Technology. "Florence Lawrence: Vehicle Turn Indicator & Full-Stop Signal." Accessed February 26, 2020. https://lemelson.mit.edu/resources/florence-lawrence.
Heidenry, Margaret. "Introducing Florence Lawrence, Hollywood's Forgotten First Movie Star." Vanity Fair. Vanity Fair, November 14, 2018. https://www.vanityfair.com/hollywood/2018/05/florence-lawrence-first-movie-star-old-hollywood.
MLA – Alexander, Kerri Lee. "Florence Lawrence." National Women's History Museum, 2020. Date accessed.
Chicago – Alexander, Kerri Lee. "Florence Lawrence" National Women's History Museum. 2020. www.womenshistory.org/education-resources/biographies/florence-lawrence.
Paul, John. "Florence Lawrence: Automotive Inventor and the 'World's First Movie Star.'" Historic Vehicle Association (HVA), March 23, 2016. https://www.historicvehicle.org/florence-lawrence-automotive-inventor-worlds-first-movie-star/.