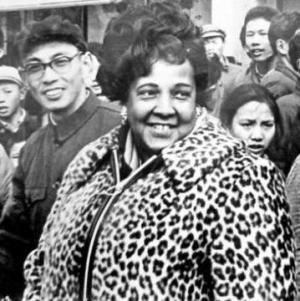 Ethel Payne is known as the First Lady of the Black Press, because of her fearlessness as a journalist and a Civil Rights activist. Throughout her career, she witnessed some of the United States' most monumental moments and wrote about them in the Chicago Defender. She was the first African American woman to be included in the White House Press corps and became a radio and television commentator, and she covered events including the Korean War, the Civil Rights movement, and the Vietnam War. Ethel Payne broke barriers as a journalist and was known for asking questions about topics that other journalists did not want to approach.
Ethel Lois Payne was born August 14, 1911 to William A. Payne and Bessie Austin Payne on the south side of Chicago, Illinois. Her grandparents on her father's side were enslaved until the end of the Civil War. Her father worked as a Pullman porter, and her mother stayed at home to look after their six children. During her childhood, she was a voracious reader, especially the poems of Paul Laurence Dunbar. She attended Lindblom High School and had the same teacher as Ernest Hemingway. Unfortunately, Payne's father passed away when she was twelve. To make money, her mother opened their home as a boarding house, and became a Latin teacher.
In 1948, Payne left Chicago to work in Japan for the Army Special Services club. When the Korean War began in 1950, she wrote in her journal about the treatment of African American troops. Although President Truman had ordered the military to be integrated, General McCarthy refused to desegregate the troops. Payne wrote about the segregation of the soldiers, the racial slurs that were used against them, and about the babies that were abandoned as orphans because they were born to Japanese mothers and black fathers. Payne showed Korean War reporter Alex Wilson her diary and, after reading a few excerpts, he asked to send her notes to the Chicago Defender. The Chicago Defender was a newspaper for African American communities. Payne's articles about the events in the Korean War gave a boost to the newspaper circulation, however, she was also met with criticism. She was accused of "upsetting the morale of the troops," due to her honest and straightforward writing and style. Her writing caught the attention of the editor in chief who offered her a full-time position at the paper. She began writing for the Defender in 1951.
During her time as a reporter for the Defender, Payne worked to present stories that were not discussed frequently. She focused on adoption crises for African American children, and the struggles unwed mothers faced. In 1952, Payne moved to Washington, DC to cover historic events such as the Army-McCarthy trials. She also  covered the Civil Rights movement which had grown over the 1950's and 1960's. During the Civil Rights movement, Payne recognized that desegregation would not happen "unless some drastic action is taken to goad the lawmakers into action…" When the historic case, Brown v. Board of Education ended segregation in public schools, Payne pointed out that there was no set date for integration of schools to happen. She was displeased at the thought that the desegregation could take years. Payne's ability to express these ideas in a clear way to the public made her an extraordinary reporter.
Ethel Payne was also the first African American woman to join the White House Press corps. As a correspondent for the Defender, Payne was able to ask President Eisenhower about his choices in regard to Civil Rights. Payne asked the President why he had not allowed the Howard University choir to perform during a celebration. Eisenhower chose to say he did not know about the incident. Payne continued to question him on immigration, segregation, and discrimination throughout the United States. On July 7, 1954, shortly after Brown vs. Board of Education was passed, Payne asked "Mr. President, we were very happy last week when the deputy attorney general sent a communication to the House Interstate and Foreign Commerce Committee saying that there was legal basis for passing a law to ban segregation in interstate travel… I would like to know if we could assume that we have administration support in getting action on this?" Eisenhower responded harshly, stating, "You say that you have to have administrative support. The administration is trying to do what it thinks and believes to be decent and just in this country and is not in the effort to support any particular or special group of any kind." This response by Eisenhower showed that he felt the African American community and their push for equal rights was nothing more than a "special interest." After this exchange, both the black and white presses reported Eisenhower's irritation with the question Payne had asked. Payne also experienced backlash; the President refused to call on her for the remainder of his presidency, and Press Secretary James Hagerty tried to invalidate her as a journalist. Hagerty went as far as to conduct an investigation on her, including looking through her income tax returns.
Regardless of the backlash, Payne continued to work to bring more awareness to the Civil Rights movement. She reported on Rosa Parks and the Montgomery Bus Boycott, and she interviewed Martin Luther King Jr. before he made national headlines. She also traveled to the South to write the series "The South at the Crossroads," an analysis of the South during the Civil Rights movement. Although she was present and reporting on historic moments, Payne and the Defender was unknown to white audiences.
Payne also traveled overseas to report on international affairs. She was present for the Asian African summit in Bandung, Indonesia, the meeting between Vice  President Nixon and the King of Ghana, as well as covering the Vietnam War. Payne witnessed the horrors of the war after watching a Vietnamese woman died from exposure to agent orange.
In 1970, Ethel Payne broke another barrier and became the first African American woman to appear on a national network as a radio and television commentator. She worked for CBS from 1972-1982. In 1978, she left the Defender, but went on to serve as a professor for the School of Journalism at Fisk University in Nashville, Tennessee for one year. She also continued writing and advocated for the release of Nelson Mandela.
Ethel Payne passed away from a heart attack May 28, 1991. She is remembered for her straightforward writing style, and her forceful questioning. She broke barriers as an African American woman reporting on historic events. Unfortunately, Payne's legacy is not well known, and according to the Washington Post, "had Ethel Payne not been black, she certainly would have been one of the most recognized journalists in American society." Today her legacy is being brought to the forefront through new biographies and articles written about her and her incredible career.
Libman, Norma "Ethel Payne." Chicago Tribune. July 31, 1988. Accessed August 2, 2018.
"Ethel Payne, 79, Dies; Was a Correspondent." The New York Times, June 1, 1991, sec. Obituaries. Accessed August 2, 2018.
Morris, James McGrath "Ethel Payne (1911-1991)." Styberg Library. Accessed August 2, 2018.
"Ethel Payne: Hemingway of the Black Press." The Chicago Defender. February 24, 2009. Accessed July 31, 2018.
Bates, Karen Grigsby "From Selma To Eisenhower, Trailblazing Black Reporter Was Always Probing." NPR. March 20, 2015. Accessed August 2, 2018.
James McGrath Morris. Eye on the Struggle : Ethel Payne, the First Lady of the Black Press. First Edition. New York: Amistad an imprint of HarperCollinsPublishers, 2015.
Claudia Levy "JOURNALIST ETHEL PAYNE DIES." The Washington Post. June 1, 1991. Accessed August 2, 2018.
Shahid, Sharon "Newseum | Ethel Payne: White House Trailblazer," February 11, 2008. Accessed July 31, 2018.
PBS NewsHour. Black Journalist Ethel Payne Changed the National Agenda with Coverage of Civil Rights. Published February 26, 2015. Accessed July 31, 2018.
Garner, Dwight "Review: The Reporter Ethel Payne in 'Eye on the Struggle' - The New York Times." February 12, 2015. Accessed July 31, 2018.
Streitmatter, Rodger. "ETHEL L. PAYNE: Agent for Change in the Civil Rights Movement." In Raising Her Voice: African-American Women Journalists Who Changed History, 118-28. University Press of Kentucky, 1994. http://www.jstor.org.proxyau.wrlc.org/stable/j.ctt130jn0r.14.
"The Detroit Tribune. (Detroit, Mich.) 1935-1966, April 16, 1960, Image 3," April 16, 1960.
"The Detroit Tribune. (Detroit, Mich.) 1935-1966, June 10, 1961, Image 7," June 10, 1961.
APA: Anderson, A. (2018, July 31). Ethel Payne. Retrieved from https://www.womenshistory.org/education-resources/biographies/ethel-payne
MLA: Anderson, Ashlee. Ethel Payne. 31 July 2018, www.womenshistory.org/education-resources/biographies/ethel-payne.
Chicago: Anderson, Ashlee. "Ethel Payne." The National Women's History Museum. July 31, 2018. https://www.womenshistory.org/education-resources/biographies/ethel-payne.