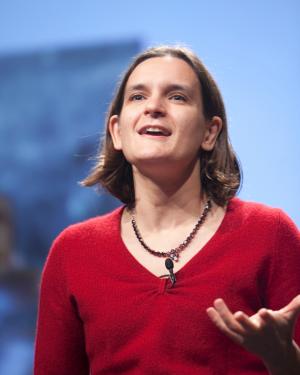 How can we solve a worldwide problem like global poverty?
Economist Esther Duflo, along with research partners Abhijit Banerjee and Michael Kremer, were awarded the 2019 Nobel Prize in Economic Sciences for their work on global poverty issues. Duflo became the second woman to ever win the prize.
Duflo was born in 1972 in Paris, France. Her experiences made her determined to never let her gender define her. Duflo was a strong student in all subjects, and she developed an early interest in the issue of global poverty among children. She was determined to become a researcher to help people in poverty.  While in college, she volunteered in soup kitchens and a prison, but she felt she wasn't doing enough.  She moved to Moscow, where she taught at the Social Science University and studied economic reform in Russia.
After earning her Master's Degree at what became the Paris School of Economics, she studied for her Ph.D. in Economics at the Massachusetts Institute of Technology (MIT).  She quickly learned that "poverty traps" limited opportunities for the poor and if those traps could be identified and eliminated, global poverty could be reduced.  Banerjee and Kremer, Duflo's professors, had begun using the experimental method to test theories for reducing poverty, and she joined their work.  The trio argued the best approach to a problem as large as global poverty was to break the problem into smaller pieces. They suggested studying individual factors contributing to global poverty, performing experiments to determine individual solutions.  Policymakers would then adopt those solutions to alleviate global poverty.
Duflo earned her Ph.D. in 1999 and was immediately hired by MIT.  In 2003, Duflo, Banerjee, and Sendhil Mullainathan created the J-PAL Poverty Action Lab to perform randomized control experiments and then share the results with the policymakers who could create educational, healthcare, and financial programs.
In experiments, J-PAL relied on the power of incentives to change behavior. In one important 2004-2007 study in India, J-PAL found that immunization rates were very low, largely because of high absentee rates among healthcare providers.  In addition, parents often lost a day's wages for taking children to immunization centers – and if healthcare workers were absent, the parents were even less likely to try again.  The J-PAL experiment found that when reliable services and education were provided, the incentive of a bag of lentils (equal to the value of ¾ of one day's wage) resulted in six times the immunization rate.
In 2019, Duflo reported that J-PAL had been involved in 998 projects in 84 countries. Policies developed due to J-PAL evaluations have impacted more than 450 million people.  In its press release announcing the 2019 Nobel Prize, the Royal Swedish Academy of Sciences noted, "The research conducted by this year's Laureates has considerably improved our ability to fight global poverty.  In just two decades, their new experiment-based approach has transformed development economics, which is now a flourishing field of research."
Guiding Questions for Students:
How can a problem, which at first seems overwhelming, be tackled?
How can researchers, such as economists, help policymakers?
How can policymakers use incentives to achieve desired outcomes?
Banerjee, Abhijit, et al. Improving Immunization Rates through Regular Camps and Incentives in India. 2010, www.povertyactionlab.org/evaluation/improving-immunization-rates-through-regular-camps-and-incentives-india. Accessed 11 July 2022.
Duflo, Esther. "Esther Duflo - Biographical." NobelPrize.org, 2019, www.nobelprize.org/prizes/economic-sciences/2019/duflo/biographical/. Accessed 11 July 2022.
The Royal Swedish Academy of Sciences. "Press Release: The Prize in Economic Sciences 2019." NobelPrize.org, 14 Oct. 2019, www.nobelprize.org/prizes/economic-sciences/2019/press-release/. Accessed 11 July 2022.
MLA – Ellison, Lisa C. Herman. "Esther Duflo" National Women's History Museum, 2022. Date accessed.
Chicago – Ellison, Lisa C. Herman. "Esther Duflo." National Women's History Museum. 2022. www.womenshistory.org/education-resources/biographies/esther-duflo
Image Credit: By Kris Krüg - originally posted to Flickr as Esther Duflo - Pop!Tech 2009 - Camden, ME, CC BY-SA 2.0, https://commons.wikimedia.org/w/index.php?curid=40196652