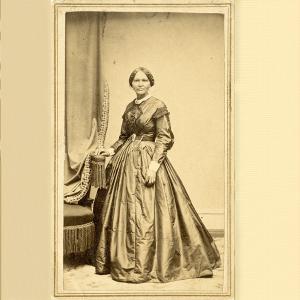 Born into slavery, Elizabeth Keckley's story is one of perseverance and ingenuity in the face of seemingly insurmountable odds. As an African American businesswoman and philanthropist, Keckley defied stereotypes and redefined what an African American woman could accomplish in the Nineteenth Century. 
Elizabeth Hobbs Keckley (also spelled Keckly) was born in February 1818 in Dinwiddie County, Virginia. Her mother, Agnes (Aggy) Hobbs, was an enslaved woman on Colonel Armistead Burwell's plantation. Col. Burwell was also Keckley's biological father, and it is likely Col. Burwell and Hobbs's relationship was non-consensual. The Burwells never recognized Keckley's parentage and frequently beat her as a child. Aggy's husband, George Pleasant Hobbs, was an enslaved man on a nearby plantation. George was devoted to Keckley and regarded her as his daughter. Keckley, likewise, regarded George as her father. As a form of resistance to enslavement, Aggy gave Keckley George's last name. 
As early as age four, Keckley assisted her mother with chores in the Burwell household including cleaning, sewing, and watching over the Burwell's young children (Keckley's half-siblings). Unlike many enslaved people at the time, Keckley was allowed to learn to read and write. At some point, George was permitted live with his wife and daughter on the Burwell plantation. However, the family's unification was short lived. When George's owner decided to move West, George was forced to leave; he only had two hours to say goodbye to his family. Keckley and her father kept in touch by letter, another rarity for enslaved people at the time. 
At fourteen, Keckley was sent to North Carolina to work for Col. Burwell's son, Robert. Robert and his wife's estate in Hillsborough, NC was not financially successful and they hired Keckley out to a white neighbor. That neighbor brutally and frequently beat Keckley and forced her into a sexual relationship for four years. The non-consensual relationship resulted in the birth of Keckley's only son, George, in 1842. That same year, Keckley and her son were sent back to the Burwell plantation in Virginia. Col. Burwell then gave Keckley, her son, and Aggy to his daughter (and Keckley's half-sister), Ann Garland, as a wedding gift. 
Around 1847, the Garlands moved to St. Louis to make a new start. Keckley, George, and Aggy had to accompany them. To make money, the Garlands decided to hire out Aggy to clean other white families' houses. Keckley was afraid this would be too hard on her aging mother, and she begged to make money in her mother's place. She used the skill her mother had taught her: sewing. Keckley quickly earned a reputation as one of the best dressmakers and received orders from some of the wealthiest women in the city. As an enslaved woman, Keckley's earnings went to her owner, but Keckley made enough money to keep her mother from being hired out. In 1850, Keckley married James Keckley, an African American man whom she met in Virginia. James told Keckley he was a free man, but she soon realized he was probably a fugitive slave. The marriage soured and the couple formally separated in 1860. 
In 1852 Keckley asked the Garlands for her freedom. They initially refused, but later told Keckley they would emancipate her and her son George for $1,200 (the equivalent of $40,000 today). Another Burwell had already taken Aggy to Vicksburg, Mississippi (where she later died). Unable to keep her own earnings, this price was impossible. As she searched for ways to raise the money, her plight caught the attention of some of her wealthy clients. They raised the money for Keckley to purchase her and George's freedom on November 15, 1855. 
For the next five years, the now-free Keckley continued to work as a dressmaker in St. Louis. She made enough money to pay back everyone who had helped to secure her freedom. In 1860, Keckley and her son moved to Washington, D.C. Washington D.C. had very strict rules about how free African Americans could live and work in the city; despite this, the nation's capital had a growing and vibrant African American community. With the help of her clients in St. Louis, Keckley was able to settle in and create a new client base in the city, including Varina Davis (the wife of soon-to-be President of the Confederacy, Jefferson Davis). Keckley started making dresses for the wives of some of the most well-connected and powerful men in D.C. and quickly gained a reputation for being the best dressmaker in the city.  
In 1861 the new President—Abraham Lincoln—moved to the White House with his wife and sons. One of Keckley's clients suggested to First Lady Mary Todd Lincoln that she ask Keckley to make her inauguration gown. This dress became the first of many Keckley made for Mary, and the two women became confidants. When the Lincolns lost their son, Willie, in 1862, Keckley was at Mary's side. The two women were in similar situations: Keckley's son George had enlisted in the Union Army   and died in the Battle of Wilson Creek (Missouri) on August 10, 1861; it was his first battle. 
Keckley was also deeply involved with Civil War relief efforts. In 1862, Keckley joined 40 other members of the 15th Street Presbyterian Church to found the Ladies' Contraband Relief Association. As president, Keckley raised money and rallied support for the enslaved men and women who had self-emancipated and come to Washington D.C. Keckley also continued to be a successful businesswoman. By 1865 she had a dress shop on 12th Street and employed 20 women. Despite her successful business, most of her dresses no longer exist and those attributed to her cannot be confirmed. 
When President Lincoln was assassinated on April 15, 1865, Keckley was one of the first people called to the White House to comfort Mary. Keckley also tried to help Mary pay off debts after her husband's death. The two tried to sell some of Mary's dresses in order to raise the necessary funds, but the press criticized the women for selling items of historical significance. To defend her friend's reputation, Keckley published her autobiography in 1868. Behind the Scenes or Thirty Years a Slave, and Four Years in the White House gave an intimate portrait of both enslavement and the Lincoln White House. Many of Washington D.C.'s elites felt the book represented a breach of trust. The Lincolns' eldest son, Robert Todd Lincoln, suppressed the book's publication and Keckley's reputation suffered due to the fallout. Mary supposedly ended her relationship with Keckely due to her memoir, but Keckley insisted they remained friendly. 
Keckley continued her work as a dressmaker, but her business was not as successful due to the book's controversy. Around 1890, Wilberforce University in Ohio, the first private HBCU in the United States, appointed Keckley as head of their Department of Sewing and Domestic Science Arts. Keckley had to resign the position in 1893 after suffering a stroke. She moved back to Washington D.C. and spent her final years living off her son's Civil War pension in the National Home for Destitute Colored Women and Children, which had grown out of the Ladies' Contraband Relief Association that Keckley helped establish. Keckley died at the age of 89 in 1907. 
Elizabeth Keckley was a remarkable woman who defied odds, challenged stereotypes, and made a path for herself and others to succeed.  
Jordan Grant, "Elizabeth Keckley: Businesswoman and Philanthropist," National Museum of American History, March 22, 2016, https://americanhistory.si.edu/blog/elizabeth-keckley-businesswoman-and-philanthropist 
"Life Story: Elizabeth Keckley (1818-1907)," Women & the American Story, New-York Historical Society, https://wams.nyhistory.org/a-nation-divided/reconstruction/elizabeth-keckley/ 
Lina Mann, "From Slavery to the White House: The Extraordinary Life of Elizabeth Keckly," The White House Historical Association, September 14, 2020, https://www.whitehousehistory.org/from-slavery-to-the-white-house-the-extraordinary-life-of-elizabeth-keckly. 
Emily Spivack, "The Story of Elizabeth Keckley, Former-Slave-Turned-Mrs. Lincoln's Dressmaker," Smithsonian Magazine, April 24, 2013, https://www.smithsonianmag.com/arts-culture/the-story-of-elizabeth-keckley-former-slave-turned-mrs-lincolns-dressmaker-41112782/ 
Elizabeth Keckly, Behind the Scenes, or, Thirty years a Slave, and Four Years in the White House (1868), Electronic Edition, Documenting the American South, UNC-Chapel Hill, https://docsouth.unc.edu/neh/keckley/keckley.html 
Nancy Wartik, "Overlooked No More: Elizabeth Keckly, Dressmaker and Confidante to Mary Todd Lincoln," The New York Times, December 12, 2018, https://www.nytimes.com/2018/12/12/obituaries/elizabeth-keckly-overlooked.html 
"Living Contraband - Former Slaves in the Nation's Capital During the Civil War," National Park Service, https://www.nps.gov/articles/living-contraband-former-slaves-in-the-nation-s-capital-during-the-civil-war.htm