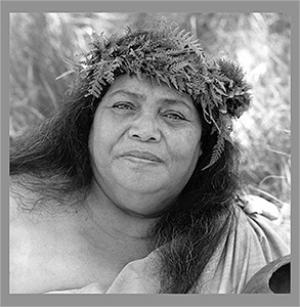 Edith Kanaka'ole (also affectionately called "Aunty Edith"), a native Hawaiian composer, chanter and dancer, was a champion for the preservation of native Hawaiian culture and arts. Kanaka'ole lead the highly celebrated dance school, Hālau o Kekuhi, where her legacy as a Kumu Hula, or chief practitioner of traditional Hawaiian dance and culture, took flight.  
Kanaka'ole was born Edith Ke'kuhikuhiipu'uoneonaali'iokohala Kenao on October 30th, 1913 in Honomu, Hawai'i. Honomu is located on the Big Island, which is one of the eight Hawaiian Islands. Her parents John Kanaeleolualaka`ikenao (born in 1870) and Mary Kekuewa Ahiena (born in 1880) were also born on the Big Island, though the two grew up on two different sides of it. Eventually meeting halfway, the two married and had twelve children total (Public Broadcasting System, 1991). When asked about the number of siblings she had, Kanaka'ole could hardly recall if she was the ninth or tenth child in the Kenao family (Public Broadcasting System, 1991). Her childhood in Honomu was quite active. She spent many days at the beach or the river catching fish with her family and dining on them together (Public Broadcasting System, 1991).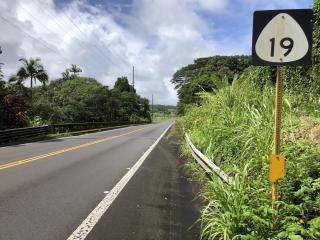 Kanaka'ole's future as Hawai'i's most prominent Kumu Hula had roots in her early life. Her interests in both Hula and music were clear from a young age and driven by her parent's endeavors. Her mother, Mary, taught Hula which is a type of Native Hawaiian dance that often tells a story. Hula performances vary in style, with some being accompanied by chants and/or music of all different tempos. Whether more ancient or modern in style, Hula is meant to connect dancers to "Hawaiian ancestral knowledge," (Go Hawaii, n.d.). Kanaka'ole's father, John, was a musician who both sang and played a variety of instruments. Some of John's specialties included the harp, violin, and guitar (Public Broadcasting System, 1991). 
Kanaka'ole's parents' expertise in areas of traditional dance and music was important due to the events happening during their early adulthood. There was an increase in Western imperialist efforts in Hawai'i in the late 1800s. From Hawai'i's last king, King David Kalākaua, signing treaties with the United States to an influx of white landowners and businessmen, Native Hawaiian culture suffered greatly (National Archives and Records Administration, n.d.). Discriminatory policies were ushered in and "many aspects of traditional culture [became] prohibited, including teaching the Hawaiian language and performing the native Hula dance." (National Archives and Records Administration, n.d.). Hawai'i's last monarch, Queen Lili'uokalani, attempted to preserve sacred lands and traditional cultural practices but her efforts were prevented by non-native businessmen. United States imperialism continued to threaten and attempt to erase the cultural livelihood of Native Hawaiians well into the 1900s. 
Growing up in an environment that aimed to preserve and celebrate Native Hawaiian culture was certainly a large part of Kanaka'ole's eventual expertise in music, chanting and Hula. While she did not finish intermediate school, when asked about her schooling she joked that she stopped at "seventh grade and a half" (Honolulu's Star-Bulletin, 1979). It is interesting to reflect on the fact that, despite not finishing school herself, Kanaka'ole would ultimately become a beloved educator both in public school and university settings. Taking the time to study the areas that truly brought her joy (such as the Native Hawaiian language, culture, and Hula) throughout her teen years and early adulthood were what set her on her path to mastery and becoming a cultural icon.
With her talents budding before the age of the Hawaiian Renaissance (a period marked from the early 1960s to the late 1970s), a commitment to Hula provided ongoing opportunities for Kanaka'ole to engage deeply with Hawaiian culture and history (Lewis 1984, p. 168). This renaissance highlighted a resurgence of public expression of Native Hawaiian identity and spiritual practice. Kanaka'ole would come to be a prominent figure in this movement. Though she first learned the art of Hula through her mother as a child, she continued training under notable Kumu Hula Akoni Mika (Women in World History: A Biographical Encyclopedia, n.d.). Learning Hula and connecting so deeply with her culture through this art was life-changing for Kanaka'ole. She was empowered to become an outspoken champion for the recognition of Indigenous Hawaiian culture and experiences - particularly in the face of cultural discrimination. Embodying Hawaiian values of unity and love through her kindness and uncanny ability to touch the hearts of many, she then became regarded as an authority figure by her community. It was also during this time that Kanaka'ole met and married her husband Luka Kanaka'ole in January of 1933. The couple had six children together.
Outside of Hula, Kanaka'ole had many other areas of expertise. She was a talented composer who created various Hawaiian chants - traditionally called oli - and songs, many of which are featured on the albums she recorded. Bringing her two talents together, she often choreographed Hula dances to accompany her musical creations. Kanaka'ole cherished this craft and believed oli to be at the core of Hawaiian history, culture and identity (Women in World History: A Biographical Encyclopedia, n.d.). She became recognized for her performances and performed often. In 1950, she toured the mainland United States, Canada, and various countries in Asia (United States Mint, 2022). Shortly thereafter, Kanaka'ole's mother passed away. In honor of her mother, Kanaka'ole created a school that specialized in teaching the art of Hula. Formed at the beginning of the Hawaiian Renaissance, she was able to use all of her years of training to teach those who wished to engage with Hula. She named her school Hālau o Kekuhi. In Native Hawaiian, these schools are referred to as "hālau" and "kekuhi" references a colorful fish called a flying gurnard. Kanaka'ole trained two of her six children at Hālau o Kekuhi. Both her children and many students learned the art of Kanka'ole's distinct style of Hula, where dancers conduct "dynamic movements in a very low bent-knee stance," though it is still considered traditional – just with Kanaka'ole's own unique twist (Kaeppler 2006, p. 308). 
Though her community already highly regarded her cultural contributions, Kanaka'ole continued her efforts for the preservation of Hawaiian culture in the face of continued cultural discrimination. While Hawai'i's official statehood in 1959 ushered in more legislative rights (the ability to be represented in Congress and the right to elect their own governor, for example), assimilatory policies did not disappear (National Archives and Records Administration, n.d.). One prominent example was continued battles between Native Hawaiians and the government over lands that held spiritual significance. Overall, Hawaiians were undergoing significant attacks on their cultural livelihood. Kanaka'ole became even more impassioned by the hardships her community was facing. She set out to share her cultural knowledge with Hawaiian youth, particularly through her work as a professor at the Hawai'i Community College from 1971 to 1979 and the University of Hawai'i at Hilo from 1973 to 1979. Her courses and seminars were on a variety of topics - Hawaiian chants and myths, genealogy, Polynesian history, land ownership, and ethnobotany (United States Mint, 2022). 
As Kanaka'ole sought to keep Hawaiian customs alive as the pressure of assimilation loomed, she wanted to reach wider audiences. She helped to create a Hawaiian language program for a public school in Hilo, Hawai'i called the Keaukaha School. There's no doubt she was the one for the task, as Hawaiian was often featured extensively in her music (Tatar, 1982).  The number of Hawaiian language speakers continued to decrease after Hawai'i statehood and the state legislature banned the speaking of Hawaiian in schools (Tagarelli, 2020). If students were found speaking the language, they were subject to punishments. These bans only further lowered the amount of Native Hawaiian speakers at the time. Even so, Kanaka'ole's efforts to reinvigorate the language worked; as of 2020, over twenty language immersion schools exist (Tagarelli 2020). The number of speakers has increased thanks to these schools, though UNESCO still considers the language critically endangered (Alexandre and Moseley, 2010).
Another of Kanaka'ole's prominent endeavors was her assistance with the Imua Project, which would eventually be renamed the Hawaiian Studies Kupuna Program for Hawaiian public schools (Hawaii Tribune Herald, 2013). Elders, or kupuna, assisted in teaching youth about Hawaiian history, identity and culture in all Hawaiian public schools. Program founder Kwai Wah Lee sought out Kanaka'ole to interview elders who might be interested in participating in the program (Hawaii Tribune Herald 2013). Kanaka'ole showed up for her community, aiding locals in providing better opportunities for youth in any way she could.
Later in life, the then Governor of Hawai'i, George Ariyoshi, awarded Kanaka'ole with the 1979 Distinction of Cultural Leadership award in recognition of her commitment to her community (Women in World History: A Biographical Encyclopedia, n.d). The award focused on those who have contributed greatly to three areas of focus: Hawaiian culture, arts and humanities (United States Mint 2022). This award is the highest honor granted by the state of Hawai'i, and Kanaka'ole was undoubtedly strong contender given her life's work. She went on to win several other awards all in recognition to her devotion to preserving traditional Hawaiian culture.  
Kanaka'ole was diagnosed with cancer and passed away at the age of 65 on October 3rd, 1979. Her second and final album entitled "Hiipoi I Ka Aiina Aloha" or "Cherish the Beloved Land" was released posthumously (Tatar, 1982, p. 337). In 1979, the album won "Best Traditional Album" in the Nā Hōkū Hanohano Awards – an award show developed by a team of Hawaiian recording artists - by public vote (Hawai'i Academy of Recording Arts, 2021). The success of the second album marked a series of wins for Kanaka'ole. Her first album, "Haakui Pele I Hawai'i" or "Pele Prevails in Hawai'i," had also won the "Best Traditional Album" award the year prior (Women in World History: A Biographical Encyclopedia, n.d.).
Many within her community and beyond spoke highly of Kanaka'ole just after her passing. The Honolulu Star-Bulletin remarked that she was "[one] of the Big Island's most cherished educators" (Honolulu Star-Bulletin, 1979). The University of Hawai'i at Hilo also named a building after Kanaka'ole. With regards to Hula and Halau o Kekuhi, Kanaka'ole's daughters Pualani Kanaka'ole Kanahele and Nālani Kanaka'ole each took on the role of Kumu Hula as their mother's successors. Her daughter, Pualani, eventually passed on the role to two of her children. Only one still serves as a Kumu Hula with Halau o Kekuhi to date, with Nālani Kanaka'ole and Pualani's daughter, Huihui Kanahele-Mossman, as the school's current leaders (Edith Kanaka'ole Foundation, n.d.). They continue to work tirelessly to highlight Hula as a medium of dance that is worthy of being held in as high regard as other classical forms of dance, such as ballet and modern dance (Edith Kanaka'ole Foundation, n.d.).
Presently, Kanaka'ole is one of five women to be honored in 2023 by the U.S. Mint's four-year long American Women Quarters program. The chant Kanaka'ole composed entitled "E hō mai ka ʻike" is the inscription on the back of her commemorative coin. This phrase translates to "granting the wisdom," which is both indicative of Kanaka'ole's wealth of knowledge and her dedication to imparting her wisdom in the name of uplifting Native Hawaiian narratives and traditions (United States Mint, 2022). Other organizations such as the non-profit Edith Kanaka'ole Foundation continue to honor her legacy by keeping Native Hawaiian culture alive and even undertaking humanitarian initiatives, such as providing scholarships for Native Hawaiian youth seeking higher education. 
There is much to learn from Kanaka'ole's vast experiences and inspiring life. Her love for Hula, chants and keeping Native Hawaiian traditions alive and well stemmed from a deep pride in her culture and the possibility of a better future. She was steadfast in her beliefs. In the face of intense cultural discrimination, she was a force to be reckoned with - all in the name of love of her people. As Kanaka'ole herself remarked, "We're all part of one family…We all work together to solve problems.  …When we find time to contribute, returns come back to us tenfold."  
Image Descriptions & Media Questions 
Image 1: Honomu, Hawai'i, where Kanaka'ole grew up. The photo depicts blue skies, lush grass and palm trees on the side of a local highway. Image sourced from Wikimedia Commons.  
Examine the image closely. How is the environment depicted here similar or different to where you are from? 
What do you think growing up in Honomu might have been like for Kanka'ole and her siblings? 
Video 1: This video features Kanaka'ole & her family member dancing Hula and singing. Kanka'ole's daughters, Nālani and Pualani, leading the dance. Younger girls eventually join doing a number dedicated to the first ruler of the Kingdom of Hawai'i, King Kamehameha the Great. Sourced from PBS Hawaii. 
Based on everything you have read and viewed so far, why do you believe Kanka'ole's efforts to keep Native Hawaiian culture alive was so important? 
How does watching Kanaka'ole and her family perform make you feel (excited, curious, etc) and why? 
What traditions do you have with your loved ones that are sacred to you? 
Video 2: In this video, Kanaka'ole's achievements are highlighted following her passing. Some of her most prominent moments from accepting various awards to speaking Native Hawaiian for large audiences are highlighted here. Sourced from YouTube, appears to be an old Hawaiian newscast.  
What are some takeaways you have from learning about Kanaka'ole and her legacy? 
Reflect further on Kanaka'ole's impact. What are some ways you believe that you can uplift the communities you are a part of? 
After everything you have read, what is the significance of Kanaka'ole's award acceptance speech shown in the video being primarily in Native Hawaiian? 
Alexandre, N. and Moseley, C. "Atlas of the World's Languages in Danger." UNESCO, 2010. https://unesdoc.unesco.org/ark:/48223/pf0000187026 
"Edith Kanakaʻole Quarter: American Women Quarters: U.S. Mint." United States Mint, October 18, 2022. https://www.usmint.gov/coins/coin-medal-programs/american-women-q   uarters/edith-kanakaole. 
"Hālau O Kekuhi." Edith Kanakaʻole Foundation - Hālau O Kekuhi. https://edithkanakaolefoundation.org/halauOKekuhi.php. 
"Hula in the Hawaiian Islands." Go Hawaii. https://www.gohawaii.com/hawaiian-culture/hula. 
Kaeppler, Adrienne L. "Recycling Tradition: A Hawaiian Case Study," Dance Chronicle, 27:3, 2004. 293-311, DOI: 10.1081/DNC-200033871 
"Keaukaha Leader Dies at 86 - Hawaii Tribune." Herald, September 22, 2013. https://www.hawaiitribune-herald.com/2013/09/22/hawaii-news/keaukaha-leader-dies-at-86/. 
"Kanakaole, Edith K. (1913–1979)." Women in World History: A Biographical Encyclopedia. Encyclopedia.com. https://www.encyclopedia.com/women/encyclopedias-almanacs-transcripts-and-maps/kanakaole-edith-k-1913-1979\ 
Lewis, George H. "Da Kine Sounds: The Function of Music as Social Protest in the New Hawaiian Renaissance." American Music 2, no. 2, 1984. 38–52. https://doi.org/10.2307/3051657. 
"NĀ Hōkū Hanohano Awards: Hawaiʻi Academy of Recording Arts." Hawaiʻi Academy of Recording Arts. January 25, 2021. https://harahawaii.com/hoku-awards/. 
"PBS Hawaiʻ'i Presents: Pau Hana Years | Edith Kanakaʻole." PBS. Public Broadcasting Service, 1991. https://www.pbs.org/video/pbs-hawaii-presents-pau-hana-years-edith-kanakaole-lxzblv/. 
Tagarelli, Kaitlyn. "Shining a Spotlight on Indigenous Languages: Hawaiian." The Mango Blog, October 2, 2020. https://blog.mangolanguages.com/indigenous-languages-learn-hawaiian-free#:~:text=Both%20Hawaiian%20and%20English%20are,critically%20endangered%2C%20according%20to%20UNESCO. 
Tatar, Elizabeth. Ethnomusicology 26, no. 2, 1982. 337–39. https://doi.org/10.2307/851540. 
"The 1897 Petition against the Annexation of Hawaii." National Archives and Records Administration. National Archives and Records Administration. . https://www.archives.gov/education/lessons/hawaii-petition#background. 
"The warmth and wisdom of Aunty Edith". Honolulu Star-Bulletin. Clark's big isle. October 7th, 1979. pp. D-7. https://www.newspapers.com/clip/79740453/honolulu-star-bulletin/. 
Image References:
Primary Image courtesy of the Edith Kanaka'ole Foundation. Credit: Franco Salmoiraghi, 1976.
Famartin, CC BY-SA 4.0 <https://creativecommons.org/licenses/by-sa/4.0>, via Wikimedia Commons
"124. Edith Kanakaʻole & Family." YouTube. Pau Hana Years: Edith Kanakaʻole. Rebroadcast on PBS, 1991., December 6, 2020. https://www.youtube.com/watch?v=jojgXkwj9aI.  
 "'Auntie' Edith Kekuhi Kanaele Kanaka'ole (1913-1979)." YouTube. July 30, 2011. https://www.youtube.com/watch?v=f-SA4vC4T5M.  
MLA – Dawson, Shay. "Edith Kanaka'ole." National Women's History Museum. National Women's History Museum, 2023. Date accessed.  
 Chicago- Dawson, Shay. "Edith Kanaka'ole." National Women's History Museum. 2023.