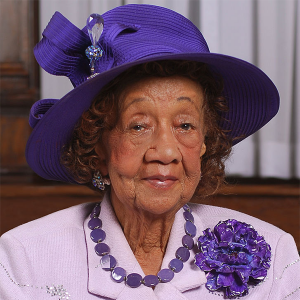 On August 28th, 1963, Dr. Dorothy Height took a seat on the speaker stage at the March on Washington for Jobs and Freedom. She was surrounded by most of the famous civil rights activists. Although, she was not scheduled to give remarks, Height had rightfully gained her place among these prominent leaders.
Dorothy Irene Height was born on March 24th, 1912 in Richmond, Virginia. Her family later moved to Rankin, Pennsylvania where she excelled as a student. Height eventually received a scholarship to attend college. In 1929, she was admitted to Barnard College but was not allowed to attend because the school did not admit African Americans. Instead, Height went on to graduate from New York University where she received a bachelor's in education and master's in psychology. Her first job was as a social worker in Harlem, New York. She later joined the staff of the Harlem Young Women's Christian Association (YWCA). In no time, Height became a leader in the local organization. She created diverse programs and pushed the organization to integrate YWCA facilities nationwide.
During a chance encounter with African American leader Mary McLeod Bethune, Height was inspired to begin working with the National Council of Negro Women (NCNW). Through the NCNW, Height focused on ending the lynching of African Americans and restructuring the criminal justice system. In 1957, she became the fourth president of the NCNW. Under her leadership, the NCNW supported voter registration in the South. The NCNW also financially aided several civil rights activists throughout the country. Height was president of NCNW for 40 years.
Height's prominence in the Civil Rights Movement and unmatched knowledge in organizing, meant she was regularly called to give advice on political issues. Eleanor Roosevelt, Dwight D. Eisenhower, and Lyndon B. Johnson often sought her counsel. In 1963, Height, along with other civil rights activists organized the March on Washington for Jobs and Freedom. Although she played a role in the march, she was not invited to speak. In fact, originally no women were included on the program at all. Height and Anna Arnold Hedgeman persuaded the other organizers to allow a woman to speak. Despite the apparent gender discrimination in the Civil Rights Movement, Height continued working on the front lines.
In addition to her work in the United States, Height traveled extensively. She served as a visiting professor at the University of Delhi, India and with the Black Women's Federation of South Africa. For all her efforts during the Civil Rights Movement, Height was awarded and recognized by many organizations. In 1989, she received the Citizens Medal Award from President Ronald Reagan and in 2004, Height was honored with the Congressional Gold Medal. The same year, Height was inducted into the Democracy Hall of Fame International. She also received an estimated 24 honorary degrees. On April 20th, 2010, Height passed away at the age of 98. Her funeral was held at Washington National Cathedral.
Books:
Height, Dorothy. Open Wide The Freedom Gates: A Memoir. New York: Public Affairs, 2005.
Height, Dorothy.  Living With Purpose. Chicago: Dorothy Height Press, 2010.Websites:
PHOTO: Public Domain
MLA – Norwood, Arlisha. "Dorothy Height." National Women's History Museum. National Women's History Museum, 2017. Date accessed.
Chicago- Norwood, Arlisha. "Dorothy Height." National Women's History Museum. 2017. www.womenshistory.org/education-resources/biographies/dorothy-height.