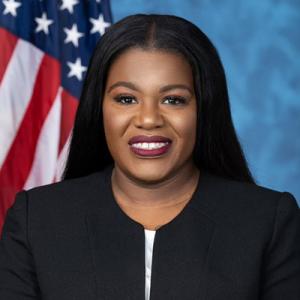 Representative Cori Bush (D-MO) was civically engaged well before she entered politics. The mother of two has experienced a lot of hardships in her life and channels those experiences into her advocacy work. As one of the newest members of Congress, Bush pushes for progressive legislative goals that will benefit her constituents—people just like her.
Cori Bush was born on July 21, 1976 in St. Louis, Missouri. Her father, Errol Bush, is an alderman and a former mayor of Northwoods, a small city in St. Louis County. She graduated from Cardinal Ritter College Prep High School and then studied at Harris-Stowe State University. As a young woman, Bush began her career as a preschool teacher making minimum wage. After a decade with the same company, she worked her way up to the school's assistant director—but she was still only making $9 an hour. Navigating this economic reality stuck with Bush, and she never forgot the struggles she encountered as a minimum-wage employee. She recalled these struggles in an interview, thinking to herself as she sat outside a PayDay Loan office, "''Who speaks up for people like me?...Why do I keep having to live like this?'"
She quit her school job in 2001, the same year she became pregnant with her second child. The pregnancy was hard on Bush and she became ill. After the birth of her second child, Bush and her then husband had trouble making the rent and they were evicted from their home. For several months, Bush and her young family lived out of their car. Around this time, Bush went back to school to get her nursing degree from the Lutheran School of Nursing. After graduating, Bush was a registered nurse (R.N.) but had taken on student debt. Around 2010, she also became an ordained minister and founded a church in her native St. Louis.
As the daughter of a politician, she swore she would never go into politics. But the events of August 2014 in Ferguson changed her path. On August 9, 2014, Michael Brown—an unarmed, African American teenager—was shot dead by a white police officer. Brown's killing precipitated a series of protests that lasted approximately 400 days in the city. When Bush saw the protests, she thought she could help both as a registered nurse and as a pastor. Bush drove to Ferguson, where she and her colleagues from a mental-health clinic set up a tent to do grief-and-trauma work. Her group also partnered with others to provide food, diapers, and financial assistance. Bush became more directly involved with the protests, at one point getting pepper-sprayed by the police while participating in a demonstration. Bush says, "Ferguson was just regular people who made change that affected the entire world."
It was at this point that she decided to go into politics. Bush said, "there's only so much you can do when you don't have that pen in your hand." By this point, she had also become a leading voice in the Black Lives Matter (BLM) movement due to her activism, involvement, and speech-making skills. Urged on by fellow activists, Bush mounted her first run for political office in 2016. She ran for one of Missouri's Senate seats but lost in the Democratic primary.
Shortly after her 2016 primary loss, Bush experienced an incident of sexual assault. This was not the first time Bush was the victim of sexual assault. Bush has been open about her experience with sexual assault and domestic abuse; when she was still a teenager, she found herself trapped in an abusive relationship. Her partner at the time was controlling and even fired a gun at her (thankfully, she was not hit). She
recently told The New York Times that she speaks out as a survivor of sexual assault so others will not continue to be hurt by silence around the issue.
Bush was not deterred by her 2016 loss for a Senate seat. In the 2018 midterms, she set her sights on her home congressional district—the Missouri 1st —which includes the St. Louis area and Ferguson. The seat was held by a long-time incumbent, but Bush felt it was time for someone who was directly involved in the B.L.M. movement to represent the district that helped turn the BLM movement into a national one. She lost to the incumbent in the primary.
While she ran for office, Bush continued her activism and civic engagement in and around her local community. She continued to serve as a nurse and a pastor until she decided to run again for the same congressional seat in 2020. She argued, "if I won this seat, I would be a regular person representing regular people in Congress." During her campaign, she traveled around the district connecting with voters on the issues that mattered to them. She was slowed down, but not stopped, by a likely case of COVID-19, which sent her to the hospital twice. Her persistence paid off. This time, she beat the incumbent in the primary and went on to win the seat by sixty percentage points. With her election, Bush became the first African American woman, and likely the first nurse, to represent Missouri in Congress.
As a representative, Bush fights for legislation that she wished she had to protect her. Because of her experience as a minimum-wage worker, she supports a $15 minimum wage. Because of her experience paying off student loan debt, she supports tuition-free college. She supports Medicare for All because she had to give up her employer-sponsored health insurance to run for office and had to pay out of pocket for her two hospitalizations. As one of her first congressional actions, Bush introduced legislation to investigate and expel members of Congress who voted to overturn the 2020 election and supported the January 6, 2021 riot at the U.S. Capital.
Published March 2021.
Image Source: 
By House Creative Committee - https://www.facebook.com/RepCori, Public Domain, https://commons.wikimedia.org/w/index.php?curid=98498287
Works Cited:
"Biography," https://bush.house.gov/about
Handy, Bruce, "Cori Bush, a Nurse and Activist, Becomes the First Black Woman to Represent Missouri in Congress," The New Yorker, November 9, 2020, https://www.newyorker.com/magazine/2020/11/16/cori-bush-becomes-first-black-woman-and-first-nurse-to-represent-missouri-in-congress
Ryzik, Melana and Katie Benner, "What Defines Domestic Abuse? Survivors Say It's More Than Assault," The New York Times, January 22, 2021, https://www.nytimes.com/2021/01/22/us/cori-bush-fka-twigs-coercive-control.html
Solis, Marie, "Meet Cori Bush, the Ferguson Activist Vying to Be Missouri's First Black Congresswoman," Vice, July 31, 2018, https://www.vice.com/en/article/gy3dvj/cori-bush-missouri-congress-lacy-clay
Voght, Kara, "This Black Lives Matter Activist Is Running for Congress. Can She Bring Down a 20-Year Incumbent?" Mother Jones, July 31, 2020, https://www.motherjones.com/politics/2020/07/cori-bush-lacy-clay-ferguson/
MLA – Rothberg, Emma. "Cori Bush." National Women's History Museum, 2021. Date accessed.
Chicago – Rothberg, Emma. "Cori Bush." National Women's History Museum. 2021. www.womenshistory.org/education-resources/biographies/cori-bush.
"Rep. Cori Bush on her Progressive Priorities for Congress," All Things Considered, NPR, February 2, 2021, https://www.npr.org/2021/02/02/963361298/rep-cori-bush-on-her-progressive-priorities-for-congress
"What Happened in Furgeson?" New York Times, August 10, 2015, https://www.nytimes.com/interactive/2014/08/13/us/ferguson-missouri-town-under-siege-after-police-shooting.html