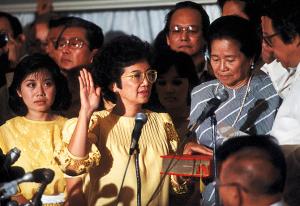 Corazon "Cory" Aquino went from a shy law school student, to the first female president of the Philippines. Supported by the People Power Revolution, Aquino successfully ran a peaceful movement that eventually led her to become TIME Magazine's Person of the Year in 1986. The only other woman that received that honor at the time was Queen Elizabeth II in 1952.
Corazon Aquino was born on January 25, 1933 in Paniqui, Tarlac in the Philippines. Her birth name was Maria Corazon Sumulong Conjuangco. Her parents owned a sugar plantation and were one of the richest families in the area. The sixth out of eight children, Aquino focused on her studies and her Catholic beliefs. Her parents sent her to private school in the Philippines before she went to high school in the United States. She went to Ravenhill Academy in Philadelphia, and then attended the Notre Dame Convent School in New York. When she graduated in 1949, she began her undergraduate education at the College of Mount St. Vincent in New York City. In addition to speaking English, Tagalog, and Kapampangan, Aquino majored in French. She returned to the Philippines to attend law school at Far Eastern University. While in school, she met fellow student Benigno "Ninoy" Aquino, Jr. and the couple got married. Soon after, Corazon left law school to raise their family.
Aquino's husband Benigno became a prominent figure in politics and was elected as the youngest governor in the history of the Philippines. Shortly after, he was the youngest member of the Senate. He was known for opposing the political views of President Ferdinand Marcos and was expected to win the next election. However, Marcos declared martial law on September 21, 1972 that abolished the Philippine Constitution and allowed him to stay in power. Marcos then arrested Benigno and sentenced him to death. While still in prison, he remained active with the support of Corazon. Although she did not want him to run again while he was in prison, she decided to campaign on his behalf and deliver his campaign speeches. Although Benigno won the election, Marcos reportedly rigged the election so he could remain in power. Unfortunately, Benigno had to remain in prison. After years of imprisonment, President Jimmy Carter of the United States requested that Benigno and their family be released into medical exile in the United States. The Aquino family was allowed to move to Boston and lived there for three years. After regaining his health, Benigno decided to return to the Philippines to face Marcos again. However, as soon as Benigno stepped off the plane in the Philippines, he was assassinated.
Still in the United States with their children, Corazon Aquino became a widow at age 50. She returned to the Philippines and was greeted by people saddened by her husband's death. An anti-Marcos political campaign began to protest the current presidential administration. In a movement called the "People Power Revolution," Aquino participated in nonviolent and peaceful demonstrations against the current regime. Although she did not initially want to run, the Revolution encouraged Aquino to challenge Marcos for president during the next election. Marcos was confident that he still had the support of the people now that Benigno was dead and decided that Corazon was "just a woman." He called an election in February of 1986 with Aquino as his opponent.
Representing change, Aquino chose yellow as her campaign color and thousands of citizens attend her rallies. On February 7, 1986 the election polls closed, and Aquino was believed to be the winner. However, when the official count was released by the government, Marcos was declared the winner. Believing she won the election but was cheated, Aquino and many citizens of the Philippines protested the decision. Marcos was friends with current United States President Ronald Reagan, who released a statement in support of Marcos. Although the protests were intense, Aquino and faith leaders encouraged peace agreements, so no one was shot or killed. After weeks of political unrest, President Regan convinced Marcos to retreat to the United States for exile. On February 25, 1986 Aquino was sworn in as the first female president of the Philippines. She served one term and restored the constitution during her presidency. However, not everyone agreed with her policies, and Marcos supporters tried to remove her from office many times. Aquino survived and was president until 1992. After her presidency, she continued to speak out against violence and homelessness in the Philippines.
In 2007, Aquino's son Noynoy successfully ran for Senate with her support. A year later, she was diagnosed with cancer. On August 1, 2009, Corazon Aquino passed away. A few months later, her son was elected president of the Philippines. Unfortunately, she did not live to see him win.
Engel, Keri. "Corazon Aquino, Revolutionary President of the Philippines." Amazing Women In History. June 09, 2019. https://amazingwomeninhistory.com/corazon-aquino-revolutionary-president-philippines/.
Harvard Divinity School. "Corazon "Cory" Aquino." Religious Literacy Project. Accessed August 20, 2019. https://rlp.hds.harvard.edu/faq/corazon-"cory"-aquino.
Iyer, Pico. "Woman of the Year." Time. January 05, 1987. http://content.time.com/time/magazine/article/0,9171,963185,00.html.
Nadel, Laurie. Corazon Aquino; Journey to Power. Messner, 1987.
Presidential Museum and Library. "Corazon C. Aquino." Accessed August 20, 2019. http://malacanang.gov.ph/presidents/fifth-republic/corazon-aquino/.
 
PHOTO: Public domain.
MLA – Alexander, Kerri Lee. "Corazon Aquino." National Women's History Museum, 2019. Date accessed.
Chicago – Alexander, Kerri Lee. "Corazon Aquino." National Women's History Museum. 2019. www.womenshistory.org/education-resources/biographies/corazon-aquino.
Scariano, Margaret. The Picture Life of Corazon Aquino. New York: F. Watts, 1987.
TIME. "Corazon Aquino's Life in Photos - Photo Essays." http://content.time.com/time/photogallery/0,29307,1914109,00.html.