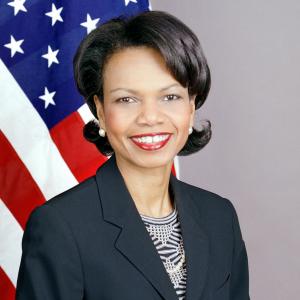 As a child Condoleezza Rice dreamed of becoming a concert pianist. Her love for international music translated into a successful career in international diplomacy. Throughout her career, Rice became the first African American woman to hold several positions, including Secretary of State.
Condoleezza Rice was born on November 14, 1954 in Birmingham, Alabama. Her mother worked as a teacher and her father as a guidance counselor. At an early age, Rice was drawn to music. She learned how to play the piano and entered college as a music major. However, after taking a course in international politics, she changed her career aspirations. Rice earned a degree in political science from the University of Denver. In 1979, she studied Russian at Moscow State University. Rice graduated from University of Denver with a PhD in political science in 1981. One year later, she began her career as an assistant professor at Stanford University.
At Stanford, Rice enjoyed a successful teaching career. She was awarded several teaching awards and she quickly advanced. Rice was selected as the Provost of Stanford in 1993, making her the first woman and first African American to hold this position. Under her leadership, Rice led the university out of a financial deficit. While at Stanford, she also co-founded the Center for a New Generation, an after-school program for underprivileged students.
Throughout her time teaching, Rice actively pursued a career in politics. In 1989, she advised President George H.W. Bush's administration on Soviet Union affairs. In 2000, she was appointed the National Security Advisor under President George W. Bush, becoming the first black woman to hold this position. In 2004, Rice was selected as the Secretary of State of the United States. She was the first African American woman to hold this position. In her role, Rice worked to promote peace globally. She placed American diplomats throughout the Middle East, especially in areas of major turmoil. Rice also aided in peace talks with other countries. She called her style of diplomacy "transformational," a term that has since been used to describe other international policies.
Rice also works tirelessly to educate the public on international relations. In 2009, when her appointment as Secretary of State ended, Rice returned to teaching. She has published several books including her two autobiographies. Currently Rice works as the Denning Professor in Global Business and Economy at the Stanford Graduate School of Business. She also serves on the board of several companies including the Boys and Girls Club. Although she did not pursue a career as a musician, Rice continues to play the piano. She also supports the arts through several charities. While working in Washington DC, Rice took up golfing as a leisure activity. In 2012, her leisure activity gained her another first. She became one of the first female members admitted to Augusta National Golf Club, an organization that had excluded women for 80 years.
Rice, Condoleezza. No Higher Honor: A Memoir of My Years in Washington, New York: 2011
Rice, Condoleezza.  Condoleezza Rice: A Memoir of My Extraordinary, Ordinary Family and Me, New York:2012.
PHOTO: U.S. Department of State
MLA – Norwood, Arlisha. "Condoleezza Rice." National Women's History Museum. National Women's History Museum, 2017. Date accessed.
Chicago- Norwood, Arlisha. "Condoleezza Rice." National Women's History Museum. 2017. www.womenshistory.org/education-resources/biographies/condoleezza-rice.