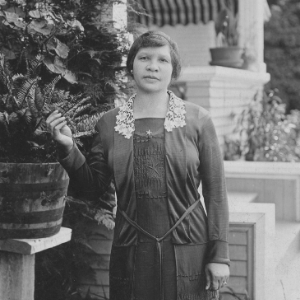 Charlotta Spears Bass, longtime editor of the African American newspaper The California Eagle, was a journalist, activist, and politician who fought for the civil rights of African Americans in the early and mid-twentieth century. The first Black woman to run for vice president of the United States (1952), she worked to combat what she called, "The two-headed monster, Segregation and Discrimination."  
Charlotta Spears Bass was born in Sumter, South Carolina. Sources vary on Bass's birth year, dating it sometime between 1874 and 1888. She was the sixth of Hiram and Kate Spears's 11 children. By 1900, Bass moved to Rhode Island to live with an older brother, where she attended Pembroke College (the women's college that is now part of Brown University). There she got her start in the newspaper business, selling ads and subscriptions for the Black-owned Providence Watchman.
A sufferer of asthma and arthritis, she moved to Los Angeles in 1910 for the climate. Bass took a job at The Eagle, the oldest African American newspaper on the West Coast. The founder and editor, John Neimore, recognized Bass' talent. When he fell ill in 1912, he asked Bass to take over the paper after his death. She bought the newspaper at auction a few months later with $50 she borrowed from a local storeowner. Bass was thus one of the first African American women to run a newspaper in the U.S.
Shortly after taking over the paper, Bass renamed it The California Eagle. She brought Joseph Bass, a veteran journalist from Kansas, on board as editor. Bass herself kept the title of managing editor. The two married in 1914 and together they built The California Eagle from a four-page tabloid to a 20-page weekly. By the 1930s it was the largest Black newspaper on the West Coast, with a circulation of approximately 60,000.
Bass used the pages of The California Eagle to wage many battles on behalf of African Americans. The paper called out the racism of D.W. Griffith's 1915 film Birth of a Nation, and even attempted to block its production. The campaign against the film raised Bass' national profile. She soon began to tour the country, speaking out against racial injustice, which in turn boosted readership for The California Eagle.
Bass's frequent targets for reform were employment discrimination, racial violence, and housing segregation. She used the newspaper to call attention to racist hiring practices in Los Angeles. Bass helped open doors for African Americans with major employers like the Southern Telephone Company, Los Angeles General Hospital, and the Los Angeles Railway. She took on the Ku Klux Klan, detailing their crimes in print. In 1925, she published a letter by the head of California's Klan that exposed a plot to frame local Black leaders. The Klan sued Bass for libel. She faced up to one year in prison and damages of five thousand dollars, but she won in the courtroom. Eight Klan members then descended on the Eagle office one night while Bass was alone – but they quickly retreated after she confronted them with a pistol.
In the 1930s Bass continued her activism on behalf of jobs for African Americans. She brought the controversial "Don't Spend Where You Can't Work" boycott to Los Angeles. Bass drew attention to police violence against African Americans, calling it out in front-page headlines and organizing community meetings to demand police reforms. In the 1940s, she helped win victories against housing segregation in Los Angeles. Bass helped start the Home Owners Protective Association in 1945 and challenged housing covenants in the courts.
Joseph Bass died in 1934, but Charlotta continued to run the paper on her own until 1951. A longtime Republican, she served as the Western regional director for the Wendell Willkie campaign in 1940. Frustrated with the Republican Party's treatment of its African American members and dissatisfied with both major parties' stances on racial issues and women's issues, she became an Independent. She helped to found the Independent Progressive Party of California, but her two congressional campaigns (1944 and 1950) and her Los Angeles City Council campaign (1945) were all unsuccessful.
Bass' work as a journalist and political activist led to suspicions that she held Communist ties. A staunch opponent of the atomic bomb, Bass served as a member of the Peace Committee of the World Congress in 1950 in Paris and Prague. She also visited the Soviet Union and praised the USSR for its racial equality. The FBI investigated Bass, the Postal Service tried to revoke her permit for The California Eagle, and the State Department tried to seize her passport, but she continued her advocacy.
Bass sold The California Eagle in 1951 and moved to New York City, where she devoted herself to Progressive Party politics. The following year, Bass became the first African American woman nominated for vice-president when she ran on the Progressive Party's ticket with California attorney Vincent Hallinan. They campaigned widely on a platform of civil rights, decent jobs, peace, and equality, but they won only 0.2% of the popular vote.
After the campaign, Bass retired to Elsinore, California, but remained active in the community. She gave speeches to civic groups and ran a reading room out of her garage that doubled as a voter registration site. In 1960, she published her book, Forty Years: Memoirs from the Pages of a Newspaper. Bass suffered a stroke in 1966 and passed away in 1969.
Bennett, Jessica. "Overlooked No More: Before Kamala Harris, There Was Charlotta Bass," The New York Times. September 4, 2020. Accessed September 17, 2020. https://www.nytimes.com/2020/09/04/obituaries/charlotta-bass-vice-president-overlooked.html
 
"Charlotta Bass," National Park Service. Accessed September 21, 2020.  https://www.nps.gov/people/charlottabass.htm
 
"Charlotta Spears Bass," UNLADYLIKE2020, Unladylike Productions, LLC, 2020. Accessed September 17, 2020. https://unladylike2020.com/profile/charlotta-spears-bass/.
 
Chase, Norah C. "Bass, Charlotta Spears (October 1880?–12 April 1969), editor and civil rights activist." American National Biography. Feb. 1, 2000. Accessed Oct. 1, 2020. https://doi.org/10.1093/anb/9780198606697.article.1500043
 
Meares, Hadley. "The Fabulous Life Of Charlotta Bass, The First Woman Of Color To Run For US Vice President," LAist, September 2, 2020. Accessed September 29, 2020. https://laist.com/2020/09/02/charlotta_bass_first_woman_of_color_to_run_for_us_vice_president.php
 
Meares, Hadley. "A Look Back at When a Black, Female Newspaper Editor Took on the KKK in L.A." Los Angeles Magazine, April 2, 2018. Accessed September 29, 2020. https://www.lamag.com/culturefiles/charlotta-bass-kkk/
 
Streitmatter, Rodger. Raising Her Voice: African-American Women Journalists Who Changed History. Lexington, Ky: The University Press of Kentucky, 1994. http://search.ebscohost.com.proxy.uchicago.edu/login.aspx?direct=true&db=e000xna&AN=938101&site=ehost-live&scope=site.
MLA – Brandman, Mariana. "Charlotta Spears Bass." National Women's History Museum, 2020. Date accessed.
Chicago – Brandman, Mariana. "Charlotta Spears Bass." National Women's History Museum. 2020. www.womenshistory.org/education-resources/biographies/charlotta-spears-bass.
"Charlotta Spears Bass," UNLADYLIKE2020, Unladylike Productions, LLC, 2020. https://unladylike2020.com/profile/charlotta-spears-bass/.