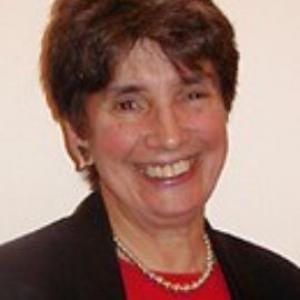 Throughout her 45-year career, Betsy Wade consistently proved that gender should not be a barrier to opportunity. As the lead plaintiff in a class-action lawsuit against the New York Times in 1974, Wade transformed the industry and newsrooms across the nation. 
Elizabeth Wade was born on July 18, 1929 in Manhattan, New York to Sidney and Elizabeth (Manning) Wade. Her father was an executive with Union Carbide, a chemical company. In 1934, Wade, her parents, and her younger sister moved to Bronxville, New York—a suburb 15 minutes from midtown Manhattan—so that Wade and her sister had access to better schools. 
Wade loved words and reading as a child. Her favorite books were those centered around strong, female characters who she called her childhood role models. Wade recalled that when she was in 5th Grade, her father brought home vocabulary books and quizzed her on the words and that, "we started out with words unknown to 1% of the population, and we went up to words unknown to 95% of the population. And by the time I got there, I was the weirdest little wizard you ever ran across. I had words that nobody had ever heard of." These vocabulary quizzes with her father would inspire Wade's life's work. Wade went on to edit her high school newspaper, The Wallpaper. She was also the high school representative of The New York Times and got to school early to open the bundles of papers and deliver them.  
After graduation, she matriculated to Carleton College where she also worked on the student newspaper. She transferred to Barnard College in 1951, where she received her B.A. She then went on to receive her M.A. from the Graduate School of Journalism at Columbia University and graduated at the top of her class. She met James Boylan, also a journalist, who she married in 1952 and had two sons with. Wade found herself drawn to copy editing and continued to professionally use the name Betsy Wade. 
At the start of her career, newspapers still had women's departments that were dedicated to "women's issues," such as fashion and cooking. Many women who worked in journalism held secretarial or clerical positions; women who worked in the news worked in women's departments where they were underpaid and undervalued. Because of this structure, there was less opportunity for upward momentum for women in the newsroom. The rest of the paper was run by men. Wade joined the women's department of the New York Herald Tribune, but was fired when she told a supervisor she was pregnant with her first son. She then went to work for the Newspaper Enterprise Institute. When she heard that The Times was having trouble finding good copy editors, she applied for a job. After a year of interviews, she landed in the news department as a copy editor on October 1, 1956, immediately breaking a 105-year-old practice of only hiring male copy editors. She was assigned to the City News Room. 
Wade was entering into a male dominated world. Wade wanted to be able to "sit in the middle of an ocean of men and not be noticed," so she cut her long hair and shopped for a conservative wardrobe. After four weeks training in the City Room, she was "packed upstairs" to the Women's Department, which many men who worked at the Times thought was the only proper department for woman working in the news. She did not stay there long due to her skill as a copy editor. After repeatedly requesting transfer back, Wade went back in the news room in 1958. 
Wade helped edit some of the most consequential stories of the twentieth century, including the Pentagon Papers and articles on the Cuban Missile Crisis. In 1986, Wade also edited the first Times article that referred to women as "Ms." rather than "Miss" or "Mrs.," a practice dating from the nineteenth century. She also became many "firsts" in journalism. She was the first woman to edit articles by foreign correspondents, to serve as deputy chief of the foreign copy desk, and to hold "the slot"—the boss who distributes tasks to copy editors. She also became the first woman to lead the Newspaper Guild of New York, the largest local union in the national organization. Despite all her firsts, and her incredible talent, her upward trajectory plateaued and Wade "kept hitting her head against a glass ceiling." 
In 1972, Wade joined a woman's caucus to study gender issues at The Times. She discovered weekly salaries for women were less than those of men in comparable jobs, no women in top newsroom and corporate jobs, and fewer women serving as correspondents. Using her married name, Elizabeth Boylan (as it appeared on her payroll), she filed a class-action lawsuit, Elizabeth Boylan, et al, v. The New York Times, for sex discrimination. It was one of the earliest fights over women's rights to equal treatment in hiring, promotion, pay, and workplace protections under the new federal anti-discrimination laws. After a four-year court fight, The Times settled, agreeing to place more women in all job levels and to cover the costs of "delayed career advancement or denied opportunity." While the Times did not admit any wrongdoing, the rest of the industry took notice and newsrooms around the country became more open to women. 
In 1987 Wade took over the Time's Practical Traveler column and wrote it until her retirement in 2001. Her columns were so well respected that they were published as a book in 1994. In retirement, Wade taught journalism and public policy at Hunter College in Manhattan. She was also awarded the highest accolade for New York's veteran journalists, the lifetime achievement award of the Silurians Press Club, in 2016. After a battle with colon cancer, Wade died in her Manhattan home on December 3, 2020. 
Photo Credit: 
(WP:NFCC#4), Fair use, https://en.wikipedia.org/w/index.php?curid=66070141
"Betsy Wade, 1st Woman To Edit News At 'The New York Times,' Dies At 91," NPR, December 04, 2020, https://www.npr.org/2020/12/04/943264177/betsy-wade-1st-woman-to-edit-news-at-the-new-york-times-dies-at-91. 
Kandel, Myron, "Betsy Wade: Game Changer," Silurian News, November 2016, https://www.silurians.org/wp-content/uploads/2016/10/SILURIANNEWSNOVEMBER2016.pdf. 
McFadden, Robert D., "Betsy Wade, First Woman to Edit News at The Times, Dies at 91," The New York Times, December 04, 2020, https://www.nytimes.com/2020/12/03/business/media/betsy-wade-dead.html. 
Robertson, Nan C., The Girls in the Balcony: Women, Men, and The New York Times (New York: Random House, 1992). 
MLA – Rothberg, Emma. "Betsy Wade." National Women's History Museum, 2020. Date accessed. 
Chicago – Rothberg, Emma. "Betsy Wade." National Women's History Museum. 2020. www.womenshistory.org/education-resources/biographies/besty-wade.