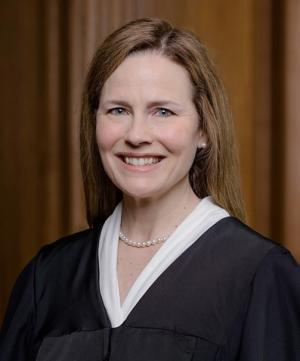 In October 2020, Amy Coney Barrett became the fifth woman confirmed to the U.S. Supreme Court. She has had a long career in law as both a distinguished professor and judge, and currently serves as an Associate Justice of the U.S. Supreme Court.
Amy Vivian Coney was born on January 28, 1972, in New Orleans, Louisiana as the oldest of seven children. Her father, Mike, was an attorney for Shell Oil and her mother, Linda, was a French teacher. Barrett and her siblings grew up in Old Metairie, a suburb of New Orleans. Raised in a Catholic family, she attended St. Catherine of Siena for elementary school and St. Mary's Dominican High School, a Catholic all girls' school in New Orleans. After graduation, Barrett matriculated to Rhodes College in Memphis, Tennessee. She was an attentive student and graduated magna cum laude with a bachelor's degree in 1994. At the time of her graduation, she was a member of Phi Beta Kappa, an academic honor society, and was recognized as the top English major in her class and awarded the best senior thesis. Perhaps due to the influence of her father, Barrett decided to pursue law and attended the University of Notre Dame's Law School on a full-tuition scholarship where she immediately began to capture the legal community's attention. Upon her graduation, summa cum laude, in 1997, she received awards for having the best exams in ten of her classes, served as the executive editor of the school's law review, and received the Hoynes Prize. The Hoynes Prize, the highest honor granted by the Law School, recognized Barrett as the top student in her graduating class.
Upon graduation from Notre Dame, Barrett went to Washington, D.C. to begin her law career. She held two high-profile clerkships for two conversative justices: the first with Judge Laurence Silberman of the U.S. Court of Appeals for the District of Columbia Circuit (1997-1998) and then for Supreme Court Justice Antonin Scalia (1998-1999). Her clerkship with Justice Scalia had a lasting impression on her judicial career, and many consider Barrett a protégé of the late justice who has adopted his approach to interpreting the Constitution and law. After her clerkships, she joined the D.C.-based law firm Miller, Cassidy, Larroca, & Lewin for around two years. She then accepted a position as the John M. Olin Fellow at Law at the George Washington University Law School in Washington, D.C.
In 1999, she married fellow Notre Dame Law School graduate Jesse Barrett. Jesse Barrett currently serves as a lawyer at SouthBank Legal, an Indiana-based law firm, and an adjunct professor at Notre Dame's Law School. The couple have seven children, two of whom they adopted from Haiti and a son born with Down syndrome. The family is devoutly Catholic, and Barrett and her husband are members of the People of Praise, a small, tight-knit, community-based, conservative religious group whose members are mostly Catholic. Barrett has a reputation as a stanchly conservative Catholic and in 2012 signed a statement criticizing the Affordable Care Act's (ACA) contraceptive mandate. Barrett was also a member of the conservative legal group the Federalist Society from 2005-2006 and 2014-2017.
In 2002, Barrett returned to Notre Dame to teach as an Assistant Professor of law. During her tenure, she taught courses on federal courts, constitutional law, and statutory interpretation. In 2010, Barrett was promoted to full professor and in 2014 she was appointed the Diane and M.O. Miller II Research Chair of Law. She was a respected teacher and won the "distinguished professor of the year" title three times. At Notre Dame, Barrett was a member of Faculty for Life, an anti-abortion group for Notre Dame professors. Barrett was a professor at Notre Dame for fifteen years and her scholarship during this time was plentiful.
In October 2017, Barrett left Notre Dame after the Senate confirmed her nomination to be a judge on the Seventh U.S. Circuit Court of Appeals at Chicago. In her three years on the circuit, Barrett wrote around 100 opinions and issued votes in many more cases. In her tenure on this bench, she considered cases regarding gun rights, immigration, discrimination, sexual assault on college campuses, and abortion. Her votes, almost uniformly, were in line with her conservative leanings. In both abortion cases, Barrett ruled against abortion rights. In another case, she ruled in favor of a male employee who experienced sexual harassment on the job.
On September 26, 2020, one week after Justice Ruth Bader Ginsberg's death, Barrett was nominated to fill her seat on the U.S. Supreme Court. Her selection, nomination, and confirmations process were contentious because they occurred so close to the presidential election of 2020. Thirty days after her nomination, and after a four-day confirmation hearing in the Senate, she was confirmed with a vote of 52 to 48 on October 26, 2020. She is the first justice in 150 years who was confirmed without any support from the minority party. In pre-written remarks issued before her confirmation hearing, Barrett called her nomination to the Supreme Court the "honor of a lifetime."
Biography published September 1, 2021
Photo Credit: 
United States Supreme Court - https://www.supremecourt.gov/about/biographies.aspx, Public Domain, https://commons.wikimedia.org/w/index.php?curid=104806467
"Amy Coney Barrett." Oyez. Accessed May 27, 2021. https://www.oyez.org/justices/amy_coney_barrett.
Amy Howe, "Profile of a potential nominee: Amy Coney Barrett," SCOTUSblog, Sep. 21, 2020, https://www.scotusblog.com/2020/09/profile-of-a-potential-nominee-amy-coney-barrett
Abigail Covington, "Who Is Amy Coney Barrett?" Esquire Magazine, September 26, 2020, https://www.esquire.com/news-politics/a34173725/amy-coney-barrett-views-abortion-religion-guns-health-care/
Debra Cassens Weiss, "A top SCOTUS contender, Amy Coney Barrett is likely to draw scrutiny for decisions on abortion, campus sex assault," ABA Journal, September 21, 2020, https://www.abajournal.com/news/article/a-top-scotus-consider-barrett-is-likely-to-draw-scrutiny-for-decisions-on-abortion-campus-sexual-assault
Debra Cassens Weiss, "Justice Barrett's husband says he will remain at his law firm," ABA Journal, November 18, 2020, https://www.abajournal.com/news/article/justice-amy-coney-barretts-husband-will-remain-at-his-law-firm
Ruth Graham and Sharon LaFraniere, "Inside the People of Praise, the Tight-Knight Faith Community of Amy Coney Barrett," New York Times, October 8, 2020, https://www.nytimes.com/2020/10/08/us/people-of-praise-amy-coney-barrett.html
Vicky Baker, "Amy Coney Barrett," BBC News, October 27, 2020, https://www.bbc.com/news/election-us-2020-54303848
Adam Liptak, "Barrett's Record: A Conversative Who Would Push the Supreme Court to the Right," New York Times, November 2, 2020, https://www.nytimes.com/article/amy-barrett-views-issues.html
Ben Schrieckinger,"'She's been groomed for this moment': Amy Barrett's Preparation Began Early," Politico, September 20, 2020, https://www.politico.com/news/2020/09/20/amy-coney-barrett-supreme-court-419219
Nina Totenberg and Dominico Mantanaro, "Who Is Supreme Court Nominee Amy Coney Barrett?," NPR, September 24, 2020, https://www.npr.org/sections/supreme-court-nomination/2020/09/24/915781077/conenator-who-is-amy-coney-barrett-front-runner-for-supreme-court-nomination
"Seventh Circuit Opinions Authored by US Supreme Court Nominee Amy Coney Barrett," Justia, https://supreme.justia.com/7th-circuit-judge-amy-barrett-opinions/