Admiral Mary Joan Nielubowicz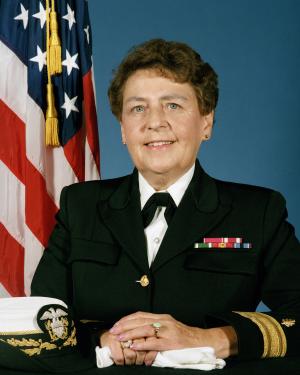 Mary Joan Nielubowicz was the only woman in the Navy Nurse Corps to earn the rank of Commodore and the first non-physician to earn the role of Deputy Commander for Health Care Operations in 1984. Nielubowicz was a Polish and Lithuanian American who rose through the ranks of the Navy to eventually earn the rank of rear admiral and the title of Director of the Navy Nurse Corps in 1983. She served in the Navy for 36 years in various roles while fighting to increase the number of women in the military and for an improvement in their experiences.
Adm. Nielubowicz was born in Shenandoah, Pennsylvania in 1929 to Joseph and Ursula Nielubowicz. Her father was a coal miner and her mother was a seamstress. As a Roman Catholic, she attended Catholic school for 12 years with her two younger sisters, Helene and Joanna. After she graduated high school in 1947, she worked as a pantry assistant and at a hardware store. She wanted to be a nurse since she was a young child and began her career when she enrolled in a nursing program in Philadelphia at Misericordia Hospital (now called Mercy Hospital).
After completing the nursing program in 1950, Adm. Nielubowicz worked in the labor and delivery ward of Misericordia Hospital. Encouraged by her staff physician, she enlisted in the Navy in 1951. Her initial roles in the Navy had her stationed around the U.S. and Caribbean, including: Virginia, California, Maryland, Cuba, and Pennsylvania. While in Cuba, she served as a lieutenant charge nurse, a high-ranking nurse role that involves being a supervisor, at Guantanamo Bay. The Navy provided opportunities for her to continue her education. She earned her Bachelor of Science degree from the University of Colorado in 1961 and her Master's in Nursing with a focus on administration and management from the University of Pennsylvania in 1965.
Adm. Nielubowicz was still in the early stages of her Naval career when the war in Vietnam began. To assist in the war, she became a recruiter and then became a senior nurse in Iwakuni, Japan in 1967 to support a hospital and the Marine Corps. She enjoyed buying souvenirs, specifically jewelry and artwork, while abroad for herself and her family. After she left Japan, she served as a chief nurse in hospitals in Cherry Hill, North Carolina, Guam, and Long Beach, California. In 1975, Adm. Nielubowicz assisted with Operation Babylift, in which thousands of orphaned babies and young children were evacuated from South Vietnam. She received a certificate of appreciation from the American Red Cross for her help in the operation.
Adm. Nielubowicz returned to Washington, D.C. and quickly moved into higher positions in the Navy Nurse Corps. Between 1975 and 1979, she served as a personnel officer and deputy director. After moving to Portsmouth, Virginia, she worked in the Naval Regional Medical Center as the director of nursing service. With her outstanding service in the Navy Corps, she was promoted to the 15th Director of the Navy Corps in 1983. In this capacity, she had thousands of nurses under her command. Along with her new role, she was promoted to the rank of Commodore (now referred to as Rear Admiral Lower Half). She was the only woman to bear the rank of Commodore in the Navy Nurse Corps and she was sixth woman to earn the rank of Admiral in the Navy. In her role of Directory of the Navy Nurse Corps, she fought against a reorganization of the Navy Nurse Corps that could negatively impact its role and position in the Navy and against budget cuts which would have affected female nurses greatly. She worked diligently to increase both active and reserve women in the Navy Nurse Corps. In addition to increasing the number of female reserves, she also attempted to bring men into the Navy Nurse Corps to create equality between men and women.
By 1984, she had become the Deputy Commander for Health Care Operations as well as maintaining her role as the Director of the Navy Corps. As Deputy Commander, she oversaw 31 hospitals, 11 major medical clinics, and 174 branch clinics across the globe. She earned numerous awards throughout her career including two Legion of Merit awards. The Association of Military Surgeons in the United States created an essay award named in her honor. Her original two-year long enlistment ended after 36 years on October 1, 1987. While giving her retirement speech, she said, "What a country we live in, where else could a coal miner's daughter excel to great heights?"
With retirement, Adm. Nielubowicz continued her involvement in championing women's roles in the military. She acted as chairman of the Veterans Administration's Committee for Women Veterans and took a role on the board of directors of the Women in Military Service for America Memorial Foundation. She, as well as other powerful women, worked together to create a memorial for female veterans. Her goal for the memorial was achieved in 1997 in Arlington, Virginia.
Family was important to Adm. Nielubowicz and her mother lived with her from the 1970s-1990s. Her mother was a great supporter of Adm. Nielubowicz and can often be seen in photos throughout her career.
Adm. Nielubowicz died in March 2008. She was buried in Arlington National Cemetery in May 2008 with Military Funeral Honors, a Funeral Escort, and an 11 battery cannon salute. Her funeral was attended by many family members and friends who remembered her as down to earth, caring, and a pioneer for women in the Navy.
Godson, Susan H, Serving Proudly: A History of Women in the U.S. Navy (Annapolis, MD: Naval Institute Press, 2001).
Schudel, Matt, "Adm. Mary J. Nielubowicz, 79; Top Navy Nurse," The Washington Post, April 24, 2008. https://www.washingtonpost.com/wp-dyn/content/article/2008/04/23/AR2008042303547.html.
Sterner, Doris M, In and out of Harm's Way: A History of the Navy Nurse Corps (Seattle, Washington: Peanut Butter Pub., 1997).
Vitale, Mary, "Mary Joan Nielubowicz," Obituary, May 21, 2008.
Mary Vitale (mother) in discussion with Alexandra Riddle
Adm. Mary J. Nielubowicz (aunt) in discussion with Alexandra Riddle
Image Credit: Courtesy of the National Archives and Records Administration, https://catalog.archives.gov/id/6429565