About Us
Founded in 1996, the National Women's History Museum (NWHM) is an innovative online museum dedicated to uncovering, interpreting, and celebrating women's diverse contributions to society. A renowned leader in women's history education, the Museum brings to life the countless untold stories of women throughout history, and serves as a space for all to inspire, experience, collaborate, and amplify women's impact—past, present, and future. We strive to fundamentally change the way women and girls see their potential and power.
Each time a girl opens a book and reads a womanless history, she learns she is worth less.

Myra Pollack Sadker

Professor, Author, Researcher, and Activist
Explore More!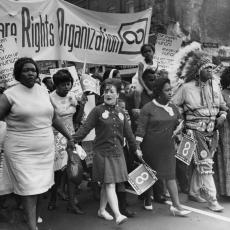 Join us virtually or in person to explore women's history!
Virtually explore the stories of women throughout U.S. history that have fought for their rights and changed their communities. Or students can explore the themes of We Who Believe in Freedom: Black Feminist DC in person during a free, in-person, guided tour with a docent at the Martin Luther King Jr. Memorial Library!
Learn how to register for in person and/or virtual field trips here.
Featured Biographies for December
After Pearl Harbor was attacked on December 7, 1941, and the United States entered World War II, Americans were encouraged to help with the war effort in a number of ways, including: volunteering, joining the military, and selling war bonds. Marlene Dietrich, film and music star, toured the country to help sell war bonds. Some historians have estimated that the US government was able to raise over a million dollars from the purchase of war bonds due to Dietrich's efforts.  
Learn more about Marlene Dietrich's contributions to the World War II war effort and other women's experiences during World War II in this month's featured biographies. 
Use the NWHM's compendium of online biographies to spark curiosity and dig deeper into women's impact throughout our shared national history. Explore more here. 
If we want our girls to benefit from the courage and wisdom of the women before them, we have to share the stories.

Shireen Dodson
Explore Virtual Exhibits
Discover more about the women of the Naval Reserve during World War II.
Read More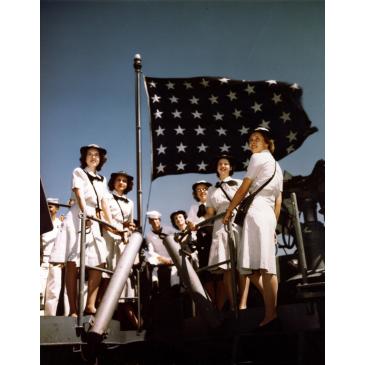 The WAVES Of World War II
Unlike the other women's auxiliaries, WACs served in all theatres of the war, dispelling the notion that women were unfit for combat conditions.
Read More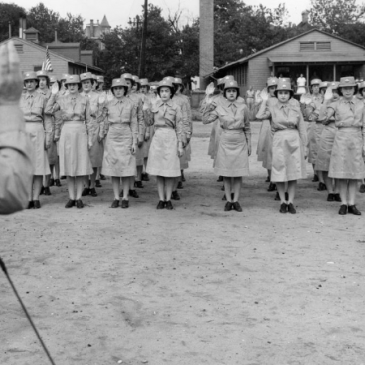 The Women's Army Corps: Female Soldiers in WWII
Students and Educators
Discover our educational resources. Find lesson plans, biographies, posters, timelines, videos, and more on a wide variety of women's history topics. 
NWHM Presents!
Join us on December 7 at from 3-4 p.m. ET for a virtual tour of department stores and their historical significance. This guided experience, led by A Tour of Her Own, will virtually explore DC streets strewn with the ghosts and skeletons of these iconic buildings and discuss the way a simple trip to the store was in fact so much more.
/sites/default/files/2023-07/Department%20Stores%20Carousel.png
/sites/default/files/2023-07/Department%20Stores%20Carousel%20Mobile.png
Now Open!
NWHM's first physical exhibition, We Who Believe in Freedom: Black Feminist DC, traces Black feminism in Washington, DC from the turn of the 20th century through the civil rights and Black Power movements to today.
/sites/default/files/2023-01/We%20Who%20Believe%20in%20Freedom%20Carousel.png
/sites/default/files/2023-01/We%20Who%20Believe%20in%20Freedom%20Carousel%20Mobile.png