How Did American Women Act?
Heroism on the Home Front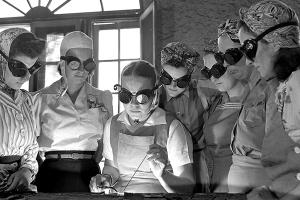 Women's roles changed significantly in World War II America. Many were conscripted to join the war effort and wielded new power through jobs outside the home.
But, their influence wasn't limited to factory floors. Some women used their social and political positions to fight back against isolationism and sound the alarm about the plight of Europe's Jews. A select few even put their lives at risk to organize acts of rescue.
Join NWHM and the United States Holocaust Memorial Museum to explore the role of the everyday woman during this era, as well as the mindset and motivations of a few extraordinary individuals who dared to act, including Lois Gunden, Edith Rogers, and Eleanor Roosevelt.
The event is free, but registration is required.
DATES
Sarasota, Florida - February 19, 2020
Miami, Florida - February 20, 2020