Determined to Rise
Women's Historical Activism for Equal Rights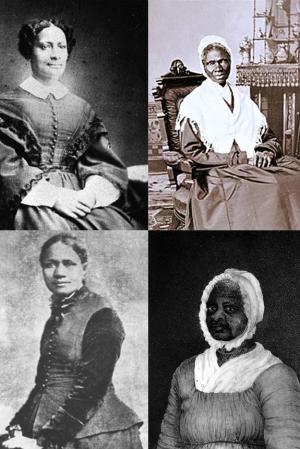 As the centenary of woman suffrage approaches, the National Women's History Museum presents a commemorative initiative, "Determined to Rise:" Women's Historical Activism for Equal Rights. This series of public programming features scholarly panels, public events, and lively discussions on women's history topics from the early 1830s when African-American women abolitionist groups organized to fight for freedom, personhood, and women's rights to the ratification of the 19th Amendment in 1920.
"Determined to Rise" shapes a broader understanding of the woman suffrage movement throughout the turn of the century, acknowledging not only the achievements resulting in the ratification of the 19th Amendment, but also its profound limitations.
Please join us for a discussion at an upcoming event near you.
The "Determined to Rise": Women's Historic Activism for Equal Rights traveling panel series is generously funded by Ms. Jeannette Sharpe.
---
NEXT DETERMINED TO RISE EVENT:
Thursday, January 30th 2020 
Pierce Chapel, Wesleyan College
4760 Forsyth Road, Macon, GA  31210
7:00 – 8:00p EST; doors open at 6:30p
Topic: Women's Education Reform in the Progressive Era, 1890-1920
Panelists:
Dr. Jenny Barker-Devine, Associate Professor of History, Illinois College (Jacksonville, IL)

: Dr. Jenny Barker-Devine is a historian of American agriculture and rural life, with interests in archives and advocacy for the humanities. She is the author of many scholarly articles, as well as 

On Behalf of the Family Farm: Iowa Farm Women's Activism in Iowa Since 1945

 (University of Iowa Press, 2013), which explores how Iowa's farm women acted to better conditions in the countryside. Her current project 

American Athena: Cultivating Victorian Womanhood on the Midwestern Frontier 

considers how women created and maintained opportunities for education, activism, and community in the nineteenth century.
Dr. Vivia Lawton Fowler, President, Wesleyan College (Macon, GA)

: 

Wesleyan's 25th president, Dr. Vivia Lawton Fowler, has more than thirty years of experience in higher education, specifically at women's colleges. Dr. Fowler served first as academic dean and then provost, before assuming the presidency in 2017. The third female president of this women's college, she is the first female ordained United Methodist minister to hold the office once traditionally held by Methodist clergy. 

Following her graduation from another women's United Methodist-affiliated college, Columbia College, in South Carolina, Fowler earned her Master of Arts degree in religion at Lutheran Theological Southern Seminary and worked as a minister in two UM churches in Columbia and Orangeburg. She returned to her alma mater as a teacher and there discovered her call to the ministry of education. She earned her Ph.D. in

Philosophical and Psychological Foundations of Education

from the University of South Carolina.
Dr. Daleah Goodwin, Professor of History, Warren Wilson College (Asheville, NC)

: Dr. Daleah Goodwin received her PhD in History with specializations in African American History and Women's Studies from the University of Georgia. Her research includes a focus on early 20th-century educator, dynamic elocutionist, dedicated suffragist, and unwavering crusader Hallie Quinn Brown. Her doctoral dissertation, "A Torch in the Valley: The Life and Work of Miss Hallie Quinn Brown," examines Brown's challenges and accomplishments as she campaigned for equal access to education and political representation for women, while leading the most influential African American women's organization of the era, The National Association of Colored Women. Dr. Goodwin documented Brown's public work and activism, revealing the ways black women maneuvered and positioned themselves to secure social equality and political enfranchisement for women, while "uplifting the race." Dr. Goodwin is a member of the Association for the Study of African American Life and History and the Association of Black Women Historians.
Moderator: Dr. Deidra Donmoyer, Professor of Communication, Wesleyan College

: 

Dr. Deidra Donmoyer received her PhD in Rhetorical Theory and Criticism from Bowling Green State University in 2003. Her research is centered on rhetorical, film, women's, cultural, and pedagogical studies—interests that converge through critical awareness and ideological positionality. Using film as a primary basis of rhetorical analysis, Dr. Donmoyer comes to understandings of how women are represented and who they are thought to be, thereby exploring the ways in which society might expect women to behave and interact in everyday life.

Dr. Donmoyer earned a Bachelor of Arts degree in Communication from Kutztown University in 1993, a Master of Arts degree in Communication from Auburn University in 1996, and a graduate certificate in Women's Studies from Bowling Green State University in 2001.
To register, go to https://www.eventbrite.com/e/87194931387/
---
Saturday, February 8th 2020
The Basile Theater at the Eugene and Marilyn Glick Indiana History Center
450 West Ohio Street, Indianapolis, IN
1:30-3:00pm EST (doors open at 1pm)
Topic: Ladies and Liquor—The Strategic Interplay between the Suffrage and Temperance Movements
Panelists:
Dr. Anita Morgan, Senior Lecturer for History, Indiana University-Purdue University at Indianapolis (Indianapolis, IN)

: Anita Morgan received her BS, MS, MA, and PhD from Purdue University.  She is a Senior Lecturer at IUPUI, former Director of Undergraduate Studies for the History Department, former Director of the Individualized Major Program for the School of Liberal Arts, and in 2011 was named the Outstanding Lecturer for the School of Liberal Arts. She is a past president of the Indiana Association of Historians and one of the organizers of the Hoosier Women at Work conference. She has published articles in the Indiana Magazine of History, Traces, New York History, The Michigan Historical Review, and Ohio Valley History.  Her book, "We Must Be Fearless:  The Woman Suffrage Movement in Indiana History, will soon be published by the Indiana Historical Society Press.
Lori Osborne, Museum Director, Frances Willard House Museum and Archives (Evanston, IL): Lori Osborne is director of the Evanston Women's History Project, a community-wide project to document the significant contributions Evanston women have made to the community. She also serves as the director of the Frances Willard House Museum in Evanston, Illinois. Osborne currently serves on the board of the National Collaborative for Women's History Sites (NCWHS) which works to increase the level of women's history interpretation at all historic sites. She is the Illinois Coordinator for the Votes for Women Trail, which is a NCWHS project in honor of the 100th Anniversary of the 19th (Suffrage) Amendment. She also serves on the Women's Suffrage Anniversary Committee of the League of Women Voters of Illinois. Osborne holds a Master's Degree in English Literature from the University of Chicago and a Master's Degree in Public History from Loyola University Chicago.

Dr. Jessica M. Derleth, Instructor, Department of History, The State University of New York at Binghamton (Binghamton, NY):

Jessica Derleth earned a PhD in United States history from Binghamton University (SUNY) with specializations in women's history, race, and gender and empire. Her current research documents how suffragists embraced and manipulated gender norms to argue that female enfranchisement would not unsex women, emasculate men, or destroy home life. Derleth is the author of "'Kneading Politics': Cookery and the American Woman Suffrage Movement" (Journal of the Gilded Age and Progressive Era, 2018); "'These Model Families': Romance, Marriage, and Family in the New York Woman Suffrage Movement," in Votes for Women: Celebrating New York's Suffrage Centennial (2017); and various book reviews, lesson plans, and encyclopedia entries. Through teaching, research, publishing, digital history, and service work, she explores and advocates for historical and contemporary issues related to social movements and protest, food and consumerism, race and immigration, and LGBTQ+ and women's rights.

Moderator: Dr. Jessica D. Jenkins, Curator, Minnestrista Museum and Cultural Center (Muncie, IN):

Jessica D. Jenkins is the Curator at Minnetrista in Muncie, Indiana. In addition to developing and curating numerous exhibitions focused on local history and fine art, she has also authored several publications on topics ranging from woman suffrage to World War I poster art. Her forthcoming book, Exploring Women's Suffrage Through 50 Historic Treasures will be released in Spring 2020.
To register, go to https://tickets.indianahistory.org/Info.aspx?EventID=20

---
Other Determined to Rise events will take place soon (more information to follow):
March 4: Museum of the City of New York, NYC
March 9: The Ebell Club of Los Angeles, Los Angeles, CA
March 10: Oberlin College, Oberlin, OH
March 19: (In collaboration with Michigan Women Forward) The Forum, Michigan History Center, 702 W. Kalamazoo Street, Lansing, MI  48915. Topic: Woman's Suffrage: The West Came First
April 28: The Newberry Library, Chicago, IL
June 22: NCGS 2020 Conference, Sheraton Philadelphia Hotel, Philadelphia, PA