Determined to Rise
Women's Historical Activism for Equal Rights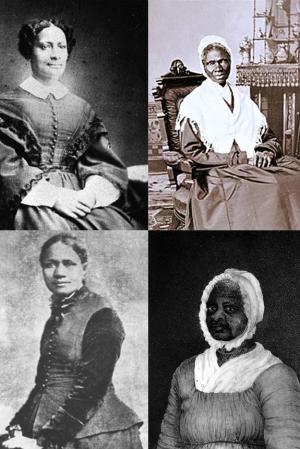 To mark the centenary of woman suffrage, the National Women's History Museum presents a commemorative initiative, "Determined to Rise:" Women's Historical Activism for Equal Rights. This series of public programming features scholarly panels, public events, and lively discussions on the American women's rights movement from the early 1830s when African-American women abolitionist groups organized to fight for freedom, personhood, and women's rights to the ratification of the 19th Amendment in 1920.
"Determined to Rise" shapes a broader understanding of the woman suffrage movement throughout the turn of the century, acknowledging not only the achievements resulting in the ratification of the 19th Amendment, but also its profound limitations.
Please join us for a discussion at an upcoming event near you.
The "Determined to Rise": Women's Historical Activism for Equal Rights panel discussion series is made possible through the generous support of leadership partner Pivotal Ventures and Ms. Jeanette Sharpe, a NWHM Charter Member.
---
November 19, 2020 : Virtual Event (in partnership with the National Czech and Slovak Museum & Library, Cedar Rapids, Iowa)
Topic: "Fit" to Vote: The Influence of Immigration and Citizenship Rights on the Woman Suffrage Movement
Moderator: Terese Grant is currently the President of the League of Women Voters of Iowa.  She has served on the LWVIA Board since 2014.  She was also was President of the local Grinnell League of Women Voters from 2014 to 2020.  As a former French teacher, Terese taught for over thirty years in public and private schools in Iowa and New Jersey.  She also taught in International Schools in Dongguan, China and Kiev, Ukraine.
Panelist: Dr. Karen M. Kedrowski is Director of the Carrie Chapman Catt Center for Women and Politics and Professor of Political Science at Iowa State University. The Catt Center conducts research on women and politics, with a focus on Iowa; and promotes civic engagement. In addition to her duties at the Catt Center, Dr. Kedrowski teaches courses in American Politics and conducts research on women in American politics and civic engagement. She joined the Iowa State faculty in January 2019.
Dr. Kedrowski is a graduate of the University of Minnesota, Twin Cities and the University of Oklahoma, Norman. Prior to coming to Iowa State, she spent 24 years at Winthrop University in Rock Hill, South Carolina, where she served in many roles, including Dean of the College of Arts and Sciences. She also received Winthrop's highest faculty honor, Distinguished Professor, in 2011.
Panelist: Sara Egge is the Claude D. Pottinger Professor of History at Centre College in Kentucky. She is the author of the multi-award-winning book Woman Suffrage and Citizenship in the Midwest, 1870-1920. Her research has been featured in the Smithsonian, and her media appearances include Simple Justice, a documentary on the woman suffrage movement produced by South Dakota Public Broadcasting, Commitment to a Cause, produced by Iowa Public Broadcasting, and numerous podcasts and radio interviews. Her scholarship and teaching on the history of citizenship, voting rights, gender, and immigration has won her a grant from the National Endowment for the Humanities. She teaches a variety of courses on women's and gender history, food and environmental history, and post-Civil War US history at Centre College.
Panelist: Kallie Kosc is an Assistant Professor of History at Oklahoma State University. Her research and teaching centers on the ways indigenous women and their communities conceived of citizenship and indigenous national sovereignty within the settler state in the first half of nineteenth-century America. She is also interested in the inception of various interracial women's advocacy networks in early America as well as the challenges of maintaining those networks. Her most recent work on Stockbridge Mohican women's education advocacy will be published in a forthcoming issue of American Indian Quarterly.  
Prior to her arrival at Oklahoma State, Dr. Kosc received her MA in History from the University of Texas at Arlington, her Ph.D. from Texas Christian University, and taught U.S. History and American Indian History at TCU and Tarrant County College.
This event is made possible through the generous support of Pivotal Ventures, Ms. Jeanette Sharpe, and Husch Blackwell, LLP.